Emirates Team New Zealand pulls out of Louis Vuitton Cup final race after technical failure
Complex hydraulic control system fails while they were leading comfortably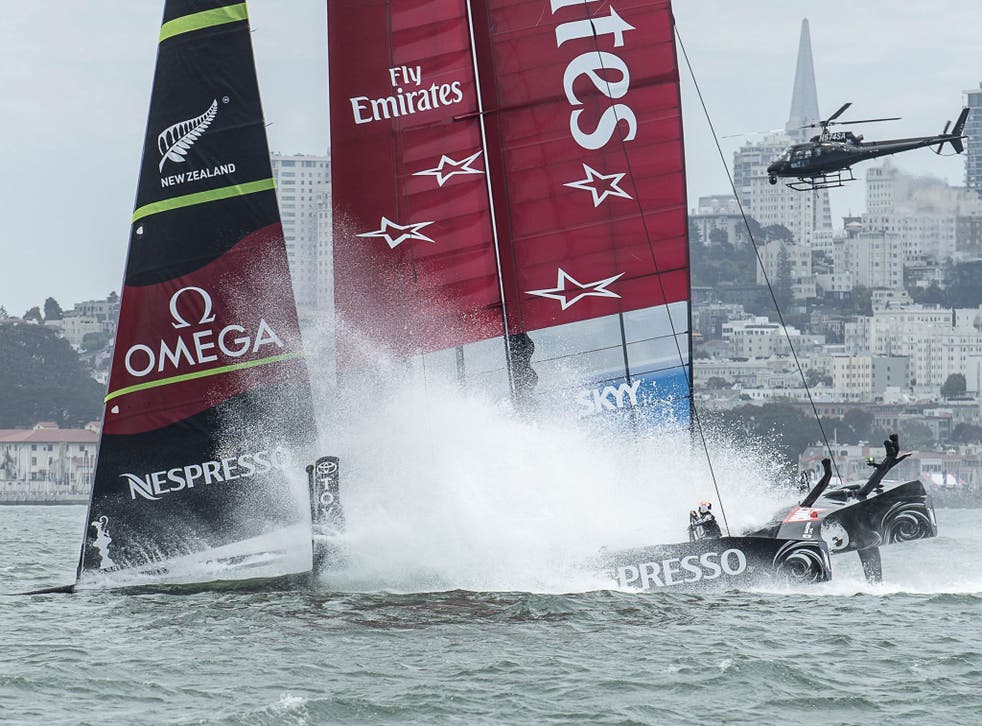 The fragility of the new 72-foot catamarans competing to win the America's Cup was starkly demonstrated when the favourites to win the best of thirteen Louis Vuitton Cup final, Emirates Team New Zealand, had to pull out of the second race as the complex hydraulic control system failed when they were again leading comfortably.
That meant the series is even at one race each, even though the Kiwis could have raced again as their rivals, the Prada-backed Luna Rossa of Italy, winners of the first Sunday race, were also making hasty repairs to their 130-foot wing sail. The event was always likely to have an element of last man standing and winning on the water is matched in importance with keeping the boat in one piece. The pit lane shore crew maintenance operation is a round the clock job.
As the wind increased in strength above the maximum laid down in the new rules, the race officer decided, for the second day in succession, to call off any hope of running a second race.
On the opening day two men had been swept overboard, a catastrophic capsize narrowly avoided, the winning boat damaged but able to continue, and the losing boat limping home marked the opening day in San Francisco.
It was Emirates Team New Zealand, already well in control of the race against the Prada-backed Luna Rossa, that, hit by a gust of wind, buried both bows of the 72-foot wing-powered catamaran into the choppy waves as it went round the third turning mark.
Chris Ward and Olympic rowing gold medallist Rob Waddell were both catapulted into the water as the boat tried to make an emergency stop while at the same time accelerating. Both were picked up by a support boat and returned to the boat at the end of the race.
The rush of water also damaged some of the support structure, but could have continued to take part in the second race. "We were ready to go," said team boss Grant Dalton, with skipper Dean Barker adding: "My first concern was about the two in the water."
But Luna Rossa, which had used a delay at the start, caused by the wind being too strong, to repair its starboard daggerboard, then saw the problem recur just minutes into the five-leg, 9.95-mile race.
Italian skipper Max Sirena explained that modifications had been made and tested for the previous five days but broke on race day.
Join our new commenting forum
Join thought-provoking conversations, follow other Independent readers and see their replies