Louis Vuitton Cup: More disappointment for Luna Rossa as race ended by equipment failure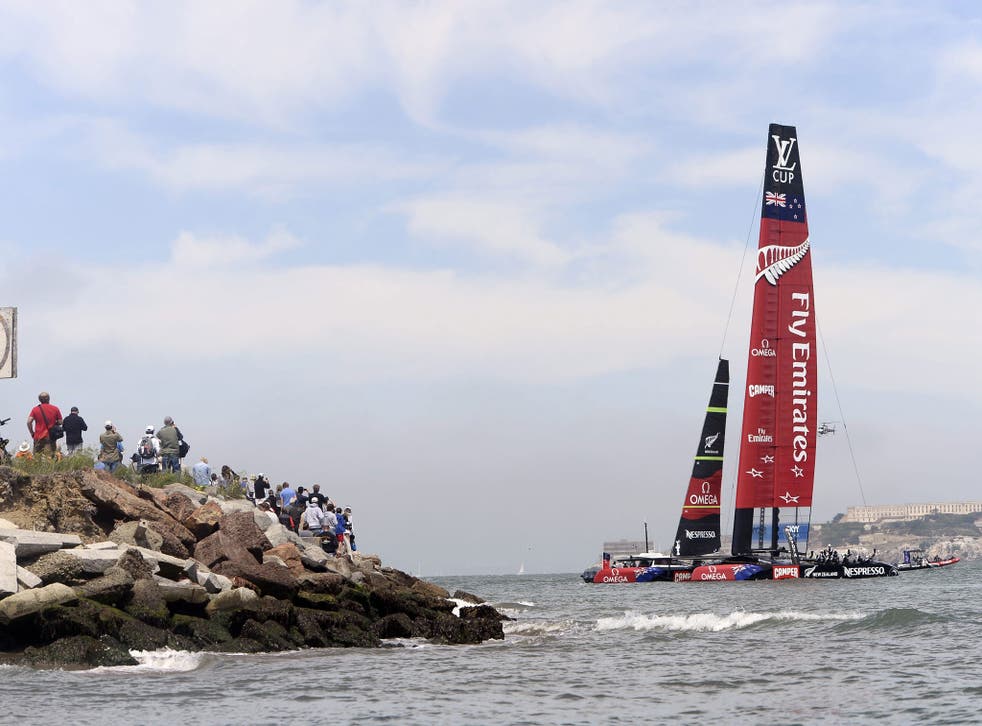 Saved by the wind, the Italian America's Cup challenger Luna Rossa was saved the embarrassment of having to pull out of the fourth race of the Louis Vuitton Cup as hammers were being wielded to make a repair to their crippled boat.
Once again, gear failure hit one of the Prada-backed crew as, for the second time in three races, the Italians were unable to finish. That made it no contest for the Kiwis but they kept pushing the boat, screaming into the finish at not much under 50mph. They need to keep racing hard; taking it easy is not a Kiwi characteristic.
But the sight of two of the Luna Rossa crew from Britain, David "Freddie" Carr and former Finn singlehander world champion Giles Scott looking so glum also told a story of how difficult it is to lift spirits after more disappointment. They lasted not much longer than the second turning mark until a big bang indicated that a piece of mast control gear had failed, ending their race.
That leaves the Kiwis leading 2-1 in the best of 13 and, as there is no racing scheduled for Tuesday, the shore crews will have time to crawl all their cold, hard but complex and fragile charges.
The wind limits imposed after the death of British crewman Andrew Simpson are still proving difficult for an event that aimed to eliminate postponements, meet television schedules, and started with the aim of being able to compete in anything from three to 33 knots.
A hearing to investigate gross misconduct by the America's Cup defender Oracle Team USA (OTUSA) is to be held by the five-person international jury appointed to oversee the event "as soon as possible."
It involves prohibited structural modifications to the 45-foot versions of the new 72-foot boats which were used in the America's Cup World Series. Oracle and its stablemate Ben Ainslie Racing have already retrospectively retired from the final four ACWS regattas staged in Newport RI and San Francisco.
The jury has also announced that it will then hold a hearing into whether these actions have damaged the reputation of the America's Cup, which is prohibited under the protocol which governs this year's 34th defence.
Penalties could be against individuals or teams and run from bans from all competitions to forfeiting wins in the best of 17 cup match which begins on 7 September.
From the most hi-tech of America's Cup yachts and a budget in nine figures, the recently knighted Ben Ainslie will turn his attention in October to a 33-foot boat designed in 1936 and sold new, with all equipment including a cradle, for $2,670 when he takes part in the Bermuda Gold Cup as part of the Alpari World Match Racing Tour.
The five-time Olympic medallist, four golds and a silver, will be at the helm of an International One Design in which he has won the event twice in the past, in 2009 and 2010.
His current boss, Sir Russell Coutts is a four-time winner in Hamilton, but the main rivalry will be between Ainslie and another Briton, the defending world champion Ian Williams and his Team GAC Pindar.
Ainslie has modified his entry to the name of Ben Ainslie Racing Team or BART, in memory of his fellow Olympian, Andrew 'Bart' Simpson, who died in an America's Cup training accident with Sweden's Artemis Racing on San Francisco Bay in May. "We are returning this year to focus attention on the Andrew Simpson Sailing Foundation (ASSF)," said Ainslie.
Join our new commenting forum
Join thought-provoking conversations, follow other Independent readers and see their replies