Three members of Oracle Racing USA team banned from America's Cup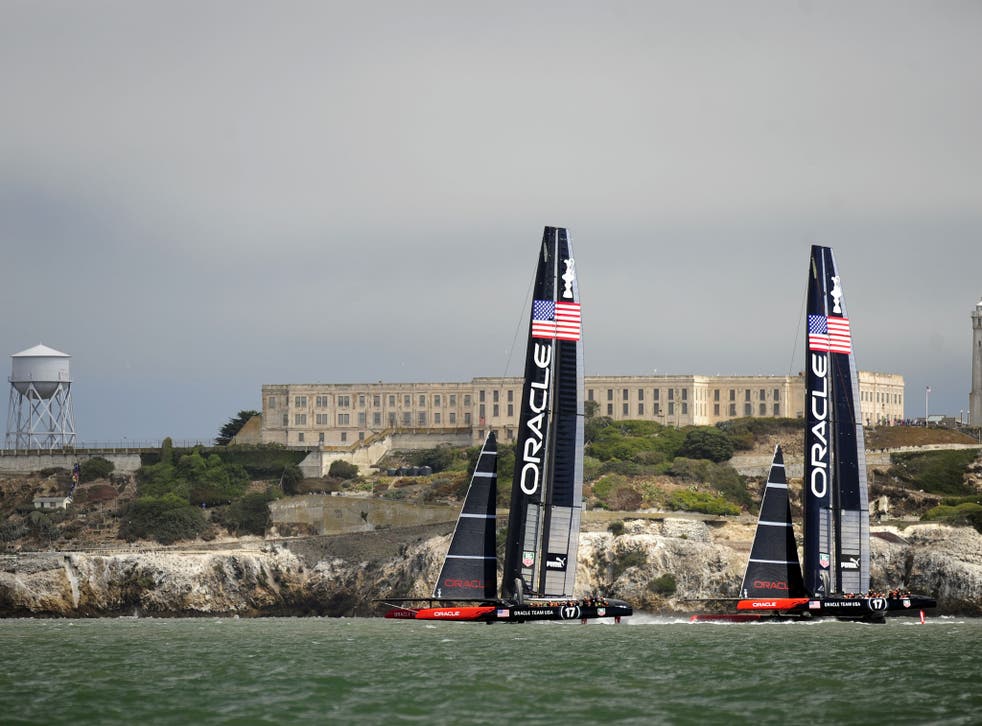 Three of the America's Cup defence team have been banned from taking any further part in the sport's pinnacle event, which starts in California on Saturday.
It is the latest setback for Oracle Racing USA and the event it has organised since winning the cup in Valencia in 2010. As the new holder Oracle has the job of organising what will be the 34th defence of a trophy that started life in a race round the Isle of Wight in 1851.
The penalties on the individuals, Dirk de Ridder, Bryce Ruthenberg, and Andrew Walker, have been imposed by a five-member international jury after a lengthy investigation into allegations that they were responsible for making illegal modifications to the team's boats in the America's Cup World Series warm-up regattas.
Matt Mitchell has been given a four-race ban and Kyle Langford given a warning. The four on whom a ban has been imposed will also be reported to their national sailing authorities, de Ridder the Netherlands, Mitchell and Walker to New Zealand and Ruthenberg to Australia with a recommendation that no further action is required.
De Ridder is banned from any further involvement in this America's Cup, as is Ruthenberg and Walker.
Additionally, a two-win penalty had been imposed on the America's Cup defender Oracle Team USA after the same jury at a hearing in San Francisco found that the activities by Oracle constituted bringing the whole event into disrepute.
The "serious breaches" had been committed by doctoring boats in the build-up regattas earlier this year.
Modifications had been made to the team's 45-foot wing-powered catamarans.
As well as forfeiting the points from its first two wins in the best of 17 against Emirates Team New Zealand the jury also imposed fines totalling $250,000.
Half is to be paid to any charity nominated by the mayor of the host city, San Francisco, and half to the Andrew Simpson Sailing Foundation, set up in memory of the British Olympic gold medallist, who died in a training accident on the Swedish challenger Artemis.
There are no sanctions against any of the three skippers involved, Russell Coutts, Jimmy Spithill, and Ben Ainslie, all of whom expressed their shock and disappointment at the actions of their team mates.
"The rules infractions involved only a few of our 130 team members, and were done without the knowledge of either our team's management or the skippers who were driving the boats," said team CEO Russell Coutts. "While we disagree with the unprecedented penalties imposed by the jury, we have no choice but to make the necessary changes to personnel on our race boat [de Ridder is the wing trimmer on the 72-foot catamaran] and do our best to use the next four days for the new team to practice and get ready for the start of the 34th America's Cup."
Join our new commenting forum
Join thought-provoking conversations, follow other Independent readers and see their replies