Yann Guichard wins Krys Ocean Race on race debut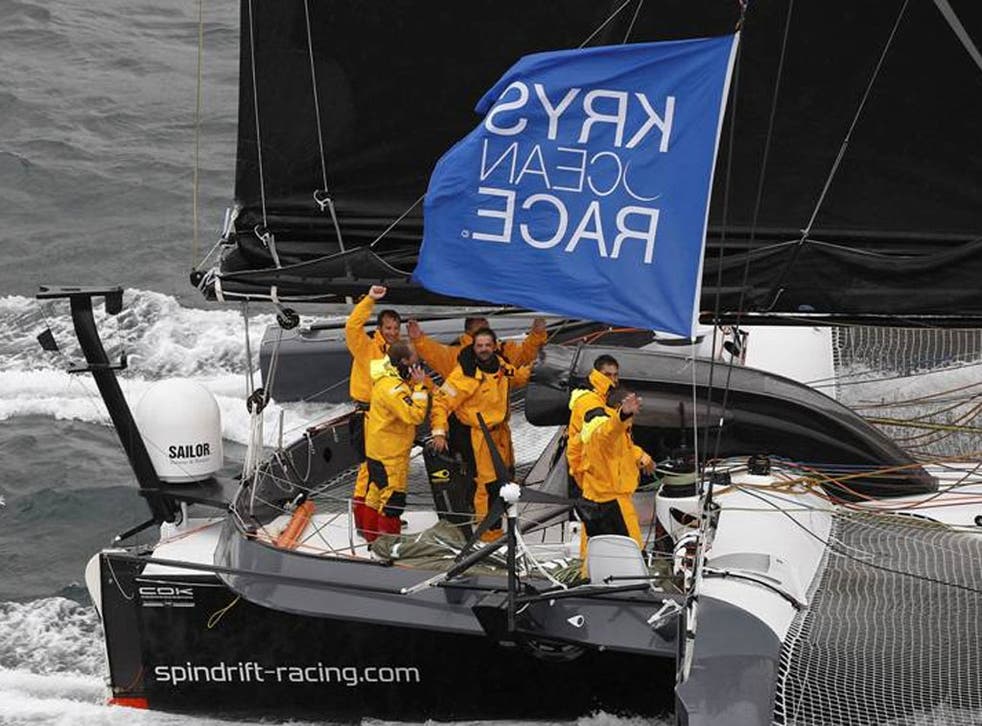 A fast but hard run across the Atlantic gave multihull expert Yann Guichard a debut victory as he crossed the finish line in Brest to win the Krys Ocean Race from New York in just 4d 21h 08m 37s.
His MOD70 Spindrift, one of five of the 70-foot trimarans in a curtain-raiser for a class that will go on to a European tour starting next month, put in an almost flawless performance after being stalled on the start line last Saturday.
The top three, Sébastien Josse was just one hour and 11 minutes astern in Groupe Edmond de Rothschild with third-placed Michel Desjoyeaux's Foncia 28 minutes behind Josse, all beat the five-day barrier and there were many 600-to-700 mile runs in 24 hours.
"We are surprised at the speed.  It was all on a starboard tack then only a few minutes on port for the finish," said Guichard. "The conditions were favourable and the boat performed well in the sea conditions, the boat really performed well with no issues."
"In fact, there was not that much strategy for the race. But we are really looking forward to a hot shower and a nice fresh salad. We forgot our fresh food!"
Pascal Bidégorry, helmsman and crew on Spindrift added: "Experience of the Atlantic course helps. I think the advantage was built was on the second night of the race which was a very dark and windy one. Strategically, as we were on one long starboard tack it was going to be important to position ourselves as low as possible on the route.  We decided to keep our gennaker up, despite the strong wind conditions.  We could see that we were gaining an advantage on the others at each position ranking where we had a better angle and were up to a knot faster."
"Well done to Spindrift to have taken it and done it," said Josse. "The boat is very safe and solid.  We have just used it a bit.  It can carry a lot of sail and the more we put up the more we pushed it. 
"Life on board was very, very wet. There are six of us on board and that means it smells. There was a good atmosphere but at the same time disciplined and professional as we had jobs to do."
Michel Desjoyeaux, skipper, Foncia added: "I am satisfied because you can always do worse, but disappointed because the New York start was not great. On board, life was ok in the warm water and then, as of the day before yesterday it was more uncomfortable in the cold.
"Now we just want a warm shower. We did nose dive a few times, so you can hurt yourself. Now we just want to go and sunbathe for a week."
Sidney Gavignet's Oman Sail, on which Brian Thompson was injured, was expected to finish just after midnight but Stève Ravussin's Race for Water, which suffered a broken daggerboard on the first night, will have to keep pushing if it is to arrive in time for the Bastille Day celebrations on Saturday.
Join our new commenting forum
Join thought-provoking conversations, follow other Independent readers and see their replies