UFC: Antonio Rodrigo 'Big Nog' Nogueira should retire following defeat to Roy Nelson
Surely it is time for the MMA legend to call time on his career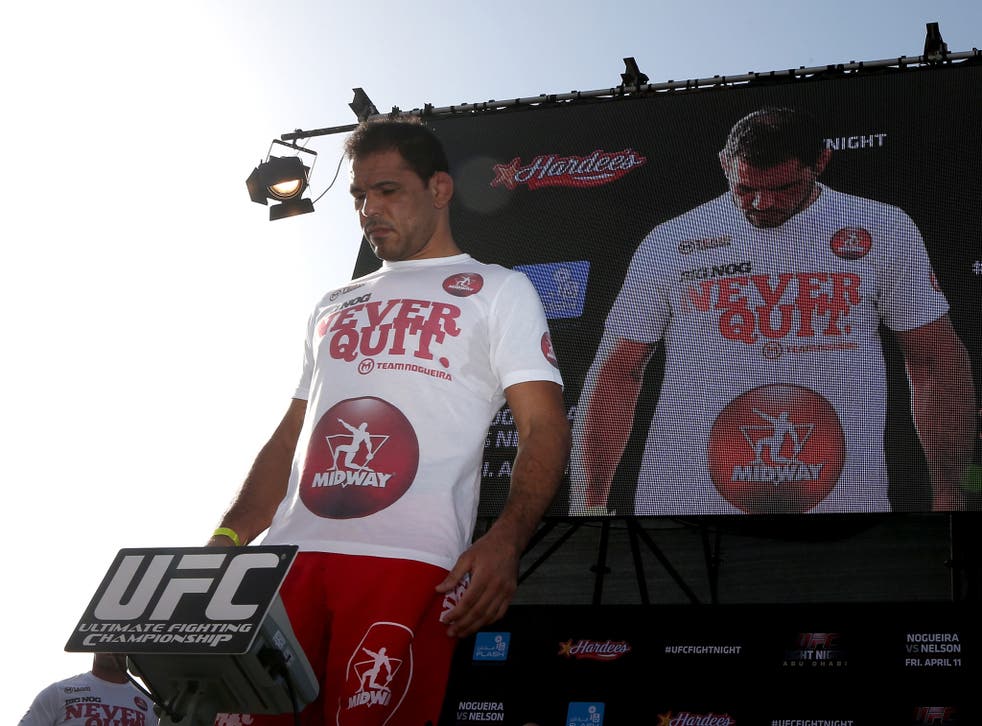 Antonio Rodrigo Nogueira (Big Nog), is an MMA legend. He was the first ever Pride Heavyweight Champion, and one of only three men to have held a Pride and UFC World Title. On Friday night in Abu Dhabi, Big Nog faced big punching, round bellied, "Big Country" Roy Nelson in what was seemingly his last chance to reach the pinnacle of the sport once more. Both fighters are 37, Big Nog is an all round specialist and Nelson is a pure knock out artist. Nelson, in fact, had only ever won (six out of 11 fights) in the UFC by knock out.
Those of you unfamiliar with Roy Nelson would hardly believe his Gracie BJJ black belt and Mayweather taught boxing credentials. He is 6ft tall and 113 KG with a sizeable gut, but extraordinary power in his right hand. Nelson, for his body type also has unimaginable stamina and has managed to develop himself into somewhat of a fan favourite.
With both fighters coming off losses, this was a must win. It didn't last long. Roy Nelson knocked a staggered Big Nog with punch after punch to the head before landing the devastating blow that put him to sleep. It was sad to see such a legend laid out on the floor, but fortunately he stood and the mutual respect between the two fighters was touching, as per usual post UFC fights. 
Many journalists and commentators of fight sports think it is wrong to and veer away from saying when a fighter should retire. It's what everyone was thinking about Dan Henderson (43-years-old) despite his victory over Shogun Rua last month due to his robotic style, lack of speed and movement and damage sustained at such an advance aged relative to other fighters. It's also what everybody thought following this fight last Friday. The argument is that fighters dedicate their lives to their craft and deserve the respect and right to be able to decide their fate on their own. "Who are we to tell a fighter when to retire?" is the mantra spoken by so many. 
Well, we are the ones who watch and love this sport. We are the ones who take pride in its incredible safety record, in its excitement, in its drama. Big Nog should retire, and if unwilling, should be pushed. Often a fighter's pride can overwhelm his sense of realism and they can blind them into thinking they are still capable of competing at that top level. In the case of Dan Henderson, landing a single punch after sustaining punch after punch and an immense amount of damage, should not be mistaken for competing. In Big Nog's case, it is hopefully more obvious still. 
It is worth noting as well that Roy Nelson, whilst somehow finding a way to win every time he seems to be one fight away from his last, has only one victory outside the first round. He either lands a bomb and knocks someone out or he loses. This is not a positive, but a strong negative in terms of the UFC and what the company stands for. When you look at Cain Velasquez, Jose Aldo, Jon Jones, and other champions, you see all round athletic specimens with diverse skill sets. At 37-years-old, and with his lack of versatility, is it time Nelson also was pushed out?
The UFC put on another breathtaking event and the knockout was spectacular. My point is merely that as a lover of this sport, I do not enjoy the discomfort of watching legends fight well beyond their capability to compete. It happens in boxing all too much because fighters are more in charge of their own paths, however in MMA it is the promotions that have the final word. 
Randy Coture fought to his late 40's in the UFC and Bernard Hopkins is a boxing World Champion again at the age of 49, so I admit it is not an exact science. The main importance is to remember the necessary skill sets and levels needed to be attained for a fighter to compete at that elite level. This is not football, where being a split second too slow means a player won't be first to every ball, this could mean a fighter is too slow to react to a punch that knocks them unconscious and it should be further controlled with age being a limiting factor to a fighters participation. Regular reaction and physical testing that fighters must pass could also provide an interesting method of moving to solve the issue. The UFC has an exemplary safety record that I am certainly not disputing. I am however concerned as to the long term damage involved with ageing fighters sustaining high levels of damage. With Dan Henderson fighting Daniel Cormier next, it doesn't look like changing soon. To know when it's time to stop is so important. To say no to someone who doesn't know when to stop, is sometimes a necessity. 
Join our new commenting forum
Join thought-provoking conversations, follow other Independent readers and see their replies