WWE Smackdown results: Brawl for all as Seth Rollins, Randy Orton, Dean Ambrose and Roman Reigns sign Payback contracts
Seth Rollins heads in to Payback where he'll defend his WWE World Heavyweight title against three other men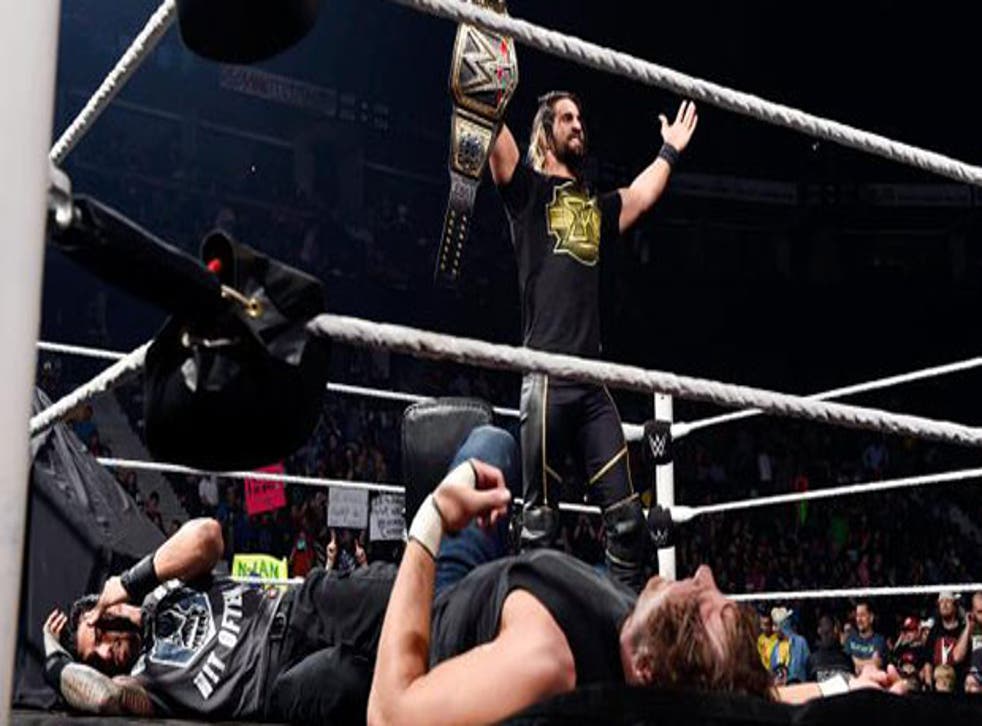 Smackdown kicked off with Jerry Lawler interviewing Bad News Barrett. The King of the Ring told Lawler that he only calls himself king whereas he is actually royalty within the WWE. Barrett demanded that the crowd and Lawler hail him but Lawler refused before Ziggler came out to interrupt to take him on in another rematch.
The match was cut short as Sheamus ran down to attack Ziggler before Barrett joined in a double team until Neville came out to even the odds and save his ally. The match was then changed to a tag team match with Ziggler picking up the win for his team with the Zig Zag. Barrett and Sheamus looked infuriated as their rivalry continues between the two technical specialists.
Luke Harper and Fandango locked arms in a short match that Harper won within two minutes with the Discus Clothesline. Erick Rowan stormed down to the ring and surprisingly beat down on Fandango as Harper watched on confused. Hints of a reunion between the two former Wyatt Family members were on display while Bray Wyatt prepares to take on Ryback at Payback.
The action continued as New Day took on The Brass Ring Club and Ryback in a six man tag team match. All competitors were at it in the ring and the match could have gone either way until Wyatt's entrance hit, which distracted Ryback and his team for Kofi Kingston to take advantage and roll up Tyson Kidd for the victory.
Naomi entered the ring alongside her new bodyguard, Tamina, to take on Emma. The number one contender to the Divas Championship made quick work of the Australian by defeating her with the Rear View for the three count within two minutes. Naomi wasn't finished and continued to beat down on Emma after the match with Tamina.
There was more tag team action with Lucha Dragons taking on Los Maradores. Kalisto hit his springboard kick while Sin Cara jumped outside before sealing the win with a cradle. The high flyers are continuing to sore in their strong run since debuting the night after WrestleMania and will be now looking to gain some gold.
The show closed with the contract signing of the WWE World Heavyweight Championship match at Payback. Roman Reigns, Seth Rollins, Dean Ambrose and Randy Orton all entered the ring to sign the contract that was sanctioned by Kane. After everyone signed, there was a massive free for all with Reigns landing the Superman Punch and Orton hitting the RKO while Ambrose dived to the outside. Seth Rollins was the last man up in the ring and stood tall with his championship with the match now official.
Results
Dolph Ziggler defeated Bad News Barrett via DQ
Dolph Ziggler and Neville defeated Bad News Barrett and Sheamus
Luke Harper defeated Fandango
New Day defeated Tyson Kidd, Cesaro and Ryback
Naomi defeated Emma
The Lucha Dragons defeated Los Matadores
Join our new commenting forum
Join thought-provoking conversations, follow other Independent readers and see their replies