WrestleMania 32: Will Intercontinental Championship seven-man ladder match steal the show in Texas?
The match has become a permanent fixture at WrestleMania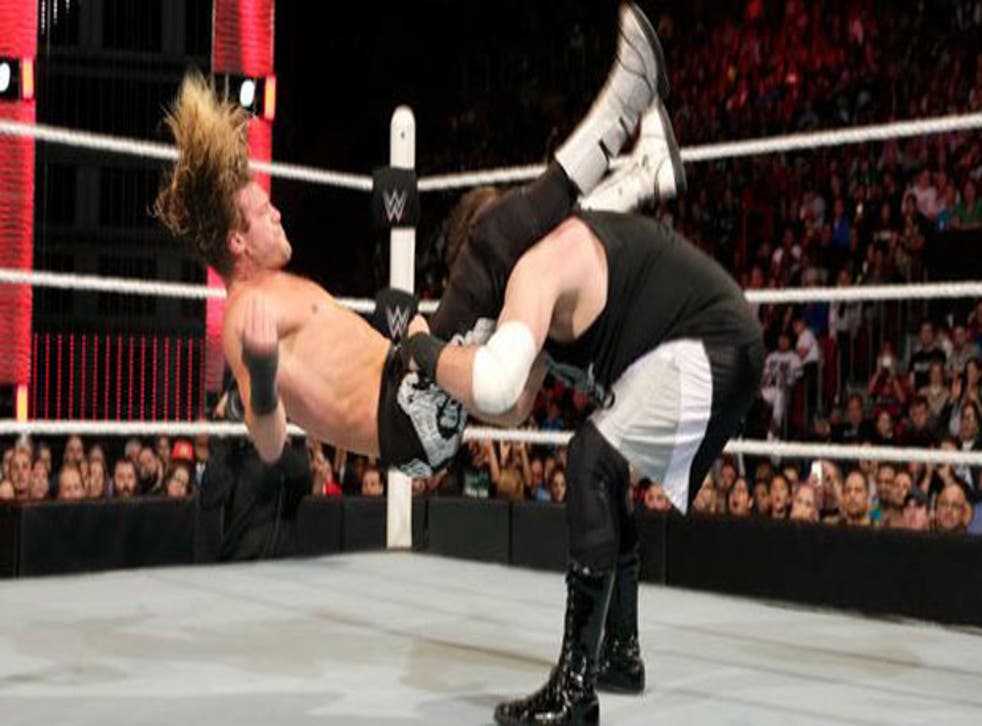 The WWE Intercontinental Championship ladder match seems to have become a permanent fixture at WrestleMania, and this year's bout is packed with talent looking to either make a name for themselves or reignite their careers. The champion Kevin Owens, Sami Zayn, Stardust, Sin Cara, The Miz, Dolph Ziggler and Zack Ryder are all hoping to walk out of Dallas with the title tonight.
These seven superstars have a lot in common. They have all tasted championship gold in WWE with 36 titles between them. NXT Championships, NXT Tag Team Championships, WWE Tag Team Championships, Intercontinental Championships, United States Championships and WWE World Heavyweight Championships. However, upon achieving success, their time in the spotlight was brief to say the least. They rapidly tumbled down the card quicker than they will when falling off a 15-foot ladder at WrestleMania 32.
The spotlight will be big enough to hover over the entirety of the 100,000 plus capacity of the AT&T Stadium, but the participants in this attraction contest will aim to shrink it significantly to fit for seven, and eventually one: the victor. Neville is injured which means we won't see a Red Arrow from the top of a ladder, through a table (or two). But what we will see is seven men with enough heart and energy to produce a show-stealing match at the biggest show of the year.
So who will be the one?
Kevin Owens
The current champion's strategy for this match is simple: "smash everybody". Kevin Owens is well on his way to becoming one of the biggest heels in the company. He's had a phenomenal breakthrough year which has seen him cleanly pin John Cena in his debut match at the Elimination Chamber pay-per-view last May, as well as, winning the Intercontinental Championship on two separate occasions. Considering he only has a 14 per cent chance of retaining his crown, a win on Sunday would arguably be his biggest achievement.
WrestleMania 32 full card

Show all 9
Sami Zayn
Sami Zayn was lucky enough to recover from a shoulder injury in time for WWE's annual extravaganza. The Canadian superstar will be looking to put his defeat to the debuting Shinsuke Nakamura at NXT TakeOver: Dallas behind him as he competes at his first WrestleMania. He is one of the most exciting high-flyers on the active roster and the WWE Universe will be holding their breath in anticipation of some outrageous spots.
Stardust
Stardust is a former two-time Intercontinental Champion and one of the most experienced superstars heading into this match. He will certainly have to reach for the stars if he is to unhook his third IC title. To do this "The Prince of Dark Matter" may need to turn to S Club 7 for some inspiration.
Sin Cara
Sin Cara has been overshadowed by his tag team partner, underdog sensation Kalisto, who defeated Alberto Del Rio to win the United States title earlier this year. While his Lucha Dragons brother is scheduled to defend his championship against Ryback at 'Mania, Sin Cara has his own opportunity to make history. If the duo somehow overcome all the odds and leave Dallas with the U.S and IC titles, the 100,000 fans in attendance might have to turn the "Lucha!" chant into an anthem.
The Miz and Dolph Ziggler
These two utility superstars have won the IC Championship a combined eight times (four times each). The Miz reached the pinnacle of his career when he main-evented WrestleMania 27. Five years on and "The Awesome One" has become the victim of poor booking. The same can be said of Dolph Ziggler, whose collapse from WWE World Heavyweight Champion to mediocrity was even more swift and brutal. A fifth IC title for either of these men will restore some much needed pride and morale.
Zack Ryder
The wildcard. After several years of hardship "Long Island Iced Z" is thriving again. Thrown into the ladder match after Neville fractured his ankle, Ryder will finally realise the dream of a lifetime and compete on the grandest stage.
When Stephanie McMahon announced that he would be one of the participants in the ladder match, the 30-year-old was ecstatic: "I was at WrestleMania X, Shawn Michaels Razor Ramon, ladder match. WrestleMania 32, I'll be in the ladder match for the IC title," he told Mauro Ranallo on Raw Fallout.
He continued: "I've never once heard my music play at 'Mania, this year I get to. For the past four years I've done nothing of relevance except just work my ass off, knowing that one day I would get another shot. If you asked me last week I wouldn't think I'd be at WrestleMania 32 and now I can go from Internet champ to Intercontinental champ. You know it."
Two weeks ago on SmackDown, Ryder hit a picture perfect Rough Ryder on Kevin Owens and was the last man standing in a brawl featuring all seven superstars involved in the bout this Sunday. He followed this up with a huge victory over "Y2J" Chris Jericho last week on Monday Night Raw thanks to some assistance from AJ Styles. think it's fair to say that all the momentum lies with "The Woo Woo Woo Kid" tonight.
The IC Championship and the WrestleMania moment that comes with winning this unpredictable match is to die for. When the dust settles only one man will hoist the strap and it will be a feel-good story for the fans no matter who it is.
Join our new commenting forum
Join thought-provoking conversations, follow other Independent readers and see their replies