Dustin Johnson did brilliantly to win US Open despite golf police's wrongful arrest
American coped admirably with terrible handling of incident on fifth green to claim first major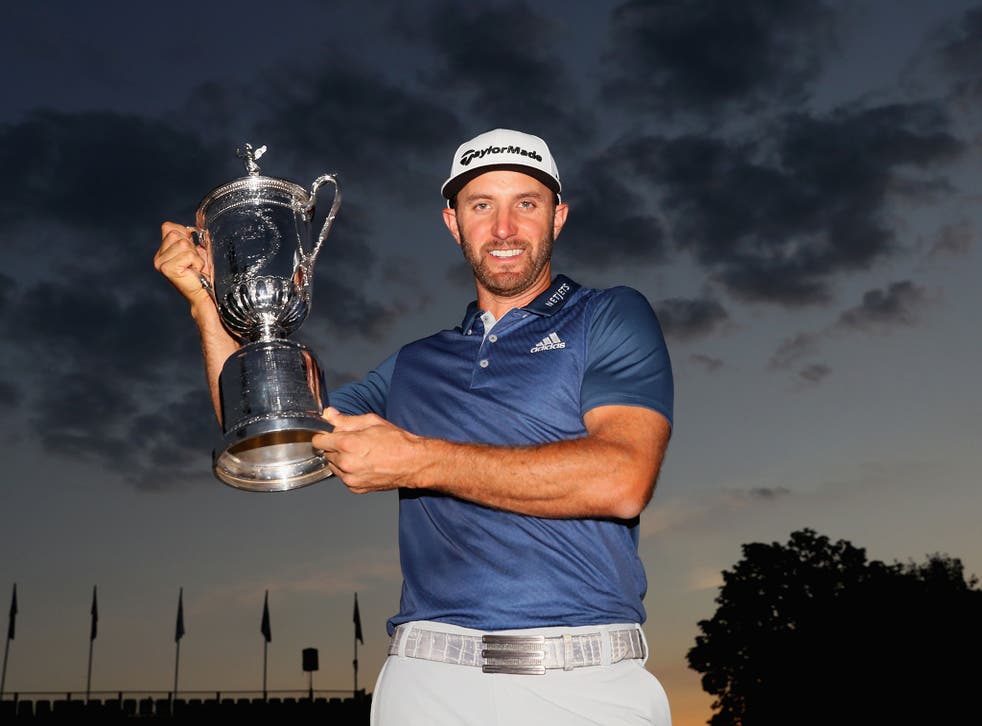 If anyone doubted Dustin Johnson's nerve when it comes to getting the job done at the critical point of major tournaments - and they did - they need doubt no more.
Sealing a debut title is taxing enough as Lee Westwood, who has now played more majors (73) without winning one than any other player in the sport's long and colourful history, can attest. But when you pull it off while the golf police are messing with your mind it is a sign of the steadiest of hands.
Johnson beat the field at the US Open late on Sunday night at Oakmont, clawing back four shots on the leader going into the final round, Ireland's Shane Lowry, to win his first major, but not before the USGA had tapped him on the shoulder on the 12th tee to tell him he was being investigated for a crime on the fifth – and would he mind popping in to see them when he was done and dusted so they could decide whether to penalise him or not? If they'd been plotting a way to put him off his stroke, they couldn't have planned it better.
On the fifth green, Johnson took a couple of practice putts next to his ball, then pulled away to ready himself to address it. Before he did, however, the ball moved a millimetre. The American sought the advice of the official walking with the group – said he had not addressed the ball (therefore, putting him in the clear) and his version of events was corroborated by his playing partner Westwood. The official was happy. Play on. End of story. Or so we thought.
"We were concerned about what we saw and felt obligated to have a conversation with Dustin about it," Jeff Hall, USGA managing director of rules and competition, said. "And the 12th tee presented the best opportunity to do that."
So it took about two hours to decide to tell Johnson – by now leading - he was under investigation and meant he had to play the last eight holes with a potential one-stroke penalty hanging over him with a first major in view. The decision – penalty or not – should have been made much earlier so that the American did not have to finish his round not knowing.
And Johnson did wobble for a few holes after being informed he was a suspect – perhaps because he has previous. Fortunately for him – and the USGA – he regained his composure and finished the tournament on the straight and narrow with a dead-eyed approach to the 18th and a birdie that maintained the daylight between him and the pack. It would have been so easy to let it eat him up between shots as another major chance slipped by.
It all smacked of 2010 when Johnson had a one-stroke lead playing the last at Whistling Straits in the USPGA only to ground his club in a "bunker", pick up a two-shot penalty, and miss out on a play-off. He had not realised the waste ground he hacked out of was deemed a bunker – understandably: spectators were standing in it.
He also a back catalogue of near misses, or chokes, depending on how you look at it – and Westwood, who was in contention again on Sunday morning only to shoot a 10 over – would probably go for the former. Back in 2010 Johnson led going into the final round of the US Open at Pebble Beach and shot an 82. A year later he was two behind eventual winner Darren Clarke at the Open only to slam his second to the par-five 14th out of bounds. Cue a seven and hopes dashed.
And last year, at the US Open at Chambers Bay, despite having ironed out his personal problems with a six-month break from the game that had the rumour mill whirring, on the very last hole, he missed a 12-foot putt to win… and the next one to force a play-off.
"I told myself I would deal with it when I was done," Johnson said of his rude interruption at Oakmont. "I was playing good and I blocked it out and focused on each shot. I didn't let it bother me."
It seemed to bother Lowry though, the Irishman shot a final round six over and fell away on his back nine - after all, how hard do you chase when you don't know how far behind you are? The whole shemozzle took the gloss of the concluding holes of a fine tournament, dominated the media coverage and Twitter, where Rory McIlroy, Jordan Speith and Rickie Fowler came out in support of Johnson.
Johnson was eventually penalised a stroke for moving the ball but by then had his hands firmly on the trophy and could not have cared less. The real crime was committed by the USGA.
Join our new commenting forum
Join thought-provoking conversations, follow other Independent readers and see their replies