Matthew Fitzpatrick ends 102-year wait for English triumph
Teenager does what only Harold Hilton achieved in 1911 by winning US Amateur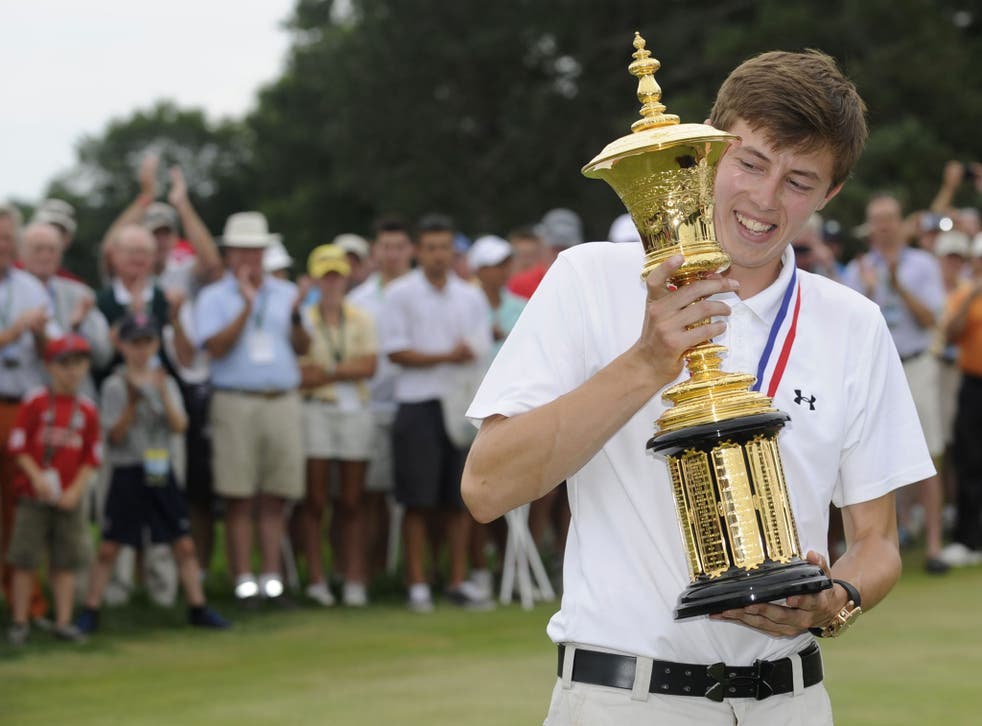 In this the year of the golfing supernova, Matthew Fitzpatrick contributed his bit to legend, becoming the first Englishman in more than a century to win the US Amateur Championship.
In what might be seen as an omen for the Ashes, the 18-year-old from Sheffield dispatched Australia's Oliver Goss with three holes to spare at Brookline, belatedly following in the footsteps of 1911 champion Harold Hilton, the only other English golfer to win the crown.
Fitzpatrick, whose victory took him to No 1 in the world amateur rankings, is compiling something of a CV having already taken the silver medal at the Open for the lowest score by an amateur.
He is now in the company of Tiger Woods, Phil Mickelson, Jack Nicklaus, Arnold Palmer and Bobby Jones; not a bad team to have round for dinner.
"I mean, it's absolutely amazing," said Fitzpatrick, who had his 14-year-old brother, Alex, on the bag. "I can't really describe how I'm feeling at the minute. That's sort of what everyone wants in golf, wants to achieve, and I'm pretty sure Justin Rose said that after his US Open that it's nice to go down in the history books."
Fitzpatrick's win earned him entry into the first three majors of next season. Before that he will help GB&I defend the Walker Cup against America next month before passing into the hands of Luke Donald's coach Pat Goss at Northwestern University in Chicago, where Donald honed his game and his transatlantic accent in the American collegiate system.
"Matt is starting to believe how good he is and how good he can be," Goss said. "But he has no sense of, 'Oh, I've figured it all out.' That's a good recipe for success."
Among the key elements will be learning how to control the heightened interest that comes with blue-chip success. "I think now there will be a lot of expectation on me from other people," he said. "I'm pretty sure they'll be expecting me to win everything that I play in, and the fact is that you can't. If I did that, I'd be on Tour already.
"I guess it will be fairly tough to handle but I'll just try and sort of keep the attitude that I've had coming into this week. It's not the end of the world if you don't do everything right. I've already had some fairly nice achievements, so there's no reason why I can't continue."
Join our new commenting forum
Join thought-provoking conversations, follow other Independent readers and see their replies