The Open 2013: Bunker hell no bother for Darren Clarke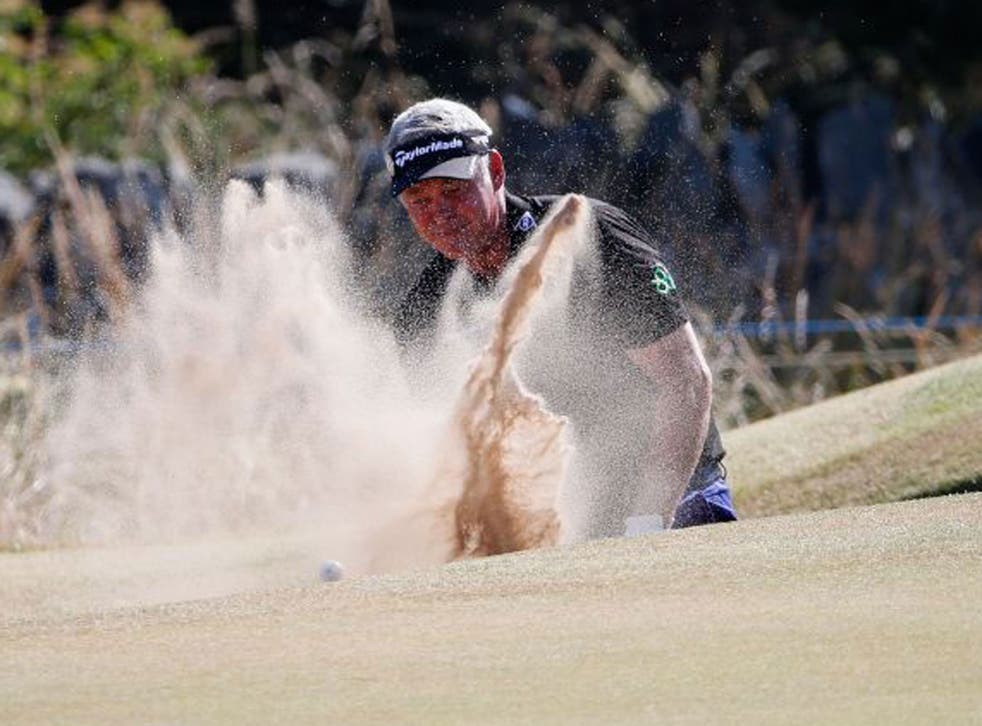 So the major winner from Northern Ireland is sneakily placed behind the leaders to make a tilt at the Claret Jug. No, not that major winner. Or indeed the other one.
Rory McIlroy and Graeme McDowell have been comprehensively outplayed by the senior member of that great Ulster triumvirate. Kudos, and no doubt a glass or two raised, to 44-year-old Darren Clarke, the 2011 Open Championship winner at Royal St George's.
Clarke followed up a one-over-par first-round 72 with a second round of par 71 to take a score of one over into the third round. But it should have been so much better. There were five birdies and not a single bogey on his card as he teed off at the final hole. Sad then that the only blemish on his scorecard up to that point was not a single bogey but a quadruple bogey eight on the par-four sixth.
Clarke made a mess of his tee shot and almost hit his ball over one of Muirfield's ancient stone walls that mark its perimeter. He had no option but to play safe with his approach but his ball landed in a greenside bunker. Clarke ended up thrashing away like a dad at the seaside digging a pit with a bucket and spade. Many weekend hackers watching him knew just how he was feeling. After his second swipe saw his ball pop out and trickle back in to the sand, instead of a temper tantrum, he simply chuckled and grinned. The sort of grin that said: "What a daft and maddening game this is." Fair play and respect to Clarke. He may have muttered something rather more Anglo-Saxon under his breath but who wouldn't under the circumstances? That quadruple bogey was all the more shocking as it came on the back of a hat-trick of birdies. Clarke had chances at the first and second holes, too.
That eight could have derailed his day. Even though he was striking the ball beautifully, Clarke still sometimes looks like a tightrope walker on the verge of a nervous breakdown, waiting for a firework to go bang. The fact that he stayed calm and dug deep said much about this welcome return to form. Clarke has been missing in action since he won his Claret Jug two years ago. He had not made a cut since the BMW PGA Championship at Wentworth in May and has plummeted to a world ranking of 437. But it has not been through lack of effort. He said he has been practising too hard and getting in his own way. What keeps him going? "The love/hate of the game. There's more love, but it's hiding somewhere. Such is golf. At the end of the day, my name is still on the jug."
Clarke found some love with birdies at the ninth and 12th. Shame then that he dropped a shot at the 18th after pulling his tee shot into the elephant grass, where the wild things are. When his par putt ran out of gas short of the hole, Clarke turned away in frustration. He leant on his putter and let his shoulders sag as he stared off into the middle of nowhere in particular. He then flashed another ironic smile. Daft game.
After bogeying the 18th in the first round, Clarke disappeared in a huff. This time he stopped for a post-mortem, which in itself illustrated how pleased he was with his performance. He talked through his quadruple bogey with good humour. "I missed my tee shot at the sixth and did the right thing and laid it up. Pulled my wedge three yards and I was plugged against the lip of the bunker and couldn't get it out. Left it in there. And tried to be smart with the next go. And left it in there. And then I was sensible with my third go. I was running out of fingers counting how many I was taking," he said with a grin.
Clarke has hit 27 out of 36 greens for a 75 per cent success rate, a remarkable display of ball striking considering the greens are like glass tables. The average for the field is just over 60 per cent. "I hit the ball lovely all day and gave myself lots of chances everywhere," he said. "Overall, I'd like to be a few shots better but it's not bad."
Clarke played down any suggestion that he was starting to feel the good vibes again like he did at Royal St George's but there was a quiet confidence in his voice when asked if he could win. "There's a long way to go. I'm not quite playing the way I'd like but I'm doing all right," he said. And with that he was off to range. To work on what? "Going to practise how to hit out of a plugged lie against the lip of a bunker."
Join our new commenting forum
Join thought-provoking conversations, follow other Independent readers and see their replies