The Open 2015: Eddie Pepperell unbowed by Old Course despite costly rush of blood
COMMENT: Pepperell is the future, a ruddy-cheeked son of Oxfordshire with a refreshing take on the world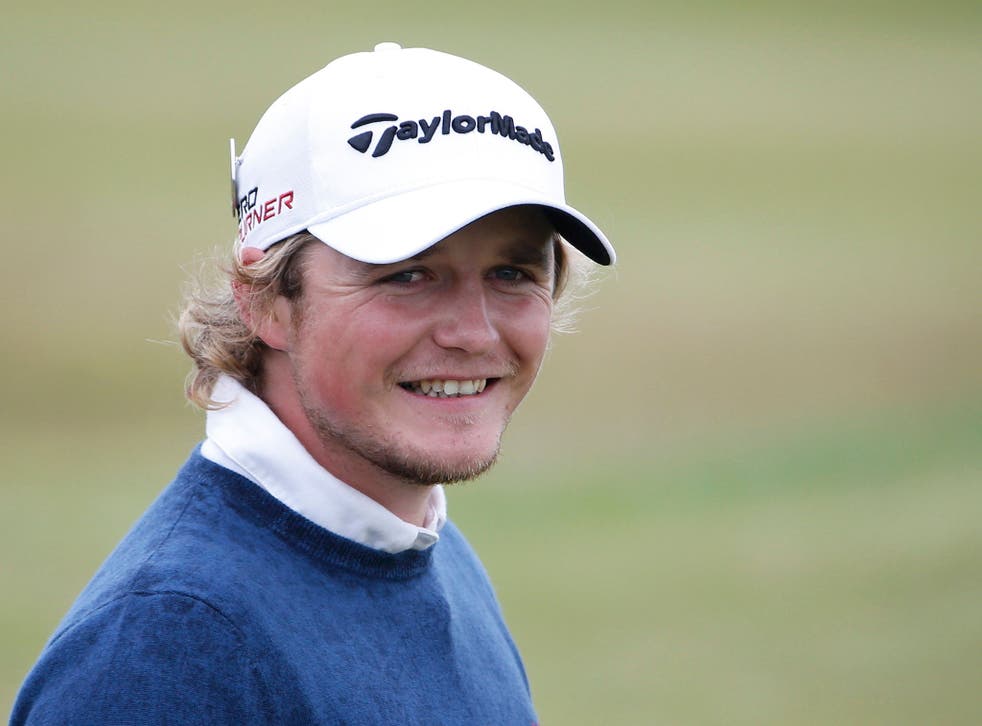 Where's Bruce Forsyth when you need him? For more years than he cares to remember dear old Brucie would be stationed by the window in his room at the Old Course Hotel, watching the golfers go by, and perfectly positioned to collect loose tee shots and head them back into play.
That was the kind of intervention Eddie Pepperell could have done with after slicing his tee shot at the Road Hole slap, bang into the hotel wall. On this day of outrageous bounty Pepperell was in the thick of the plunder, two pars from a 64 and a share of the lead. He had just birdied the previous two holes, taking his total to eight birdies for the round.
The adrenalin was pumping like the blazes when he let his drive go, almost uncontainable. His right hand came off the club, immediately telling of doom. Forced to reload, he would post a double-bogey to peg his score to 66, still a triumph since it took him to eight under for the tournament, a state of affairs he would have taken at the beginning of the week, as he acknowledged.
"I didn't hit the right shot off the 17th tee, and that's a problem with my swing, quite frankly. I need to go and work on that and make sure I can stand up on that tee tomorrow and feel confident again to hit the right shot. But all in all, if somebody would have said you take 66 and be in this position after three days, I probably would have taken it."
The Open 2015 - best pictures

Show all 59
Pepperell is that breath of fresh air every sport needs to ensure its renewal, a 24-year-old English kid going for everything. "I wasn't at all focused, I didn't care where I was at on the leaderboard. I felt really confident coming off 16.
"Holing that putt was a really good putt to hole for me, and maybe that tee shot was down to a little bit of complacency, not focusing on the right thing in my routine. But this is golf, and we all know how tough it is, into wind off the left on 17, it doesn't get much tougher than that, and I didn't quite master it today."
He will today with that attitude. Pepperell was not alone in taking the Old Course apart early doors. Graeme McDowell also sank eight birdies. Sadly, he posted a couple of doubles, too. David Duval – remember him? A former world No 1 and Open winner in 2001 – was out in the first group of the day and went to the turn in 32 en route to a 67 for five under par.
But we know their stories. Pepperell is the future, a ruddy-cheeked son of Oxfordshire with a refreshing take on the world. "I don't feel like I'm away with the fairies at all right now," he said. "I'm pretty into what I'm trying to achieve, I think. And that's all you can do on a tournament day, a tournament week.
"I guess I'll have time to reflect come tomorrow, but there's a long time between now and then, and a lot of things can happen between now and then, so the helium might pop, you never know."
Pepperell was at it out of the gate, firing five birdies in his opening six holes. In the same stretch later in the day the overnight leader and favourite to win, Dustin Johnson, managed none. There is a big difference, of course, coping with the lead at a major tournament and swinging freely in the margins but you still have to get the ball in the hole.
All around Pepperell the big beasts were beginning to gather at the top of the leaderboard, something he will have to manage today. If he needs some encouragement he need only look in the direction of the Irish amateur Paul Dunne, two years his junior and outright leader for a spell on 11 under. Oh, and then there is Jordan Spieth, the world's oldest 21-year-old.
Join our new commenting forum
Join thought-provoking conversations, follow other Independent readers and see their replies