Jordan Spieth weathers the storm to claim first Open title in dramatic fashion at Royal Birkdale
The American fought back from his bogey on the 13th to claim a third major title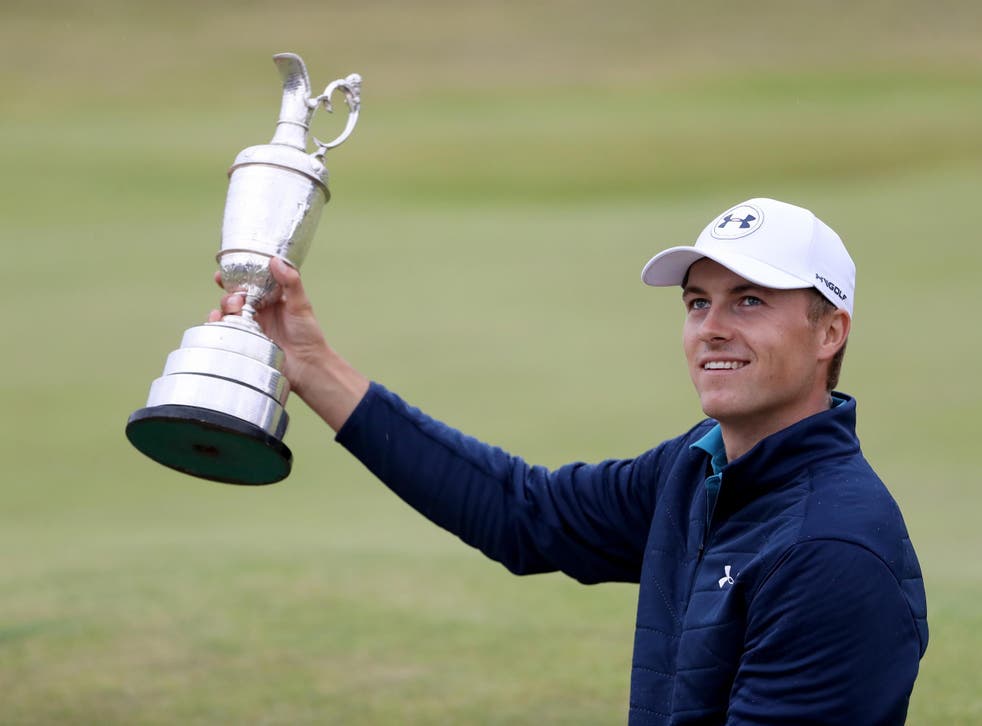 Jordan Spieth is the youngest ever American to be Open champion and the youngest of any since Seve Ballesteros in 1979. Aged 23 he joins Jack Nicklaus as the only players to win three different majors before 24. Not even Tiger Woods achieved that.
Golf's royalty were quick to praise Spieth on Twitter.
"Wow! What a wild back nine. Is Jordan Spieth something else?" Nicklaus tweeted. "Great display of guts, determination and skill. Well done."
The 146th Open Championship - in pictures

Show all 21
Woods too, heaped praise on Spieth's extraordinary finish of three birdies and an eagle in four holes from the 14th to sprint away from Matt Kuchar. "What an incredible way to comeback and win. Many congrats," Woods tweeted.
Spieth will go the US PGA Championship next month with a chance to become only the sixth player to complete a career grand slam and to beat Woods as the youngest. "To be in that company is absolutely incredible," Spieth said.
"But I don't compare myself. What those guys have done has transcended the sport. So it's a good start but I have a way to go."
Cradling the Claret Jug on the 18th green, Spieth said: "This is a dream come true. I was able to drink some wine out of it when Zach Johnson won and a lot of people told me that was bad luck and I was beginning to believe them. Boy, what an incredible venue and Open.
I'd like to thank my caddie Michael for keeping me in it. I was getting down on myself. This is as much my trophy as yours," he said.
To the record crowds of 235,000 for an Open held in England, Spieth said: "Thanks for breaking the attendance record. You're the most respectful and educated fans in golf."
He held the Claret Jug aloft and said: "I am going to take this back to America which might upset one or two of you but I'll bring it back. What an incredible honour."
He had a thought for Kuchar, too. "What a class act Matt Kuchar is," he said. "It could have gone either way. I spent 20 minutes to play one of my shots and Matt took it in his stride."
Those 20 minutes kick-started one of the most memorable finishes ever witnessed at the Open. Spieth's drive at the 13th went 130 yards off target. It was so far off target he spent an age orienteering around the sand dunes before declaring an unplayable lie, taking a penalty drop and having the mental fortitude to ask if the practice ground was in play.
It was and off he marched among the equipment lorries. He played a 3-iron over the hillocks and escaped with just one dropped shot. It will be remembered as the greatest ever bogey that won a major. "I got away with murder," Spieth said.
Kuchar must have thought he had a chance. Not a bit of it. After channelling Seve, Spieth switched to playing like Tiger in his pomp. He nearly aced the 14th and tapped in for birdie then the killer blow came at the par-five 15th. A 50-foot putt for eagle snaked around the green and disappeared into the hole.
Spieth didn't even hang around to pick it up. He fist-pumped and yelled at his caddie: "Go get that!" Another birdie at the 16th gave him a two-shot lead. The jug was his. "It's amazing," Spieth said. "I feel blessed."
Join our new commenting forum
Join thought-provoking conversations, follow other Independent readers and see their replies