Rory McIlroy trails Adam Scott by two after brilliant 65 at Doral
McIlroy finished eight under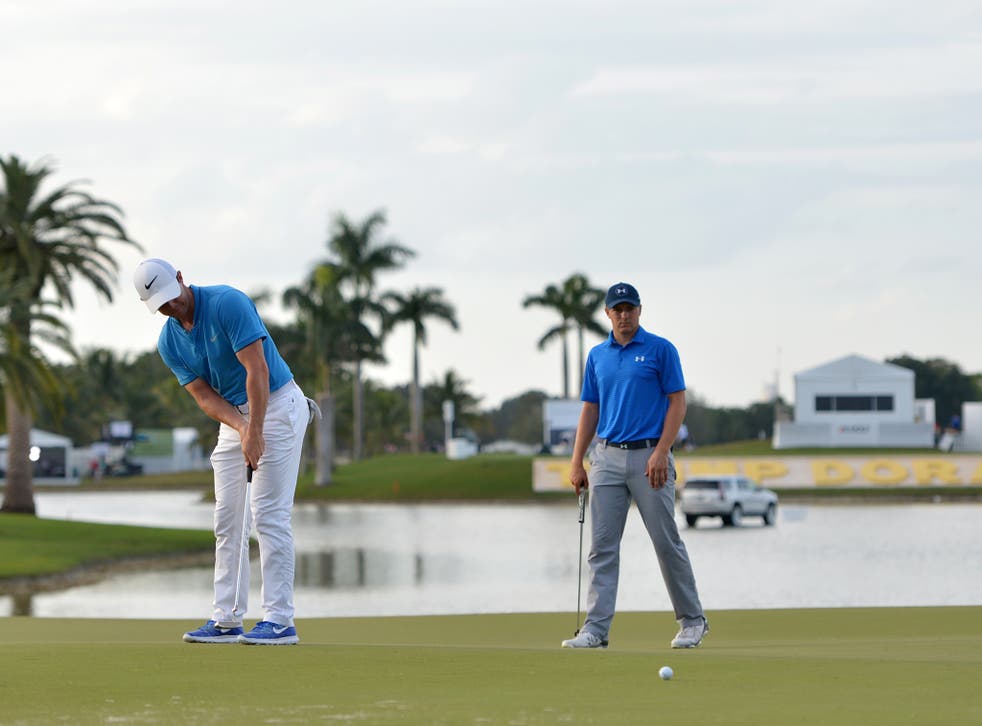 Rory McIlroy can forget about Jordan Spieth, at least for a day. McIlroy goes out in the final pairing at the WGC-Cadillac Championship in Miami this evening on eight under par, two behind leader and playing partner Adam Scott.
His new putting grip yielded spectacular returns on day two, needing just 23 putts, ten fewer than Thursday, in a round of 65. Spieth joked that McIlroy had joined him on the 'dark side' in adopting the unorthodox left-hand-below-right grip.
Incredibly, and revealingly, McIlroy explained his concern beforehand about how the switch might be perceived in relation to Spieth. "The one thing that I was sort of worried about was the 'McIlroy is copying Spieth'. That was my big thing, the whole thing for me."
He needn't have worried. Spieth closed five shots adrift, his long game still in need of repair. The immediate reference point is the resurgent Scott, who followed up his victory at the Honda Classic last week with another dominant display.
Scott is particularly relevant since he had to refashion is own putting stroke following the ban on anchored putters which came into effect in January this year. Scott had not won a tournament since 2014 before his Honda triumph, but now looks back to the player who won the Masters in 2013.
McIlroy's missed cut at the Honda finally persuaded him to return to the grip he used in his rookie year in 2008. "I don't think it takes that much courage. I mean, in my mind, it couldn't really have got any worse. So why not make a change? It is feeling very comfortable at the minute, and as I said at the start of the week, I'm willing to stick with it for as long as I can."
It is not just the putts for birdie, and McIlroy ties the lead with 13 in that category, but those that save par that shape a winning scorecard. He has missed only once from inside 10 feet and of the 15 single putts from that distance four have been for par.
"The putts from inside 10ft had been missing and that's the difference between shooting rounds of 71 and turning them into 65s. I've always said there should be zero difference between the practice green and out there on the course. Obviously the circumstances are slightly different but if you break it down to the simplest form, that putt on the practice green is the same as a putt on the course.
"I've seen improvements on the putting green, so it's nice to see those improvements translate on to the golf course. I am very excited now to be in the mix and really looking forward to the weekend."
Join our new commenting forum
Join thought-provoking conversations, follow other Independent readers and see their replies