Sergio Garcia claims he cannot apologise anymore for 'fried chicken' jibe at Tiger Woods and claims the matter is 'all over'
Golfer insists he has apologised over and over again after receiving abuse from small sections of the American crowd at the US Open last year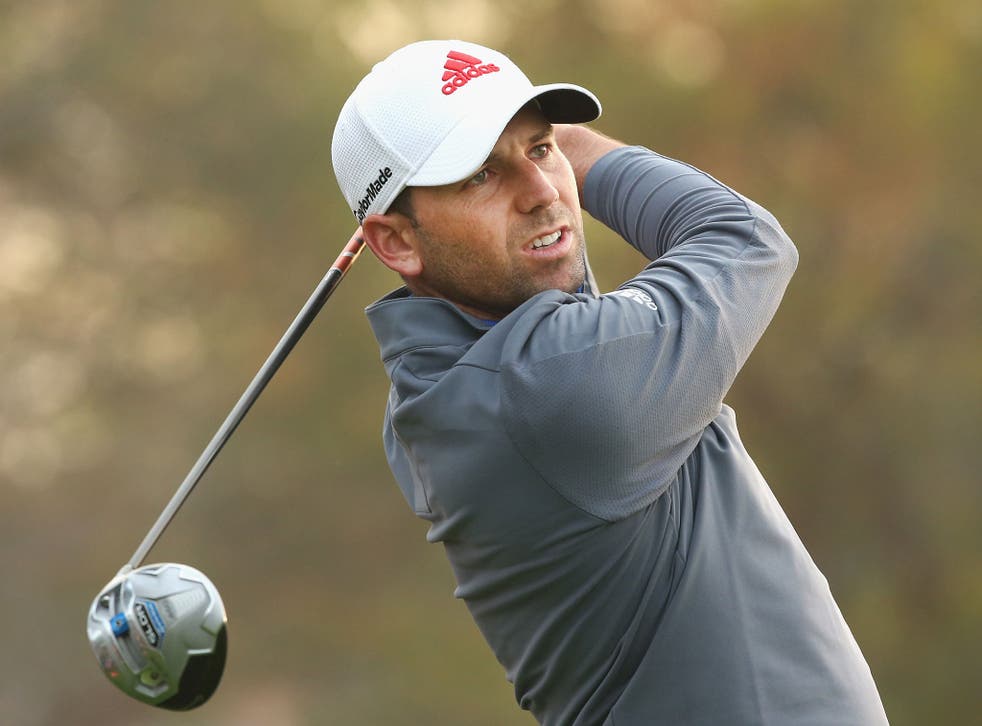 Sergio Garcia may be hoping that 2014 brings a fresh start for him on the course, even though his good form last year saw him return to the top 10 in the world rankings. Ahead of the new season, Garcia has admitted that he cannot keep apologising for his "fried chicken" jibe aimed towards Tiger Woods at a European Tour dinner in May.
Garcia was speaking ahead to the HSBC Golf Championship in Abu Dhabi, in which he reflected on the criticism he received across the Atlantic during the US Open. A small section of the crowd at the Merion course abused Garcia during the event, which the Spaniard has described as a "rough" experience.
"I don't know if I was prepared for it," said Garcia. "I mean, it wasn't certain to know what was going to happen, more than anything at the US Open. It was my first week back there [in the United States]. And it was rough, it was difficult. Only by a minority, but they made themselves heard.
"But the good thing is the majority of the people knew me and what happened so they accepted my apologies and they could see that it was truthful. So that's what helped me to keep going.
"You know, it wasn't easy because I guess that minority are always the loudest and they made themselves heard. It's never nice to be reminded of something that you don't like and you don't enjoy.
"I guess the only thing you can do is keep going, do what you love to do and try to show everybody what you are. Hopefully that's good enough for them to like it."
Garcia was then asked if he and Woods had spoken much since the incident, to which he answered "We have seen each other at tournaments, yes."
When pushed further, he added: "I can't apologise any more. I have apologised and reapologised, so I think it is all over.
"It was probably a tough three months at least, but it was a good learning experience. I thought that we learned a lot from it and I think that it made us even stronger.
"It has been nice to play a little bit, maybe not think so much about it and then just get your game in shape, your head in the right way."
Garcia could be given a break from any abuse from the crowd ahead of this year's Ryder Cup, which Garcia is a near-certainty to be a part of. The prestigious tournament takes place at the Jack Niclaus-inspired Gleneagles course in Scotland.
Garcia got his campaign in Abu Dhabi off to a poor start as he carded a first round 76 to reach the club house on four-over-par, tied for 107 place. But he heads into 2014 off the back of a successful end to 2013, having triumphed at the Thailand Golf Championship.
However, he criticised the European Tour's scheduling of the inaugural Final Series, and decided against attempting to qualify to make a point of his displeasure.
"I did talk to George [O'Grady, the European Tour's chief executive] and Keith [Waters, the tour's chief operating officer] and the rest of the group," said García, addressing his decision not to compete in the Final Series. "We tried to figure out the best way possible.
"I think they realised that for players like me that play on both tours, it's difficult to put ourselves under so much pressure of playing a lot of tournaments in a row. Our season is so compact in the United States that we play a lot of tournaments and, for me, that's what happened last year.
"I played eight out of nine weeks, or eight out of 10, during the summer and it was just a lot of golf. I needed to rest a little bit and that was towards the end of the year when I wanted to take a couple of breaks. I wanted to play in Dubai but for me to qualify for it, I needed to play pretty much six out of seven weeks.
"So it was just too much for me, thinking not about last year but thinking about this season and how I would start it. It was disappointing. I would have loved to be in Dubai and play there, but it's one of those things that happened. I'm sure that we will fix it, that we can all move forward and do the right things."
Join our new commenting forum
Join thought-provoking conversations, follow other Independent readers and see their replies