US Open 2014: Martin Kaymer in the driving seat, but Justin Rose could still retain crown
Last year's winner knows he needs 'a special round of golf' to catch German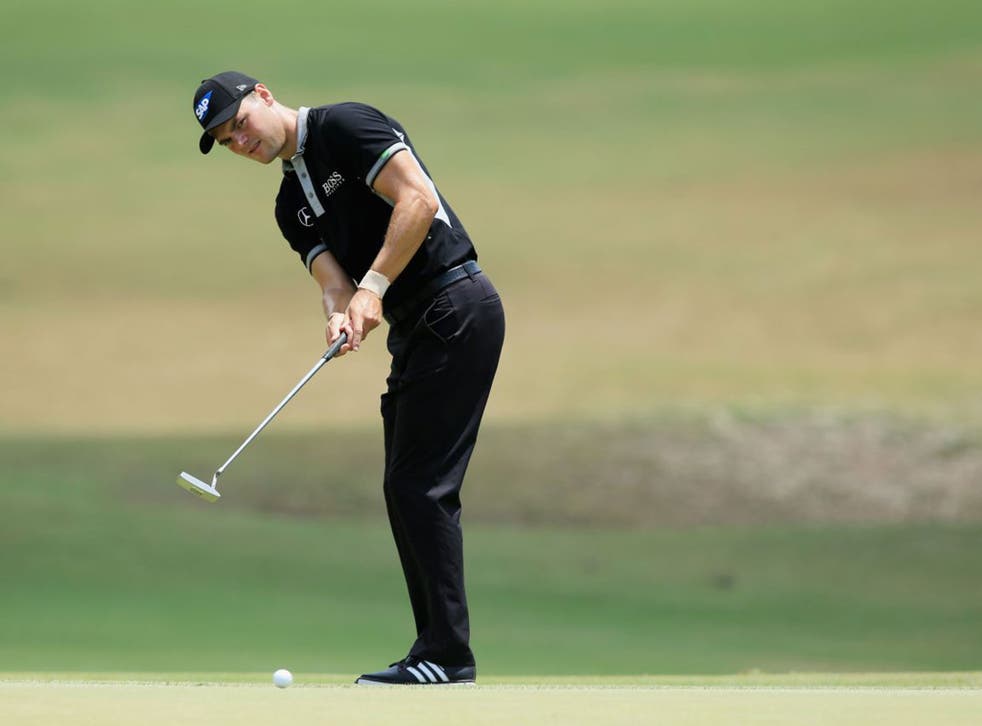 A long shot is better than no shot. And that is what Justin Rose gave himself as he attempts to retain his US Open crown. A third round 70 was enough to send him to his pillow investing in the power of dreams after a day of hot sun and evil pins saw only two players shoot red numbers.
The tournament remains Martin Kaymer's to lose, but the margins are shrinking. He required a birdie at the last to give him a five-stroke cushion on eight under par. The USGA do not take kindly to having their trousers taken down. After two rounds of 65 something had to happen, and it did.
The landing areas shrank, holes that appeared as big as mine shafts to Kaymer on Friday suddenly acquired the dimensions of pinheads. Two bogeys in his opening four holes gave the pack hope. An eagle at the fifth out of the scrub briefly restored his ten under bulk head but that would whittle and for much of the afternoon he was a long way from the imperious beast of the opening two days.
Hegemony rested with Rose until Rickie Fowler posted a 67 to close on three under. Eric Compton followed in Fowler on the same score, a remarkable story all its own after undergoing two heart transplants in his life.
"If you go out and play a special round of golf, it's always possible," Rose said of his chances. "It takes clean ball striking and making putts around here, because you can't get it close to the hole. That's what I'm going to need to make this a great week.
"It could have been a great day, no doubt. I played really, really well. I was surprised when I got in the scorer's tent and that said 70 was tied for the lowest score so far."
Rory McIlroy had a torrid start without doing much wrong. Four bogeys in his opening six holes was a pitiless return for great ball striking. McIlory was undone once again on the greens. He just does not have their measure. A round of 74 was the result.
Reality finally caught up with Matthew Fitzpatrick. Bogey, double, double. Five shots gone in the first three holes. Welcome to the big show, son. This is the future to which Fitzpatrick is committed. Next week in Cork the 19-year-old from Sheffield makes his pro debut at the Irish Open. Professional golf is a hard road to travel, most of it many miles removed in setting, significance and spirit from elite barrios like Pinehurst.
The US Open handed down the harshest of lessons to a young man who might have thought every day a walk in the park with Phil and Justin. In two relatively benign rounds the US Amateur champion acquitted himself admirably in the company of the 2013 US Open champion Justin Rose and America's favourite golfing son, Phil Mickelson, making the cut on the mark of four over par.
Today he walked into a classic right hand, the kind of punch a major can throw and older players see coming, out in 43, six over for the round. A birdie at the par-5 fifth was his only reprieve. He was not the only one suffering, of course, but he was the only one enduring this kind of pain for the first time, a lesson that will doubtless serve him well.
Both Mickelson and Rose have been impressed by what they have seen. "He's obviously a great player and turning pro next week I wish him well," said Mickelson. Rose, who played with him in a practice round at the Masters, endured his own torment in that torrent of 21 missed cuts that marked the start of his professional career after a stunning display at the Open at Birkdale as a 17-year-old amateur.
"I don't think you are ever 100 per cent ready to turn pro because at the end of the day it is a process to get better year on year for the next 20 years for him. When I turned pro I put too much pressure on myself to get a tour card immediately. I thought having a tour card was the be all and end all but when I look back at it, just continuing to get better as a player is all that matters because eventually you are going to find your way to the top if that is what is meant to be."
Fitzpatrick stopped the bleeding for four holes on the back nine before successive bogeys at 14, 15 and 16 took him to 13 over for the tournament. There will have been some comfort in the shared experience. His playing partner, Russell Henry, who pipped Rory McIlroy at the Honda Classic in February, was listing just as badly on the same score. And there was a birdie at the last, a final, defiant punch that said, "I'll be back."
"It was the only putt I holed all day. So it was a nice way to finish," Fitzpatrick said. "That sort of tells me something that I need to work on for next week. I'll just take it from there. I thought the course was probably a bit tougher, but at the same time I didn't feel like I played any worse."
Join our new commenting forum
Join thought-provoking conversations, follow other Independent readers and see their replies