Italian Grand Prix LIVE result: Pierre Gasly takes first F1 victory in thrilling race at Monza
Follow the latest updates from Monza where the race has been red flagged after a crash for Charles Leclerc
Jack de Menezes
Sports News Correspondent
Sunday 06 September 2020 16:27 Comments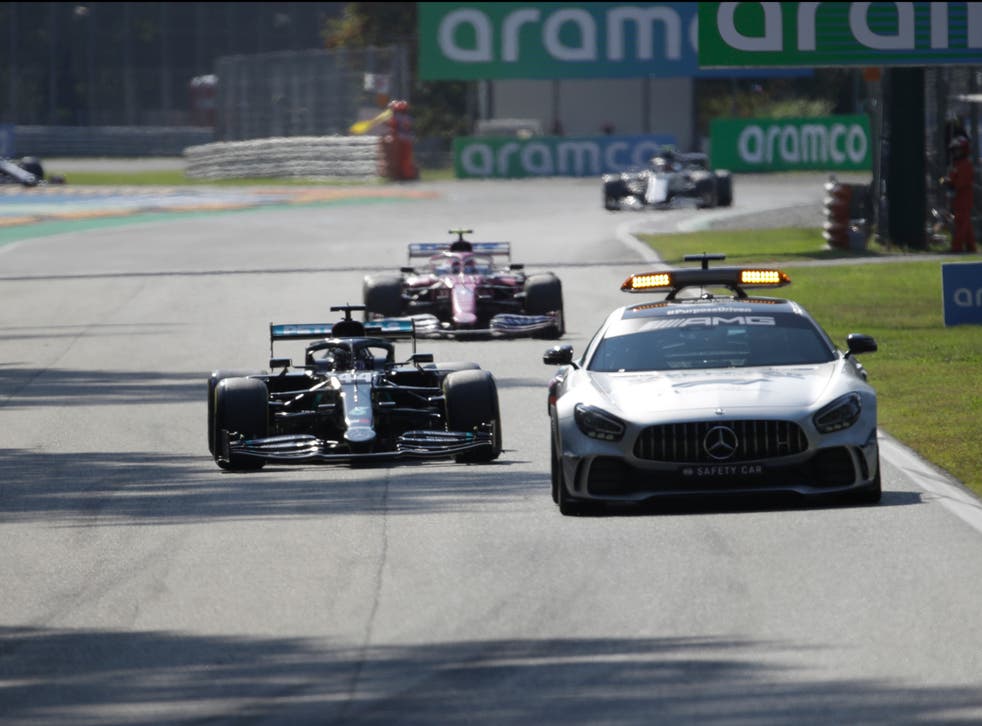 Follow the latest updates live from the Italian Grand Prix at Monza where Lewis Hamilton will attempt to make it six wins from eight this season as he starts from pole position.
The six-time world champion is bidding to match Michael Schumacher's all-time record of seven titles, and a victory today will take him a giant step closer towards achieving that honour, with the Mercedes driver already holding a 47-point advantage in the standings. He is also just two race wins away from Schumacher's tally of 91 career victories, and should he triumph today, he could end up equalling that record next weekend.
His Mercedes teammate Valtteri Bottas starts alongside him on the front row, but Hamilton's nearest challenger in Max Verstappen will only start in fifth after the Red Bull qualified behind Carlos Sainz and Sergio Perez, leaving the Dutchman with plenty of work to do if he is to secure a podium finish on the high-speed track. Follow the live updates below.
1599406063
Italian Grand Prix report
AlphaTauri driver takes the first win of his career after a red flag-affected race sees Lewis Hamilton finish down in seventh
Jack de Menezes
6 September 2020 16:27
1599405145
Pierre Gasly
"Honestly, it's unbelievable. I'm not sure I know what's happening right now. It was such a crazy race and we capitalised on the red flag.
e been through so much in the last 18 months, my first podium lst year I was like wow, nd with AlphaTauri, and now this.
I have no words, this team have done so much for me, they gave me my first drive in F1, they gave me my first podium and now they've given me my first win. Thank you to them and thank you to Honda.
"Olivier Panis was the last one and that's something I've always said we need to change, but I never thought it would happen and with AlphaTauri. It's so crazy, I'm so happy."
Jack de Menezes
6 September 2020 16:12
1599405019
Carlos Sainz
"I'm halfway disappointed with P2, I wouldn't believe that I got the chance to fight for victory, but in a normal race I think we'd have got P2 behind Lewis because we had good piece. But wow, look at Pierre out there and knowing it was there.
"Especially getting back from 06 to 02, chasing Pierre and finishing 0.4 behind, we need to be proud."
Jack de Menezes
6 September 2020 16:10
1599404929
Lance Stroll
"I am happy. It's been a couple of years since I stood on a podium so I'm glad to be back, but I'm so happy for Pierre. He had a great start and was so consistent, he deserves it. I felt it was mine to lose in second at the start but I had a ton of wheelspin and lost a lot of position.
"It's bizarre, you've got to reset and we're not used to that intermission."
Jack de Menezes
6 September 2020 16:08
1599404851
Chequered flag
What a race, what a finish! Pierre Gasly leads Sainz home by just 0.415s, but it's enough to secure his first ever victory in F1 and he is DELIGHTED! Driver after driver comes to congratulate him in parc ferme, and Gasly may have already lost his voice from screaming on the radio. The team are there to celebrate with him, and boy are they happy.
Jack de Menezes
6 September 2020 16:07
1599404453
CHEQUERED FLAG
PIERRE GASLY WINS THE ITALIAN GRAND PRIX!
Jack de Menezes
6 September 2020 16:00
1599404395
Lap 53
Gasly starts the final lap as Sainz has DRS!
Jack de Menezes
6 September 2020 15:59
1599404325
Lap 52
Sainz just can't get into DRS range as they start the penultimate lap…
Jack de Menezes
6 September 2020 15:58
1599404297
Lap 51
Hamilton passes Kvyat through Curva Grande and is up to eighth.
Jack de Menezes
6 September 2020 15:58
Register for free to continue reading
Registration is a free and easy way to support our truly independent journalism
By registering, you will also enjoy limited access to Premium articles, exclusive newsletters, commenting, and virtual events with our leading journalists
Already have an account? sign in
Join our new commenting forum
Join thought-provoking conversations, follow other Independent readers and see their replies