UFC 266 LIVE: Volkanovski vs Ortega latest updates and result tonight
Re-live all the action from Las Vegas
Alex Pattle
Sunday 26 September 2021 08:02 Comments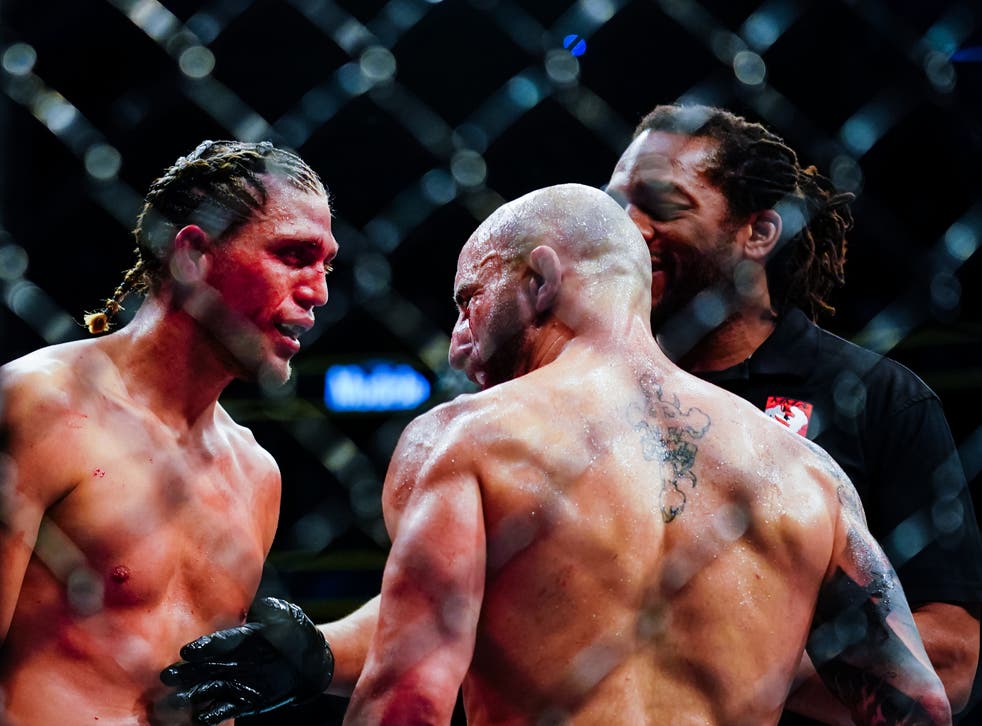 Alexander Volkanovski retained his featherweight title against Brian Ortega in the main event of UFC 266 on Satuurday Night, as the pair produced arguably the greatest championship bout in the history of the division.
After 25 engrossing minutes of mixed martial arts, Australian Volkanovski (23-1) defeated American Ortega (15-2, 1 no contest) via unanimous decision, with the judges in Las Vegas revealing 49-46, 40-45 and 45-44 scorecards in the champion's favour.
Over the course of five rounds, Volkanovski got the better of his challenger in the majority of the striking exchanges, but the champion was forced to escape four submission attempts that all seemed certain to spell the end of the 32-year-old's title reign. Three of those holds were applied in a stunning third round. Ultimately, Volkanovski fought free and re-established his superiority to win over the judges and keep his belt.
In the co-main event of UFC 266, Valentina Shevchenko (22-3) made a sixth successful defence of her flyweight title by stopping Lauren Murphy (15-5) with ground and pound in the fourth round. Prior to that, MMA icon Nick Diaz – older brother of Nate – had made his return to the sport after six years away. seventeen years after his welterweight bout against Robbie Lawler, Diaz took on his fellow Californian in a middleweight rematch. Lawler, 39, the fight via third-round TKO, with the 38-year-old Diaz deciding against continuing after he was floored by a right hook.
Re-live updates from UFC 266 below.
1632625352
UFC 266: Blaydes def. Rozenstruik
Curtis Blaydes def. Jairzinho Rozenstruik via unanimous decision (30-27, 30-27, 30-27)
Alex Pattle
26 September 2021 04:02
1632625214
UFC 266: Blaydes vs Rozenstruik
More boos as both heavyweights take a cautious approach.
Eventually they begin to let their hands go, before Blaydes drives at Rozenstruik for a takedown.
He gets it but almost overshoots, and Rozenstruik rolls with it to kick Blaydes off him.
Blaydes, however, acts quickly and jumps straight into Rozenstruik's guard.
He stands after a while, but not for long enough for Rozenstruik to get up.
Blaydes will end this fight on top and win a decision.
Alex Pattle
26 September 2021 04:00
1632624941
UFC 266: Blaydes vs Rozenstruik
Each man is wary of the other's strengths, and so they're a bit tentative here – to the dismay of a now booing crowd.
Nothing tentative about a flying knee attempt from Rozenstruik, though! He tries it as Blaydes shoots for a takedown.
It doesn't quite land flush, however, and Blaydes goes for another takedown. This one is successful.
Blaydes ends the round on top, with heavy boos raining down at the T-Mobile Arena.
The flying knee connected just about enough to cause some significant swelling around Blaydes' right eye.
Alex Pattle
26 September 2021 03:55
1632624393
UFC 266: Blaydes vs Rozenstruik
The key here for Blaydes will be his wrestling. For Rozenstruik: punching power.
Blaydes is light on his feet, hopping in and out of range... He manages to get past Rozenstruik's attempted counter left hook and clinch his opponent.
Blaydes forces Rozenstruik back to the fence and immediately trips him! Slick.
Terrific effort by 'Bigi Boy' to get back to his feet and make space, though.
Alex Pattle
26 September 2021 03:46
1632623624
UFC 266: Blaydes vs Rozenstruik
Curtis Blaydes faces Jairzinho Rozenstruik next in a clash of heavyweight contenders!
Alex Pattle
26 September 2021 03:33
1632623521
UFC 266: Andrade def. Calvillo
Happy birthday Jessica Andrade! That's two fighters tonight who have won on their birthday.
Alex Pattle
26 September 2021 03:32
1632623316
UFC 266: Andrade def. Calvillo
Jessica Andrade def. Cynthia Calvillo via first-round TKO (strikes, 4:54)
Alex Pattle
26 September 2021 03:28
1632623270
UFC 266: Andrade vs Calvillo
Fight under way. Andrade officially becomes the first woman to have competed in 20 UFC bouts.
The former strawweight champion is just stalking Calvillo along the fence. She lands heavy hooks with each hand.
Calvillo is firing back with sharp jabs, but they obviously don't carry the power of Andrade's shots...
Huge uppercut from Andrade late in this first round, and the Brazilian starts hammering her opponent with that strike over and over against the fence!
Referee Herb Dean stops the fight with just six seconds left in the first frame! Calvillo was shelling up and offering no defence.
That's the first time Calvillo has been stopped in her professional MMA career. Andrade said she would be the person to end that run!
Alex Pattle
26 September 2021 03:27
1632622539
UFC 266: Andrade vs Calvillo
The main card begins with a women's flyweight clash between former strawweight champion Jessica Andrade and gym-mate Cynthia Calvillo!
Alex Pattle
26 September 2021 03:15
1632621567
UFC 266: Dvalishvili def. Moraes
Alex Pattle
26 September 2021 02:59
Register for free to continue reading
Registration is a free and easy way to support our truly independent journalism
By registering, you will also enjoy limited access to Premium articles, exclusive newsletters, commenting, and virtual events with our leading journalists
Already have an account? sign in
Join our new commenting forum
Join thought-provoking conversations, follow other Independent readers and see their replies