As it happened
ended
1459706793
Bahrain Grand Prix live: Nico Rosberg wins ahead of Kimi Raikkonen and Lewis Hamilton, Sebastian Vettel fails to start
Re-live lap-by-lap updates from the Bahrain Grand Prix as Nico Rosberg's continues his perfect start to the 2016 season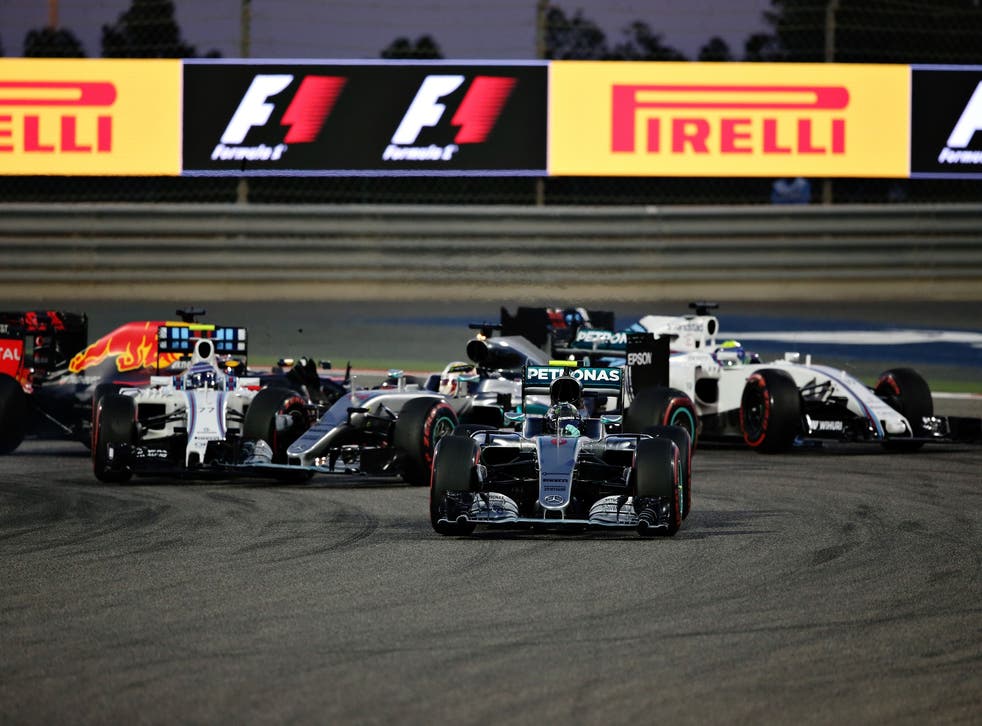 The second race of the 2016 Formula One season took place in Bahrain where reigning world champion Lewis Hamilton started from pole, having snatched the top spot away from his Mercedes team-mate Nico Rosberg with his final lap in qualifying. Follow the latest here.
Nico Rosberg wins the Bahrain Grand Prix
Lewis Hamilton passed by team-mate on start before being hit by Valtteri Bottas
Sebastian Vettel's Ferrari engine blows up before start
Kimi Raikkonen finishes second ahead of Hamilton
Daniel Ricciardo fourth and Romain Grosjean fifth
Follow the live action below...
Please allow a moment for the blog to load...
Bahrain GP grid:
1. Lewis Hamilton (Gbr) Mercedes GP 1min 29.493secs
2. Nico Rosberg(Ger) Mercedes GP 1:29.570
3. Sebastian Vettel (Ger) Ferrari 1:30.012
4. Kimi Raikkonen(Fin) Ferrari 1:30.244
5. Daniel Ricciardo(Aus) Red Bull 1:30.854
6. Valtteri Bottas (Fin) Williams 1:31.153
7. Felipe Massa(Bra) Williams 1:31.155
8. Nico Hulkenberg(Ger) Force India 1:31.620
9. Romain Grosjean (Fra) Haas F1 1:31.756
10. Max Verstappen(Ned) Scuderia Toro Rosso 1:31.772
11. Carlos Sainz(Spa) Scuderia Toro Rosso 1:31.816
12. Stoffel Vandoorne(Bel) McLaren 1:31.934
13. Esteban Gutierrez(Mex) Haas F1 1:31.945
14. Jenson Button(Gbr) McLaren 1:31.998
15. Daniil Kvyat(Rus) Red Bull 1:32.241
16. Pascal Wehrlein(Ger) Manor Racing 1:32.806
17. Marcus Ericsson(Swe) Sauber-Ferrari 1:32.840
18. Sergio Perez(Mex) Force India 1:32.911
19. Kevin Magnussen(Den) Renault 1:33.181
20. Jolyon Palmer(Gbr) Renault 1:33.438
21. Rio Haryanto(Ina)Manor Racing 1:34.190
22. Felipe Nasr (Bra) Sauber-Ferrari 1:34.388
Note: Kevin Magnussen has to start the race from pit lane as he failed to stop for weighing during P2 when he was signalled to do so.
1459685551
Good afternoon and welcome to the Independent's live coverage of the Bahrain Grand Prix, where Lewis Hamilton starts from pole position in his bid to get back on top after his Mercedes team-mate Nico Rosberg won the season-opening race in Australia.
Already it's been a dramatic morning in Sakhir, with a meeting taking place in order to try and decide on a new (or old) qualifying system that will rectify the current debacle that has been introduced for 2016. Despite the team bosses unanimously agreeing on a return to the 2015 regulations, Bernie Ecclestone, Jean Todt and the FIA have categorically ruled out any return to last year's system and have instead offered an aggregate session in a bid to increase track time during qualifying.
Another meeting will be held on Thursday, but what it does mean is that we are no closer to finalising which qualifying session we will see in China in two weeks time.
Jack de Menezes
3 April 2016 13:12
1459690220
So what happened in qualifying yesterday? Well, it wasn't as bad as it was in Australia, but it couldn't get much worse, could it? There were two very impressive performances from youngsters Pascal Wehrlein and Stoffel Vandoorne, but it was Lewis Hamilton to once again stole the show with a record final lap that just edged out his team-mate Nico Rosberg. Read the full report below.
Jack de Menezes
3 April 2016 14:30
1459694371
Green lights at the end of the pit lane and out head the cars for their final preparations, with the grid beginning to get busier by the second. Derek Warwick is out on the grid, having been elected the FIA steward for the Bahrain Grand Prix, and he could be in for a busy day once the lights go out.
Jack de Menezes
3 April 2016 15:39
1459694500
A call for help?
Bernie Ecclestone pictured ahead of the Bahrain Grand Prix 
Jack de Menezes
3 April 2016 15:41
1459694643
Fernando Alonso is another on the grid, and despite doing his best to try and stay away from the prying eyes of the media, Sky Sports F1's Martin Brundle gets a word out of him - or many words int he end. He admits it's weird and not a nice feeling to be on the grid before a race without competing, and confirms that he's "99% certain" he'll be back in his McLaren for the Chinese Grand Prix. A one-shot chance for Vandoorne, in which case.
Jack de Menezes
3 April 2016 15:44
1459694769
The drivers are beginning to head down to the front of the grid to honour the Bahrain national anthem.
Jack de Menezes
3 April 2016 15:46
1459694852
Sun going downLights going onExcitement = fever pitch15 MINS TO GO#BahrainGP ???????? https://t.co/8FV0AwZnQv
Jack de Menezes
3 April 2016 15:47
Join our new commenting forum
Join thought-provoking conversations, follow other Independent readers and see their replies