Christian Horner cannot hide the fact that Sebastian Vettel is top dog at Red Bull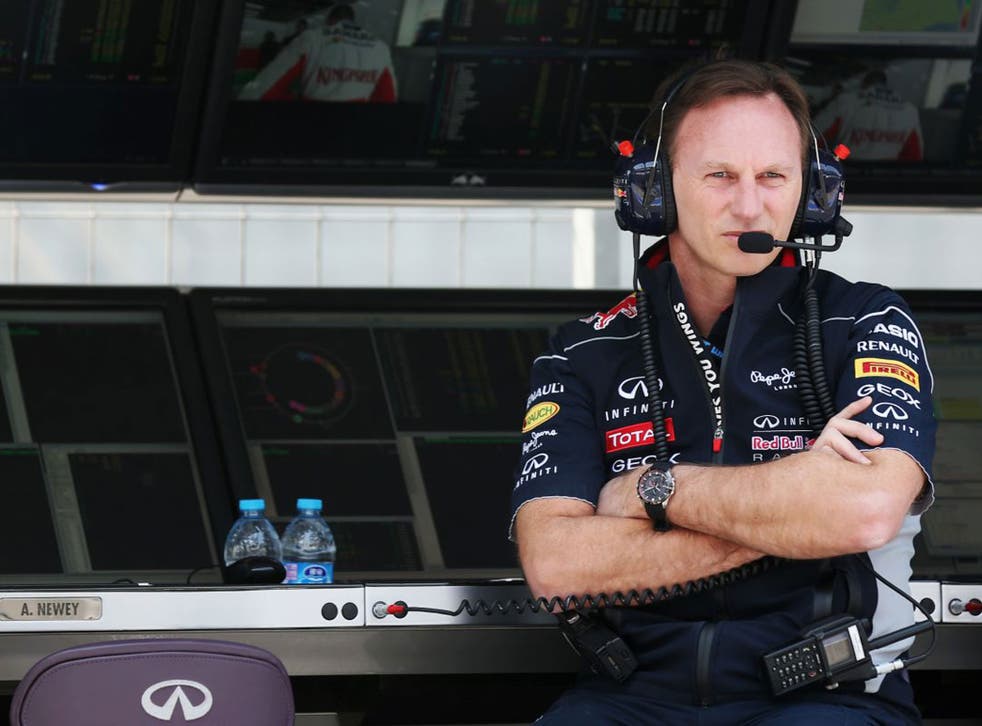 Beleaguered Red Bull team principal Christian Horner did little yesterday to dispel the widely held belief that Sebastian Vettel's actions in stealing the Malaysian Grand Prix from team-mate Mark Webber, and his subsequent fanning of the flames of controversy here, have emasculated Horner's authority.
Vettel apologised to the staff at Red Bull's factory in Milton Keynes in the immediate aftermath of the race in which he disobeyed Horner's order not to overtake Webber.
Just as things were beginning to die down, on arrival in Shanghai he made it clear he would probably do the same thing again and, directly contradicting what he had described as a "mistake", and an action that had "not been deliberate", he launched an attack against Webber in which he said his actions were payback for Webber's "refusal to help the team in the past".
As Horner lamely harked back to Vettel's contrition and spoke of the team putting the incident behind them and moving on, the world remained sceptical that he has the strength of character to manage his duelling drivers. He was not helped by the comments made in a recent interview given by team owner Dietrich Mateschitz's right-hand man Dr Helmut Marko, which outlined the real team management structure.
Marko denied that he is the real power behind Red Bull, a puppetmaster who pulls Horner's strings.
"That's not true," he said. "We are a team. Christian has his part and I have my part and Adrian [Newey] has his part, and we are working very well as a team. None could do it on his own to make this passion and to make this cooperation between Austria and England which is working very well."
But the pecking order became clear when he said: "I'm director of Red Bull Racing together with Christian and Mateschitz. Everything from the team comes to me and I filter it and if necessary bring it to the boss, so I make the final decisions."
Horner countered: "First of all, the drivers need the team. They're an essential part of the team and one element of 500 or 600 people. Has my authority been undermined? In that race he didn't do what I asked. Was I happy about it? Of course I wasn't. Did we discuss it? Yes, we did. Did he apologise? Yes. Has he learned from it? I'm sure he has. Would he do it again? I think he'd think twice but there is an awful lot of history between those drivers. It's something that's been there between the two of them for the past four or five years."
The best point he was able to make was unarguable. "Let's not forget they are one of the most successful pairings the sport has ever seen. They have won three successive constructors' world championships for the team and Sebastian has become the youngest-ever triple world champion."
But he added: "Is my leadership undermined? I don't think so. I've led the team from the time that Red Bull entered the sport to 35 victories, to those world championships. There have been bumps along the way, incidents between the two drivers. But we retain them because they are fiercely competitive individuals. They drive each other forward and they bring the best out of each other and at some points it's uncomfortable for the team. But I think it's a healthy rivalry, even though they took things into their own hands [in Malaysia].
"What's happened has happened. We can't go back so it's a question of looking forward."
Which barely answered the real question: whether he has lost control of his star driver. So has success made Vettel believe he trumps the team?
"I don't think Sebastian for one moment thinks he runs the team," Horner responded. "He knows what we employ him to do. He recognises, more than anybody, the value that the team has behind the success he's achieved in the car, and he knows that he can't operate without the team.
"He's made a decision in a race as a hungry driver and based that decision on all kinds of emotions. I think that he's made his position clear, he's apologised to the team, he's apologised to myself. It's happened and we move on but it doesn't change anything." Indeed it doesn't.
Yesterday, Vettel was only 10th fastest in the second practice session as Ferrari's Felipe Massa set the pace.
What's crystal clear is that Vettel has zero respect for Webber. And the feeling still persists, in the absence of any suggestion of sanctions being taken against him, that he will continue to act as he pleases in any given situation. And that not just Horner, but the faithful Marko too, can do nothing about it.
Join our new commenting forum
Join thought-provoking conversations, follow other Independent readers and see their replies