Brazilian Grand Prix: Nico Rosberg wins second successive race with champion Lewis Hamilton unable to challenge
Rosberg cruises to win at Interlagos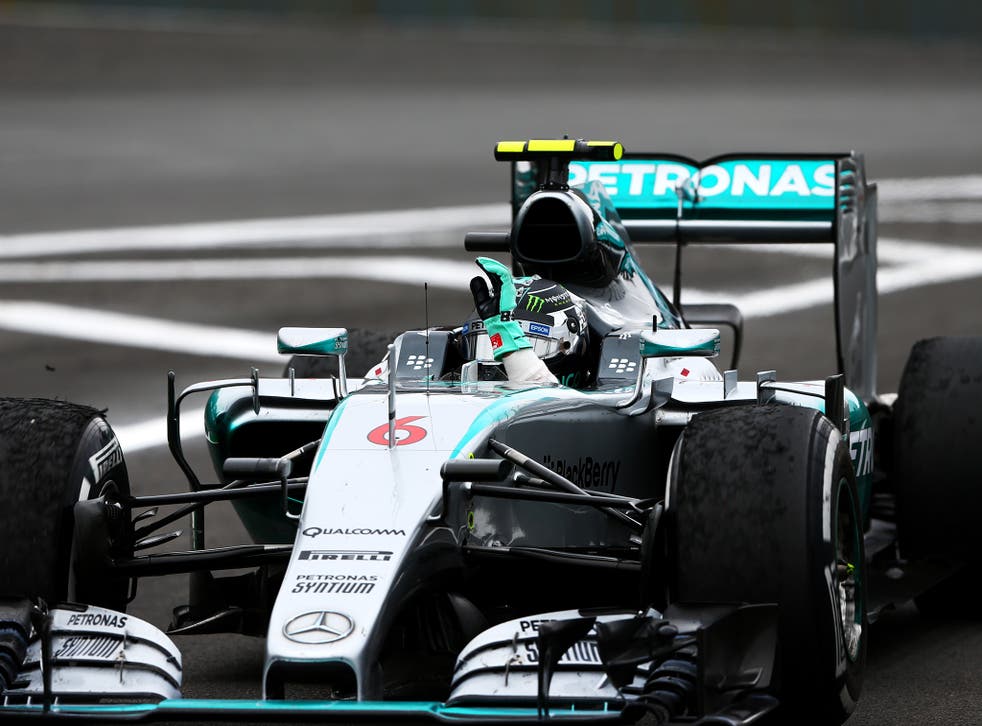 Nico Rosberg and Lewis Hamilton indulged in a gripping nip-and-tuck battle for most of the Brazilian GP, the world champion keeping his victorious team-mate under pressure right until the closing stages.
Unfortunately, it was one of those fights that the two protagonists were in a position to appreciate far more than the spectators, who on the face of it saw the two Mercedes play follow-my-leader as they hid from the two Ferraris that could do nothing but stalk them from a distance.
If there was ever a race which confirmed that Formula One should be looking at ways to facilitate overtaking, this was it.
What controversy and excitement the race had came long before the cars lined up on the grid, and it began on Saturday when FIA president Jean Todt's reaction to the terrorist atrocities in Paris had been to tell France's Canal+ television station: "Do you realise the number of people killed in road accidents is by far bigger than the number of people who died in Paris?"
Todt was in Brazil not only for the grand prix but also for the second Global High-Level Conference on Road Safety, which will bring together 1,500 participants from 150 countries in Brasilia on Wednesday and Thursday. Todt has focused far more on road safety via his presidential role within motor racing's governing body, the FIA, and it had long been planned to hold a minute's silence on the grid in remembrance of road traffic accident victims.
It was widely thought this should be amended to make reference to the Parisian attacks, something the FIA complied with at the 11th hour, agreeing to "show solidarity with the people of France at this tragic time".
There had been anger when Todt had failed to voice compassion for the fallen, initially refusing to countenance any change to the schedule.
Formula One chief executive Bernie Ecclestone believed the silence for road traffic victims should be dropped in favour of one for the Paris victims.
Drivers wore black armbands during their parade lap before lunch yesterday morning in recognition of the latest events.
"We decided a minute of silence [for car crash victims] and, of course, we can't ignore what happened in Paris," Todt said. "We will thus have a moment of attention for what happened there."
His insensitive intransigence had earlier caused widespread vilification, as many F1 people believed the sport should pay due respect to the Parisian victims.
Romain Grosjean, the only French driver on the grid, wore a black armband with France's national colours, and he and team-mate Pastor Maldonado's Lotus cars bore stickers reading the hashtag #PrayForParis. Together with Jenson Button, Grosjean unravelled the French flag before the two walked to their cars.
Rosberg won the start, and as he attempted to go round the outside into the Senna S first corner, it was Hamilton whose turn it was to get squeezed wide. They so nearly touched, but contact was avoided and the advantage was the German's. He never lost it. The only time Hamilton led was during their three pit stops, but during the second stint Hamilton sought to change his strategy and to eke out more laps on his tyres.
"You have to look at a different strategy for me," he told his engineer. "I'm faster than him but it's impossible to overtake."
He deliberately dropped back and was more than three seconds behind when Rosberg pitted for the second time on the 33rd lap. But then Mercedes called Hamilton in immediately after that, negating any chance of making up time. He then set about saving his new set of tyres to mount a challenge, but again was unable to make headway.
He was giving Rosberg plenty to think about. Told yet again how his team-mate was doing, the race leader snapped at one stage: "Don't keep talking to me!"
He was able to keep maintaining the pace as Hamilton's tyres suffered from his attempts to close the gap, and on this day there was nothing Hamilton could do.
Rosberg's stylish victory, his fifth of the year, cemented second place for him in the world championship. Sebastian Vettel gave brave chase throughout and he closed on Hamilton as the latter struggled with his tyres towards the end, but once again Ferrari had no real answer to Mercedes. Rosberg has 297 points, Vettel 266, and with 25 maximum available in the finale in Abu Dhabi in a fortnight, that particular game is over.
This time flying Finns Kimi Raikkonen and Valtteri Bottas managed to avoid one another on their way to distant fourth and fifth places, and you had to look down to 10th place to find the man who staged the two best passes of the race. This was 18-year-old rookie Max Verstappen, who breathtakingly passed Mexican Sergio Perez round the outside of the Senna S on the 32nd lap, then did the same thing to Felipe Nasr 26 laps later. It was outstanding driving from a man of such tender years – emulated once by Daniel Ricciardo on Pastor Maldonado - and vindication of the Red Bull stable's controversial decision to bring him up straight from Formula Three.
Join our new commenting forum
Join thought-provoking conversations, follow other Independent readers and see their replies