F1 British Grand Prix: Race red flagged on opening lap after heavy crash for Kimi Raikkonen
The Ferrari driver crashed on the Wllington Straight, collecting the Williams of Felipe Massa as he spun back onto the track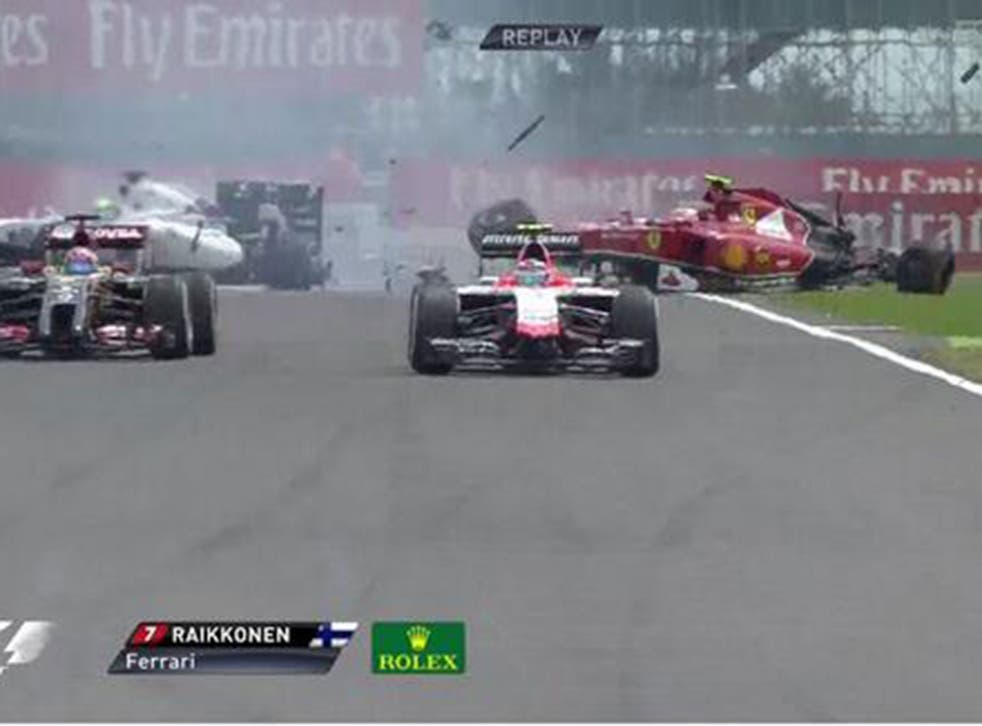 The British Grand Prix was red flagged after five corners on the opening lap following a heavy crash that involved Ferrari's Kimi Raikkonen and Williams' Felipe Massa.
Raikkonen ran wide through Aintree as the 22-car field headed on to the Wellington straight. The Finn, aware that there is a lot of run-off area on the outside of the corner, chose to keep his foot on the throttle in a bid to reduce the number of places he would lose, but he was launched into the air as he returned to the track over the grass.
He instantly lost control of the Ferrari, spearing right into the barrier as he passed under the bridge on the Wellington Straight and spinning back into the oncoming pack.
Massa, who was out of position due to a poor qualifying session , was lining up a Caterham when he hit the accident spot unsighted. The Brazilian's reaction was to hit the brakes, spinning his Williams to the right, and hitting the spinning Ferrari with the left-rear of his car.
Raikkonen did get out the car but was visibly limping, and the Finn was taken to the medical centre by ambulance. Massa was able to drag his heavily damaged Williams back to the grid, but the team were unable to do any immediate repairs due to the red flag.
Massa also saw his start compromised after he bogged down on the start, and had only just caught up with the back of the pack by the time he arrived at the scene of the accident.
The race restart was delayed by FIA race director Charlie Whiting, who decided that the damage to the barrier required repairing before the action could resume.
The early halt to the race was unfortunate for the British drivers, after Jenson Button and Lewis Hamilton both passed Sebastian Vettel at the start. Button, starting from a season-best third, moved up behind leader Rosberg before the first corner, and a sixth-place starting Hamilton managed to jump Vettel going through the turn three-four complex of The Loop despite the two bumping wheels.
Watch the video below:
The BBC reported that the medical centre had confirmed that Raikkonen was "fundamentally OK" although there were some concerns over his right ankle. The 34-year-old was also heard to say on the radio immediately after the crash "is Felipe alright?", to check on the condition of his competitor.
Meanwhile, Max Chilton was given a drive-through penalty for coming into the pit lane while the race was suspended.
Join our new commenting forum
Join thought-provoking conversations, follow other Independent readers and see their replies