F1 driver Maria de Villota, once the 'fastest woman in sport', is found dead in Spanish hotel
Promising driver is found dead in Seville while promoting her autobiography - 15 months after losing an eye in a freak accident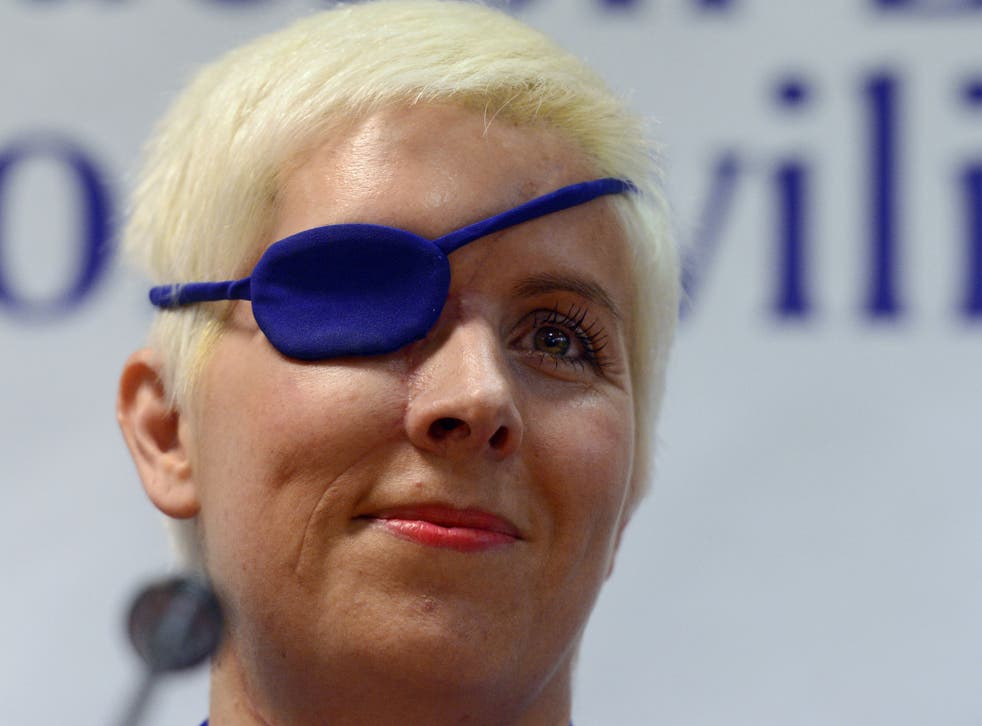 She was Spain's female pioneer in a sport dominated by men, and she was clearly undaunted by physical injuries such as losing her right eye in an accident or by her job's inherent dangers. But early this morning, Maria de Villota, Spain's first female Formula One test driver, was found dead in a hotel room in Seville. She was 33.
De Villota had travelled there to attend a conference today. And on Monday she would have launched her autobiography, Life Is A Gift, which included an account of how she overcame a serious accident in July 2012 while testing a Formula One car for the Marussia team.
The crash left her in hospital for a month and surgeons were unable to save her right eye. But De Villota was cleared to drive again, if not to race. And at the time of her death she was working as a supervisor at an advanced driving school owned by her father, Emilio de Villota – who competed in Formula One between 1976 and 1982.
Her body was discovered around 7.20 am yesterday morning by her personal assistant. According to media sources in Spain, the autopsy, carried out in Seville's Forensic Institute, has confirmed her death as "due to completely natural causes".
De Villota, who was born in Madrid in 1980 and had a degree in sports science, had driven in the World Touring Car Championships in 2006 and 2007. She had also competed in the Superleague open-wheel series, Spain's Formula 3 series and the Daytona 24 Hours. Her first spell behind the wheel of a Formula One car came in 2011, when she test drove a Renault.
Her definitive step up into motor racing's top league came in 2012, when she signed to become Marussia's test pilot. It was a controversial move given that her previous efforts in racing had not earned her the superlicence she would have needed to race.
When asked if she could ever race again, she replied: "There are drivers in the United States who have lost an eye and still have a licence. What's true is that you lose the sense of depth, because it's both eyes that give you the perspective. What I'm wondering now is if my future is being a racing driver or if there's something else I have to do with my life."
But she was adamant that she wanted to continue to be involved with motor racing, because as she put it: "I have motorsport in my DNA and there's no way I can stay away from that world."
Formula One pilots and other members of the international motor sport community at the Japanese Grand Prix, due to be held this Sunday, spoke of their shock. Spain's Fernando Alonso said: "It's hard to talk about María de Villota right now, as I had only just taken my helmet off when I was told about her death. I still can't believe it and need a while to stop and think about it. But it is very sad news, she was loved by everyone. Now all we can do is pray for her and her family."
De Villota was also clearly aware she could be a role model, and not just for women in Formula One, which has had only five women enter its races in its entire history – the last being the Italian Giovanna Amati in 1992. Her fight back to fitness captured hearts and made her the most famous female in motor racing. With her eye patch and distinctively cropped blond hair, she came to represent all that is inspiring about the sport.
Apart from working with her father and also as a campaigner against domestic abuse, De Villota collaborated with the FIA (the Fédération Internationale de l'Automobile, F1's governing body) on their road safety campaigns. She was on the grid at the Spanish GP in Barcelona this year, surrounded by schoolchildren.
Susie Wolff, a development driver for the Williams team, told the AP news agency that after her accident De Villota had asked her to carry on for her and all women drivers. "She said to me: 'It's up to you to go out there and show them that [a woman driver in F1] is possible,'" Ms Wolff said.
"She knew that women could compete at that level and that's why, after her accident and her not being able to do that any more, she just wanted someone to know it was possible."
Maria de Villota obituary: One of a handful of women to test-drive in Formula 1
Join our new commenting forum
Join thought-provoking conversations, follow other Independent readers and see their replies