F1: Felipe Massa reluctant to budge on Williams team orders
Back in 2010 the Brazilian was forced to relinquish a fairy-tale victory by handing it to his Ferrari team mate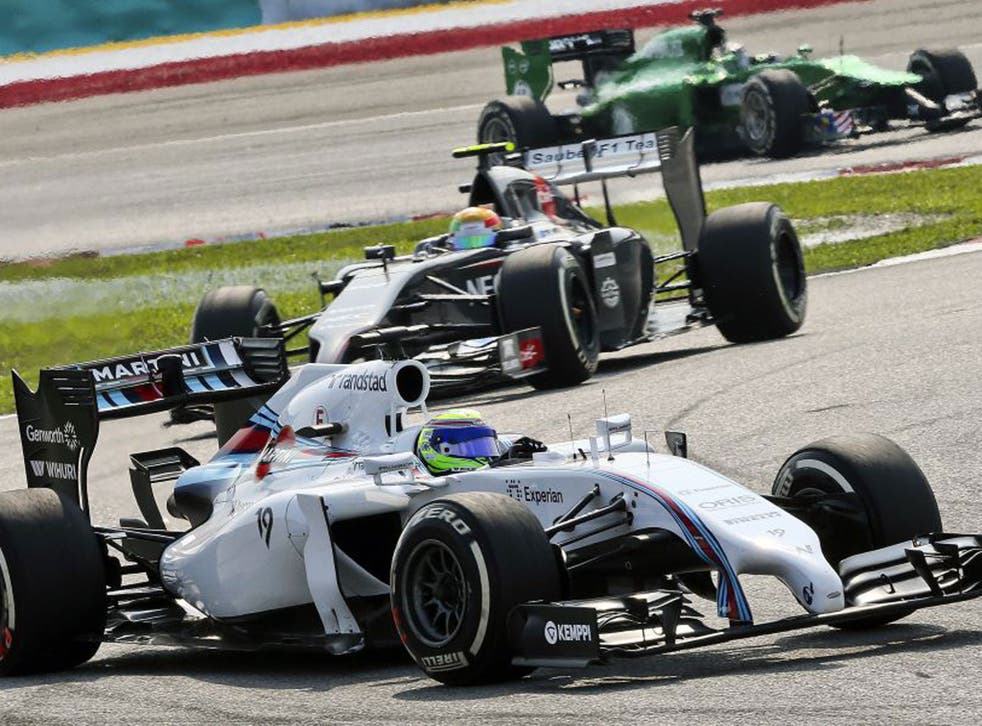 Felipe Massa was unrepentant after refusing to heed a ghost from his past and obey orders to let his team-mate overtake in the final stages of the Malaysian GP on Sunday.
While the race was dominated by the winner Lewis Hamilton and his Mercedes team-mate Nico Rosberg, the only men who were faster than him during winter testing, Massa and his Williams Martini partner Valtteri Bottas spent much of their race struggling to overtake Jenson Button's slower McLaren for sixth place. Early on Bottas was told to stay behind Massa, but on the 52nd lap Massa was instructed: "Valtteri is faster than you, don't hold him up."
For the Brazilian that would have created echoes of the day at Hockenheim in 2010 when he was leading Fernando Alonso in the German GP. That was almost a year to the day since the accident in Hungary which could have killed him when he was struck on the head by a spring that had detached itself from Rubens Barrichello's Brawn.
Malaysian Grand Prix: In pictures

Show all 6
Back in his Ferrari days Massa had no option but to relinquish a fairy-tale victory and hand it to the Spaniard, to assist his challenge for that season's title.
This time he refused to move out of the way, even though he was struggling with his Williams engine's temperatures and Bottas was on slightly fresher tyres. And he insists that he did the right thing, even though Williams could have headed to Bahrain this week with 14 points rather than the 10 they scored.
"I heard everything but it was not clear," he said. "What I did was correct. I'm trying to do my best for the team and I'm sure the result would not have changed even if I had let him by, so it's the same."
Later, Williams revealed that they had a plan to switch the positions back had Bottas overtaken Massa but, in turn, not been able to attack Button successfully within two laps of the finish.
"The team respects me 100 per cent and they showed they respect me after the race, so I have no problem at all," Massa added. "What's happened was maybe not what I expected, but what I did was correct.
"I expect these things to happen [only] at the right time. I have clarified my situation. I have no problem and I feel really, really relaxed inside the team."
Williams engineer Rod Nelson said: "Felipe did not do what we would have preferred him to do. But it's not a big deal. We thought that it would be good to give Valtteri a go at getting past Jenson, and if he hadn't achieved that within two or three laps, we would have swapped our drivers over again and everyone would have been happy.
"It's not team orders, it's a strategic decision based on the relative performance of both cars."
Join our new commenting forum
Join thought-provoking conversations, follow other Independent readers and see their replies