F1: Jenson Button admits his surprise after McLaren team-mate Sergio Perez is replaced by rookie Kevin Magnussen
Button has stressed the importance of having an experienced team-mate with the upcoming rule changes but concedes he will adapt to a sport that is always changing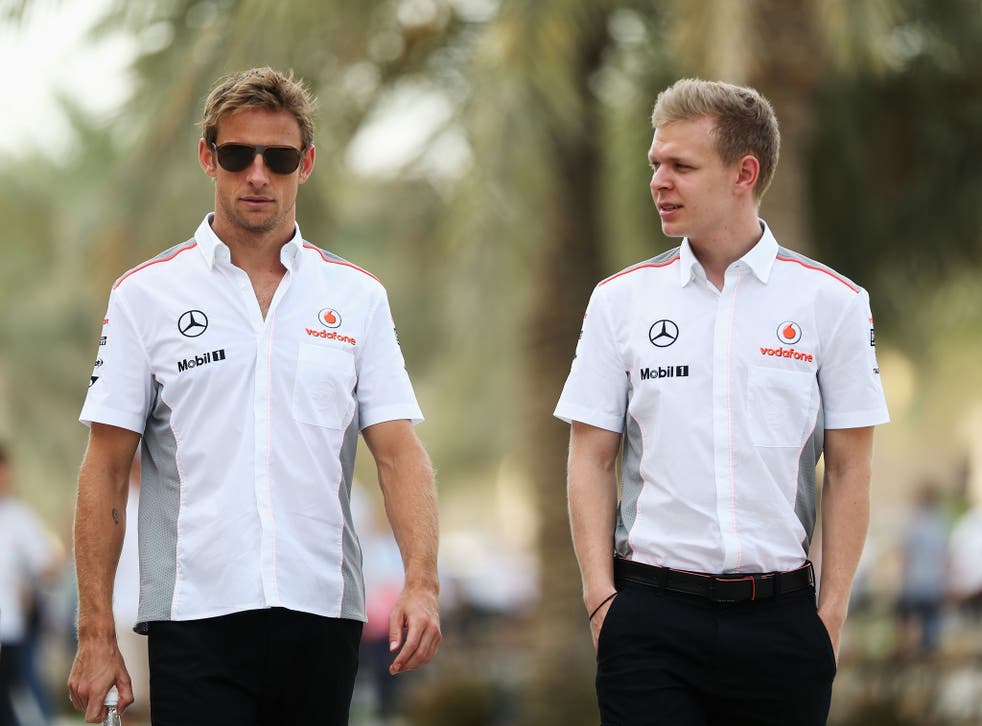 Jenson Button has conceded to surprise at McLaren's decision to axe current team-mate Sergio Perez and promote rookie Kevin Magnussen.
Button has made no secret of his belief over the course of the year that teams require experience going into a 2014 campaign in which the rules will be dramatically different.
Yet despite his remarks, McLaren this week decided to get rid of 23-year-old Mexican Perez after just a year with the team and hand the seat to 21-year-old Danish development driver Magnussen.
"I'm always surprised by Formula One and the way things change," said Button.
"I was surprised last year when Lewis (Hamilton) decided to leave, and it's the same now, but that's what Formula One is like. You learn to adapt.
"It's just that I've said all year, with the new regulations, it's important to have a team-mate who has experience, and Kevin doesn't have that.
"There are two ways of looking at it - that experience doesn't count for so much these days because of the new regulations and it's a very different way of driving a racing car, which it will be next year.
"So there's that way and you can say he is in a good position, but an experienced driver knows what he can do to adjust the car, develop it and move it forward.
"He at least has been to a lot of races this year, knows how we work, so in terms of being ready, I think he will be for the first race."
Drawing on the positives, Button added: "His outright speed is very good.
"From his tests in an F1 car and looking at the data - which is the stuff that's more important to me - his feedback has been very good, which is going to be very important for the start of the year.
"It's good to have a team-mate who is intelligent, which I think he is, and willing to learn, and of course he is because he is young and excited about the new challenge ahead of him.
"It's an exciting challenge for all of us next year, and having Kevin on board with his speed and determination, it's good for the team."
Button has admitted to being closer in age to Magnussen's 41-year-old father Jan, who retired from F1 two years before he made his debut.
But the 33-year-old Briton at least feels he won't have to nursemaid Magnussen through the early stages of his F1 career.
"If he's willing to learn from the word go and he's picking things up, I don't think that will be the case," said Button.
"I'm sure he's going to learn from me as I've been in the sport 13 years, but then you also learn things from young drivers.
"Someone who has not been involved in the craziness of Formula One, they might do something and drive a certain style and you think 'so simple'. There are always things you can learn from youth."
PA
Join our new commenting forum
Join thought-provoking conversations, follow other Independent readers and see their replies