Fernando Alonso leaves Ferrari: Sebastian Vettel confirmed as Alonso's replacement for 2015 season
Alonso will end his five-year relationship with Ferrari with four-time world champion Sebastian Vettel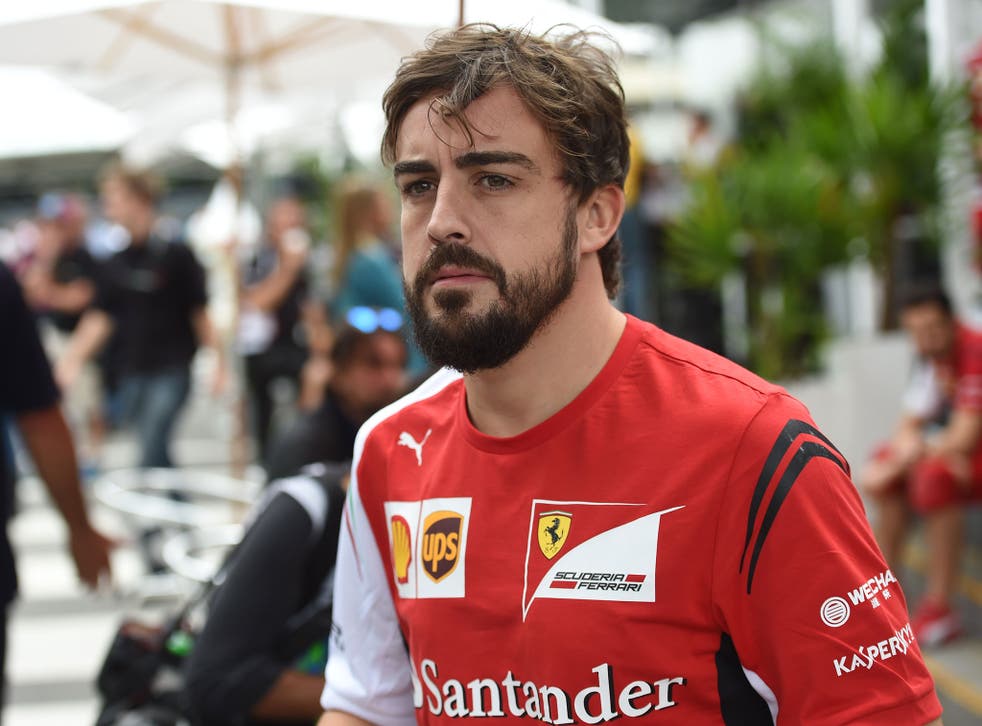 Fernando Alonso will leave Ferrari at the end of the season ahead of an expected move to McLaren, the Italian manufacturer has confirmed, and will be replaced in the team by four-time world champion Sebastian Vettel.
Alonso is contracted to Ferrari until the end of the 2016 season, but the two parties have come to an agreement that will see the Spaniard leave the team after this Sunday's Abu Dhabi Grand Prix. Alonso joined Ferrari in 2010 after two years with Renault, and will leave having failed to add to his two Drivers' Championships he won in 2005 and 2006.
A statement released by Ferrari read: "Scuderia Ferrari and Fernando Alonso announce that, by common consent, they have ended their relationship.
F1 Brazilian Grand Prix in pictures

Show all 20
"Fernando Alonso leaves the team at the end of this season, after a five year period which, with one race remaining, saw him score 1,186 points, 44 podiums and 11 wins."
Immediately after the announcement, Ferrari's twitter account confirmed the news that Sebastian Vettel will indeed be a Ferrari driver next season.
The post read: "Official: Sebastian Vettel is a @ScuderiaFerrari driver! 2015 line-up together with Kimi Raikkonen! #WelcomeSeb"
Alonso has remained coy on his future, but talk of an exit intensified when Vettel announced that he was leaving Red Bull at the end of the season. Vettel has enjoyed unprecedented success with the team after they dominated F1, winning the Drivers' Championship in four consecutive seasons between 2010 and 2013.
However, Vettel has struggled this season and has not been able to match his team-mate Daniel Ricciardo despite the Australian being in his first year with the team, and the German decided the time was right for a fresh start next year – where he will be behind the wheel of a Ferrari alongside Kimi Raikkonen.
McLaren announced on Wednesday that they will confirm their 2015 driver line-up following next week's young driver's test in Abu Dhabi. The likelihood is that one of their current line-up will partner Alonso next year, with Jenson Button and Kevin Magnussen competing to drive the new Honda-powered McLaren next season.
33-year-old Alonso admitted it was not an easy decision to leave Ferrari given the vocal support he has received over the years from the fans, and believes he has shown his best form during his five-years with the prancing horse.
Alonso said: "Today is not an easy one for me, because even if I always look to the future with great enthusiasm and determination, at the end of this season my journey as a Ferrari driver will come to an end.
"It was a difficult decision to take, but a carefully considered one, and from start to finish, my love for Ferrari was a prime consideration.
"I have always been lucky enough to make my own decisions about my future and I have that possibility now too.
"I must thank the team for that, as it understood my position.
"I leave Scuderia Ferrari after five years, during which I reached my very best level professionally, tackling major challenges that pushed me to find new limits. I also proved to be a true team-player, putting the interests of the Scuderia before my own.
"When I had to take important decisions about my future, I did so with Ferrari in my heart, driven by my love for the team.
"I am very proud of what we have achieved together.
"Thanks to the efforts of the men and women of Maranello, on three occasions we came second in the Formula One world championship, two of them fighting for the title right up to and including the final race, running in a championship winning position for many laps.
"Without a shadow of a doubt, these five years produced some of the best moments of my career.
"I also feel that, in leaving the team, it is family rather than friends I am leaving behind.
"Now I look to the future with great enthusiasm, knowing that part of my heart will always belong to the Prancing Horse.
"I want to thank each and everyone of the team for the trust they showed in me."
Speaking about joining Ferrari, Vettel revealed that it was the sight of Michael Schumacher driving the Ferrari during his period of domination that convinced him the move was right.
He said: "When I was a kid, Michael Schumacher in the red car was my greatest idol and now it's an incredible honour to finally get the chance to drive a Ferrari.
"I already got a small taste of what the Ferrari spirit means when I took my first win at Monza in 2008 (with Toro Rosso), with an engine from the Prancing Horse built in Maranello.
"The Scuderia has a great tradition in this sport and I am extremely motivated to help the team get back to the top.
"I will put my heart and soul into making it happen."
Ferrari team principal Marco Mattiacci, who only joined the team this season after replacing Stefano Domenicali, added that the departure of Alonso and acquisition of Vettel demonstrates a new dawn for the teami.
Mattiacci said: "In the Scuderia Ferrari roll of honour of great drivers, Fernando Alonso will always occupy a special place.
"We offer him our heartfelt thanks for what has been an extraordinary adventure with the Scuderia, when in the past five years, he twice came so close to winning the world championship.
"I am sure a great driver like Fernando will always hold the Prancing Horse dear to his heart and I also expect the Ferrari fans will continue to hold him in high regard in his future endeavours.
"Now Scuderia Ferrari has decided to put its faith in the youngest multiple champion in the history of Formula One.
"In Formula One terms, Sebastian Vettel is a unique combination of youthfulness and experience and he brings with him that sense of team spirit which will prove invaluable when, together with Kimi, they tackle the challenges awaiting us as we aim to be frontrunners again as soon as possible.
"With Sebastian, we all share a thirst for victory as well as enthusiasm, a strong work ethic and tenacity; key elements for all the Scuderia members to write a new chapter in the history of Ferrari."
Join our new commenting forum
Join thought-provoking conversations, follow other Independent readers and see their replies