F1 cautious over plan for 100,000 fans to attend Turkish Grand Prix with ticket prices set at £3 per day
Organisers announced aspirations for up to 300,000 fans to attend Istanbul's return to the F1 calendar but plans are unlikely to be approved due to ongoing coronavirus pandemic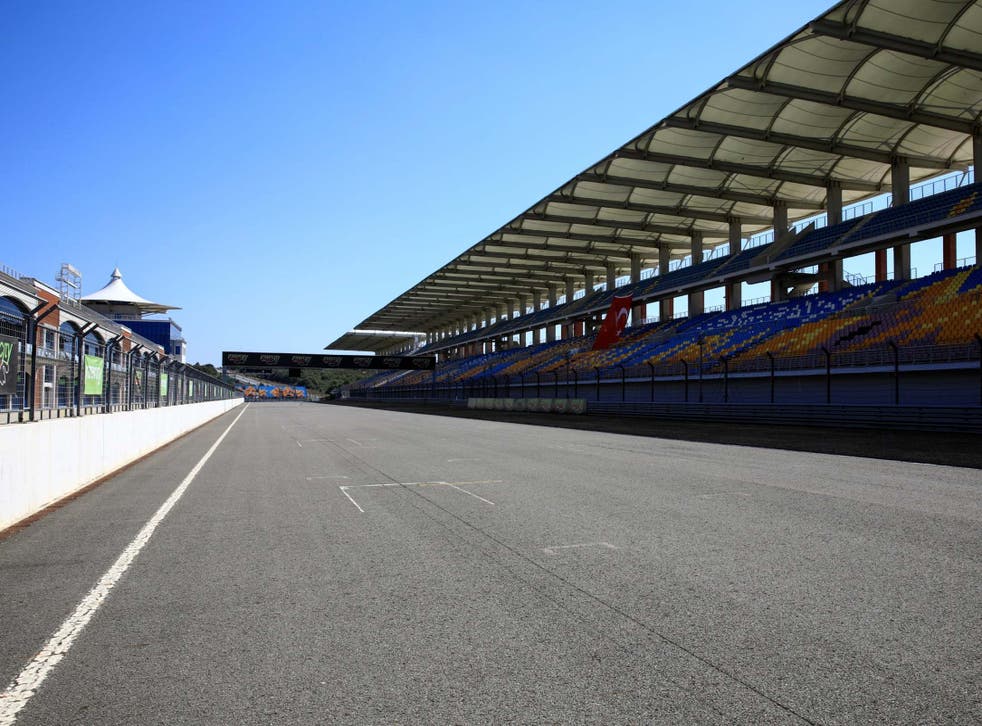 Leer en Español
Plans for the Turkish Grand Prix to host up to 100,000 fans were met with caution by Formula One on Tuesday, but the sport is optimistic that race-goers will be able to return in their tens of thousands in the coming months.
This weekend's Italian Grand Prix at Monza will be the final race of the season before members of the public are allowed to return at Mugello the following week, with doors set to open to a maximum of 2,880 fans per day, 252 days since the doors were last opened in Abu Dhabi last December.
But while Mugello's total attendance will be limited to fewer than 10,000, the promoters of the returning Turkish Grand Prix hope to welcome 10-times that number on each of the three days in Istanbul, despite the concerns surrounding the spread of coronavirus.
Turkey's daily cases of Covid-19 have remained between 900 and 1,600 for more than two months, and Vural Ak, chairman of Intercity who have brought F1 back to the country, is optimistic that the circuit will be able to safely hold a six-figure attendance when the event takes place across 13-15 November.
"We plan to host 100,000 people by applying the highest level of measures," Ak said at a press conference on Tuesday. "This is dependent on our continued successful fight against the disease.
"Our race, along with those in Portugal and Russia, will be held with spectators. For this reason, Formula One management has placed great importance on being able to hold a safe event for the fans, with the support of our public institutions.
"Had it not been for the pandemic, we believe that 220,000 people would have watched the race."
The Independent understands that discussions are ongoing between F1 and Intercity regarding how many fans will be allowed into the Istanbul Park circuit, with the Turkish government's stance on mass-attendance events also set to dictate the final limit. It's understood that a figure between 60,000-80,000 is more likely, although Intercity's target is at this stage an aspiration and they are aware that the final figure will be dependent on how the pandemic progresses over the next two months.
Ak's desire to see 300,000 through the gates of Istanbul Park would be borderline delusional under normal circumstances, given the last Grand Prix to take place there in 2011 attracted around 25,000 fans across the entire weekend - a tiny proportion of the then-120,000 capacity.
But with sports fans desperate to attend any live action of note after months of being locked out, Intercity have attempted to lure F1 fans to the circuit by starting ticket prices at just £3 a day, meaning the entire weekend can be enjoyed for fewer than £10. In comparison, next year's British Grand Prix will feature £195 general admission tickets for the weekend, with grandstand access starting at £275 for all three days.
"So that our people can share this excitement as much as they wish, as a result of the intense meetings we have had with Formula One management, the ticket prices have been set at 30 lira per day (£3) for certain points of the track," added Ak.
"By paying only 90 lira (for the weekend), fans will experience both the excitement of Formula One and other surprises we have prepared for the participants.
"This project is without any expectation of profit. It's more for the publicity and prestige of our country."
With F1 set to welcome fans back in fewer than two weeks' time, each race will feature different limits on attendance numbers dependent on the local government's stance. The Russian Grand Prix in Sochi hopes to operate at a 50 per cent capacity, with around 30,000 permitted into the Olympic Park each day across 25-27 September, but the ensuing Eifel Grand Prix at Nurburgring a fortnight later is set to go ahead behind closed doors. Although talks are ongoing with the historic German circuit, Chancellor Angela Merkel announced last week an extension on the ban of mass attendance at festivals, concerts and big sporting events until 2021, unless local regions can prove low levels of Covid-19 transmission.
In contrast, organisers of the Portuguese Grand Prix hope to host 60,000 fans each day at Portimao, despite the country set to be readded to the UK's quarantine list due to a sudden increase in daily coronavirus cases.
Join our new commenting forum
Join thought-provoking conversations, follow other Independent readers and see their replies