Frustrated Fernando Alonso makes it clear that he will be up for grabs come the end of the Formula 1 season
Amid speculation in the paddock that Sebastian Vettel could leave Ferrari, Alonso has made it known that he will be open to offers come the end of the current season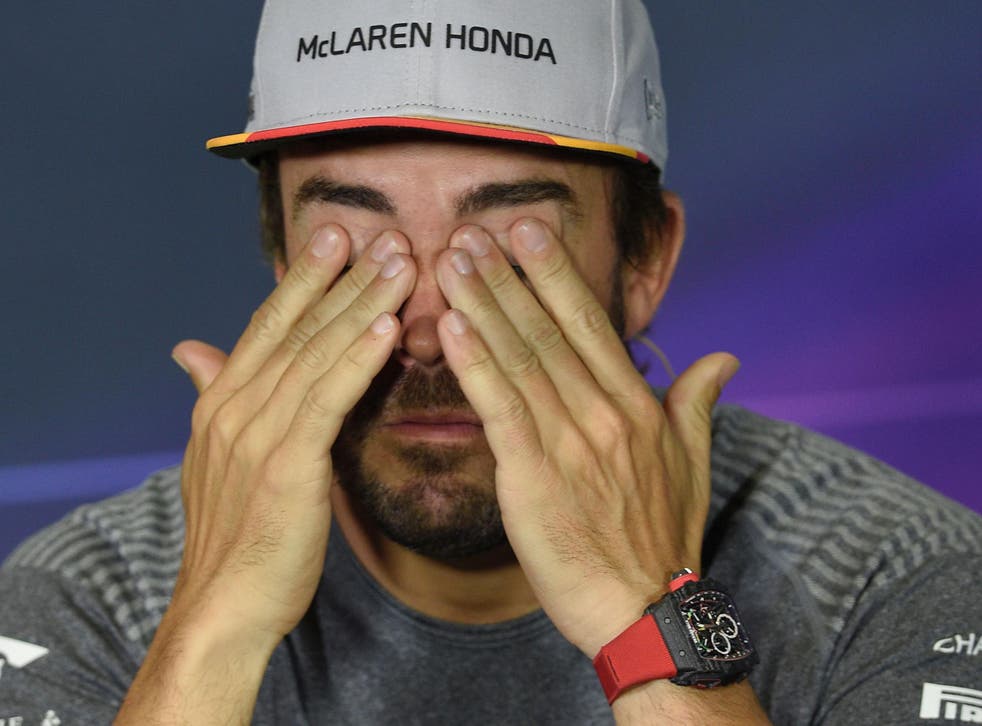 Fernando Alonso really hates not being in a position to win grand prix races, let alone being unable to fight for the world championship he last won in 2006. But for all that, he's enjoyed himself recently.
McLaren Honda are in such straits currently that they will do anything to keep him happy, hence his recent post-Sochi foray to Indianapolis where he stunned seasoned onlookers with the unruffled smoothness with which he took to lapping the famed Brickyard at more than 222 mph.
Then this afternoon he let it be known in the clearest terms that he's up for grabs in 2018 to whomsoever might be interested in securing the services of a man still rated one of the top two racers in the business, if he doesn't sense that McLaren and Honda have the technical wherewithal to challenge for wins after the summer break.
That may yet pivot around Mercedes supplying technological assistance, as they are believed to have done with both Renault and Ferrari in recent years, to create a competitive power unit. But nobody at McLaren or Honda dare confirm or deny that.
"I like this F1. My intention or first priority is to race here," Alonso stressed ahead of his home race. "I am happy with the team, but we are not winning.
"If from here to September/October we are in a position where we see clearly a possibility to win in 2018, I will be more than happy to stay with the team. If it is not the case, then I will be more than happy to talk to anyone."
The 2017 Formula 1 grid

Show all 20
Of course it's really far too soon for what is known as the Silly Season to begin. There are still 15 races to be run.
But the fact that there has also even been speculation in the Italian media that world championship points leader Sebastian Vettel is going to decamp from Ferrari to Mercedes alongside Lewis Hamilton suggests that there isn't enough going on elsewhere within the sport to generate serious interest.
Part of the problem is that if there is a serious team in this paddock that doesn't have some sort of hefty aerodynamic upgrade here this weekend, then they are playing at the wrong table; yet at the time when the FIA and the new management at FOM have obliged the teams to place race numbers and driver names on their cars so that the paying public actually has a chance of deciphering them as the ground-based missiles pound down the Circuit de Catalunya's front straight at 200 mph, neither body has yet succeeded in persuading them to disclose the nature of their changes.
That's for the forensic technical writers to glean over the course of the weekend, and for the TAG Heuer timing clocks to determine in the practice and qualifying sessions leading up to the race. Secrecy still rules.
Vettel looked relaxed and chirpy, as well he might since his red car has carried over into the first four races the speed it first demonstrated here in pre-season testing, but he's too wily a bird to get drawn into the argument about who is faster, Ferrari or Mercedes.
The score thus far, as F1 edges into the start of the European leg of the season in Montmelo, is Ferrari two wins, Mercedes two. It's a long time since the Scuderia had such a good start to a season. But there, yet again, was the German's innate caution.
"I think we are obviously in a much better position than previous years, but it's too early. This will be an important race, and people are starting to bring couple more bits," he said breezily. "But if you look at the last 10 years, this weekend isn't a fixed date when they bring a new car; the top teams tend to bring something every race.
"I know some people feel like that, that we are on top, but Mercedes have had a phenomenal run in the past three years and they are still the ones to beat, not just race-to-race, but overall. It's difficult to break that, but we are doing our best."
Somebody asked Alonso if he might even be prepared to go back to Ferrari, whom he quit in 2014.
"Around the summer I need to consider what I will do next year and if it is time to find other challenges outside F1, or if in F1 there will be an opportunity to win the championship, which is my main goal," he replied. Then he served a broadside by describing the reliability of Honda's energy recover systems thus far this year as "completely unacceptable."
"I am very open to anything," he added trenchantly, is message clear. Perhaps some of America's media customs have rubbed off on him in his recent sojourn before he last drove an F1 car, but at least somebody here was speaking their mind this afternoon.
Join our new commenting forum
Join thought-provoking conversations, follow other Independent readers and see their replies