Lewis Hamilton honoured to equal Michael Schumacher's Italian Grand Prix record as Ferrari boos spur him on
Hamilton was jeered by Ferrari supporters before and after Sunday's Grand Prix but he found a way to conquer the race-favourite Ferraris and extend his championship lead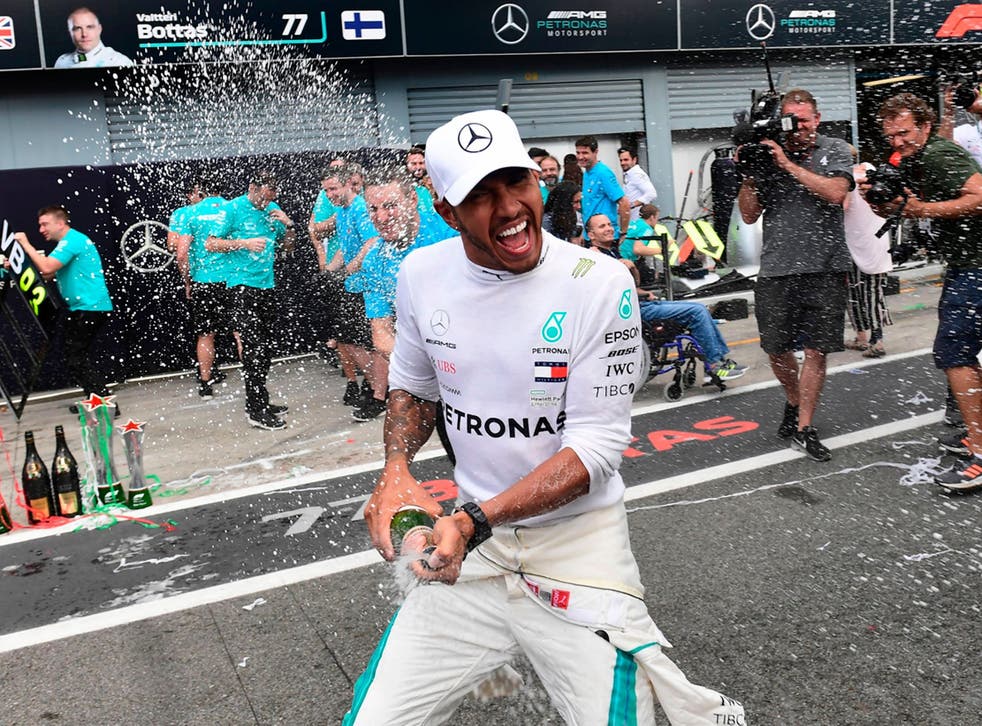 Lewis Hamilton said it is an honour to be mentioned in the same breath as Michael Schumacher after winning the Italian Grand Prix for a record-equalling fifth time, and dealing Sebastian Vettel another championship blow.
The fanatical tifosi supporters arrived in Monza expecting to see Vettel convert a Ferrari lockout of the front row into a crushing win.
Instead, they saw their leading title contender fall out of the reckoning after just four corners following a clumsy opening lap collision with Hamilton.
F1 Italian Grand Prix

Show all 17
Then, they witnessed Hamilton deliver one of the finest drives of his career, which climaxed in the Briton passing Kimi Raikkonen in the closing stages for his 68th grands prix triumph.
Vettel recovered from last to finish fourth, but the German now trails Hamilton by a distant 30 points with seven rounds remaining.
Ferrari great Schumacher won the Monza race five times between 1996 and 2006, and Hamilton's triumph on Sunday matched the seven-time champion's haul.
"The way this race went was one of the most exciting victories that I can remember," Hamilton said.
"To know that I am up there with Michael is always a real privilege.
"It is an honour to be mentioned in the same sentence as a great like him, and someone I watched and supported as a youngster."
Ferrari had the superior machinery at the "Temple of Speed", but once Vettel dropped down the order after tripping over at the fourth bend, Hamilton sensed blood.
He reeled pole-sitter Raikkonen in after their respective stops for tyres before executing a masterful move on the veteran Finn to leave the Ferrari supporters stunned.
Hamilton was subjected to a plethora of boos on the podium, but insisted he was not fazed by the taunts of the Ferrari fans.
"There's nothing to get offended by," Hamilton, 33, added. "I just keep smiling.
"I know I've got those individuals who are out there who travel the world to support me.
"There are a lot of Ferrari fans out there and you hear a lot of negative sounds, but that only encourages and energises me.
"When I spot the British flags amongst the Ferrari red, that is my fuel and I get my positivity and energy from them. They're the miracle today."
PA
Join our new commenting forum
Join thought-provoking conversations, follow other Independent readers and see their replies