Lewis Hamilton grateful to see rival Sebastian Vettel making mistakes
Hamilton moved 28 points clear of his championship rival after Vettel was involved in a three-way pile-up at the opening corner of last Sunday's rain-hit race
Philip Duncan
Friday 22 September 2017 13:15 Comments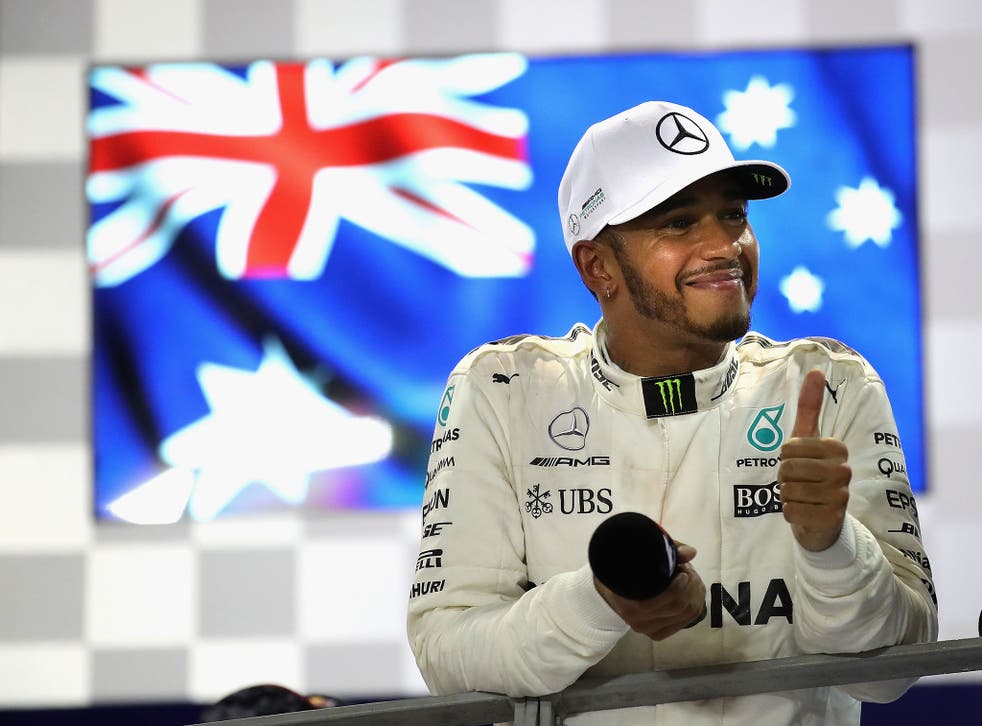 Lewis Hamilton has admitted he is grateful that Sebastian Vettel's weaknesses have been exposed this season in the wake of the Ferrari driver's catastrophic crash in Singapore.
Hamilton moved 28 points clear of his championship rival after Vettel was involved in a three-way pile-up at the opening corner of last Sunday's rain-hit race.
The stewards took no action against Vettel despite the majority of the paddock in agreement that he had been at fault for the collision with his Ferrari team-mate Kimi Raikkonen and Red Bull's Max Verstappen.
The 30-year-old German apologised on a number occasions to his Ferrari team over the radio in the aftermath of the accident.
Hamilton, who started only fifth, went on to win under the lights to claim this third victory in as many races, and move comfortably clear of his chief protagonist with just six rounds of this year's title race remaining.
"Ultimately I think it's important to respect people that you're competing with," Hamilton said. "Sebastian's an incredible athlete and truly one of the best drivers we've seen in the sport.
"But it is great to have seen some of the weaknesses this year and I'm grateful for his recent one. You want to win because you're the best, and you've worked the hardest."
Hamilton celebrated, what could be a pivotal victory in his quest for a fourth championship, by attending this week's London Fashion Week alongside Paris St Germain forward Neymar. He then headed to Milan for the Italian city's version of the clothing parade.
Hamilton, 32, speaking on the Jonathan Ross Show which airs on Saturday night, admitted he has considered retiring from the sport to pursue other ambitions, namely in fashion and music.
But the Englishman, who earlier this month surpassed Michael Schumacher's all-time pole position record, insists he has no plans to walk away from F1 in the immediate future.
Indeed Hamilton is likely to put pen to paper on a new deal at Mercedes which will see him remain with the team until the end of the 2020 campaign.
"There's been talks about me retiring, and I definitely have thought about it and there's been times when I've thought there's other things I want to do," Hamilton added.
"But then we're in the heat of this battle right now and I'm loving it more than ever. It's the greatest feeling ever so I'm going to keep going for as long as I can and see what I can do.
"If you look at all the Formula One drivers in the past you're in the spotlight, you're at the top of the world and then it's downhill from then on. You don't earn the same money, and there's not a huge amount of opportunities because you've been in that world for so long.
"For these past five, six years I've really been trying to work on what I enjoy outside of the sport so that when I stop I can walk away and still have other things."

PA
Register for free to continue reading
Registration is a free and easy way to support our truly independent journalism
By registering, you will also enjoy limited access to Premium articles, exclusive newsletters, commenting, and virtual events with our leading journalists
Already have an account? sign in
Join our new commenting forum
Join thought-provoking conversations, follow other Independent readers and see their replies