As it happened
ended
1472995472
Italian Grand Prix live: Nico Rosberg wins in Monza as Lewis Hamilton's championship lead is cut to two points
Follow the latest from the Italian Grand Prix in Monza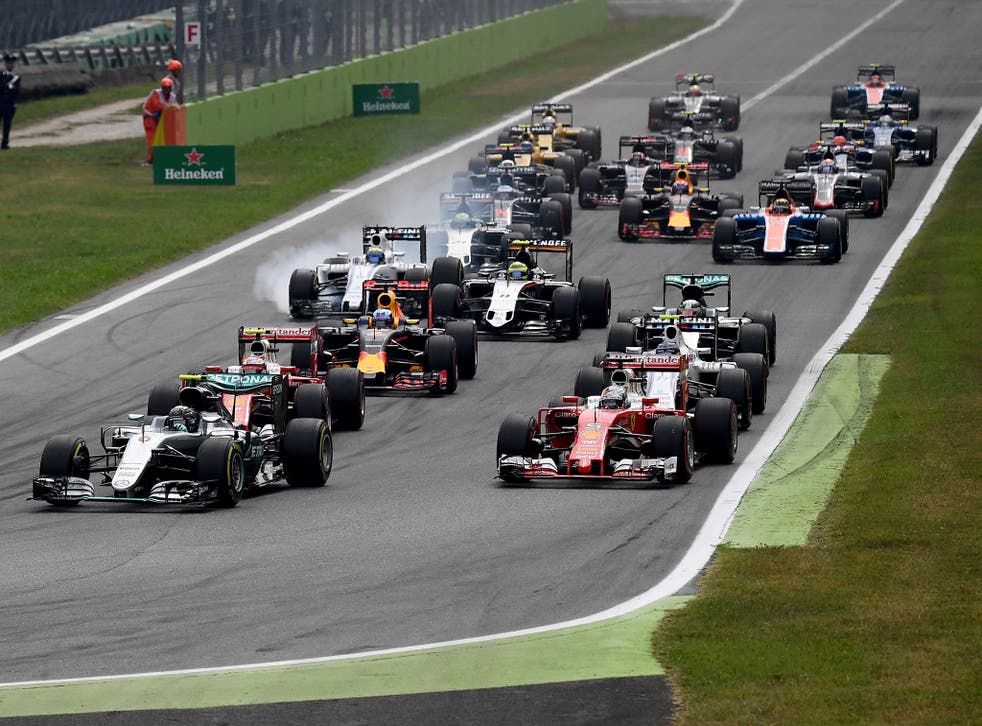 Mercedes pair Lewis Hamilton and Nico Rosberg start the Italian Grand Prix together on the front row as the 2016 drivers' championship battle heats up in Monza, with both Felipe Massa and Jenson Button confirming this weekend that they will not be on the grid next season. Follow the latest here.
Nico Rosberg in second with Mercedes well clear of the field
Sebastian Vettel heads Ferrari challenge from row two alongside Kimi Raikkonen
Williams of Valtteri Bottas starts ahead of both Red Bulls
Follow the live action below...
Please allow a moment for the blog to load...
Starting grid:
1 Lewis Hamilton(Gbr) Mercedes GP 1min 21.135secs
2 Nico Rosberg(Ger) Mercedes GP 1:21.613
3 Sebastian Vettel(Ger)Ferrari 1:21.972
4 Kimi Raikkonen(Fin)Ferrari 1:22.065
5 Valtteri Bottas(Fin)Williams 1:22.388
6 Daniel Ricciardo(Aus)Red Bull 1:22.389
7 Max Verstappen(Ned)Red Bull 1:22.411
8 Sergio Perez(Mex)Force India 1:22.814
9 Nico Hulkenberg(Ger)Force India 1:22.836
10 Esteban Gutierrez(Mex)Haas F1 1:23.184
11 Felipe Massa(Bra)Williams 1:22.967
12 Romain Grosjean(Fra)Haas F1 1:23.092 + five-place grid penalty
13 Fernando Alonso(Spa)McLaren 1:23.273
14 Pascal Wehrlein(Ger) Manor Racing 1:23.315
15 Jenson Button(Gbr)McLaren 1:23.399
16 Carlos Sainz(Spa)Scuderia Toro Rosso 1:23.496
17 Daniil Kvyat(Rus)Scuderia Toro Rosso 1:23.825
18 Felipe Nasr(Bra)Sauber-Ferrari 1:23.956
19 Marcus Ericsson(Swe)Sauber-Ferrari 1:24.087
20 Jolyon Palmer(Gbr)Renault 1:24.230
21 Kevin Magnussen(Den)Renault 1:24.436
22 Esteban Ocon (Fra)Manor Racing No Time
1472984357
Who will win the Italian Grand Prix?
Jack de Menezes
4 September 2016 11:19
1472990871
Lap 2: Hamilton got away fine, but his Mercedes then bogged down and went nowhere. Rosberg surged into the lead as Vettel moved in front of Hamilton, with Raikkonen, Bottas and Ricciardo following suit. Hamilton gets by Ricciardo through the Curva Grande on lap two, and there's a crash behind him. Nasr passes Palmer, but he squeezes the Briton leaving him noweher to go. They touch wheel to wheel, and the Sauber of Nasr is sent flying across the track into retirement with damaged rear-right suspension. Palmer limps back to the pits to receive a new front wing, and there's debris on the straight leading to the Ascari chicane.
Jack de Menezes
4 September 2016 13:07
1472991945
Lap 15: Sainz gets past Button for 10th, though it quickly becomes 11th as Bottas - on the fresh soft tyres - sweeps past both of them in the Curva Grande.
Jack de Menezes
4 September 2016 13:25
1472992018
Lap 16: Raikkonen dives into the pits as the first front-runner to stop, and he puts on another set of super-softs to confirm that he's on a two-stop strategy. That elevates Hamilton to third, while Rosberg leads by the entire length of the back straight.
Jack de Menezes
4 September 2016 13:26
1472992093
Lap 17: Vettel follows in next lap and arrives in the pits in a cloud of smoke as he locks up on the line. It's a slow stop as he heads back out just ahead of Raikkonen, and they go into turn one side-by-side. Ricciardo also pits, but he's well behind Bottas.
Jack de Menezes
4 September 2016 13:28
1472993181
Jolyon Palmer on his crash with Felipe Nasr:
We went side by side in turn one and then he drove me off the road in turn two. He was driving very unfair. How can you take the penalty when you're out of the race? He should have a grid penalty. There's better racing in GP2 and GP3 than that.
Jack de Menezes
4 September 2016 13:46
1472993250
Lap 30: Alonso passes Grosjean going into the Ascari chicane - a brave one that - to move up to tenth and into the points. Hamilton's reeling Raikkonen in, and he's 2.5 seconds off the back of the second Ferrari with Vettel a further three seconds up the road.
Jack de Menezes
4 September 2016 13:47
1472993370
Lap 31: Bottas pits for a second time, putting on the softs that need to go 22 laps until the end of the race. It elevates Ricciardo up to fifth, and it's a battle between the pair, Verstappen and Perez for the extra points today.
Jack de Menezes
4 September 2016 13:49
Register for free to continue reading
Registration is a free and easy way to support our truly independent journalism
By registering, you will also enjoy limited access to Premium articles, exclusive newsletters, commenting, and virtual events with our leading journalists
Already have an account? sign in
Register for free to continue reading
Registration is a free and easy way to support our truly independent journalism
By registering, you will also enjoy limited access to Premium articles, exclusive newsletters, commenting, and virtual events with our leading journalists
Already have an account? sign in
Join our new commenting forum
Join thought-provoking conversations, follow other Independent readers and see their replies