British Grand Prix 2015: Lewis Hamilton - 'This is my time, this is me, take it or leave it'
World champion is bored of being compared to drivers of the past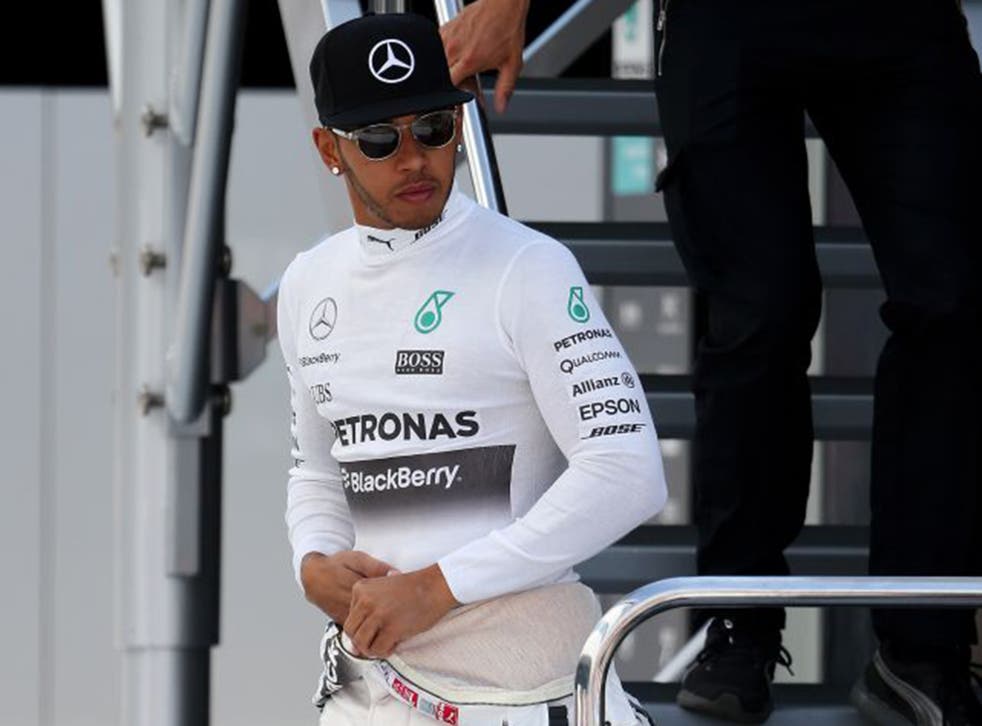 Two world championship titles have left Lewis Hamilton feeling comfortable in his own skin and happy doing things his own way rather than being judged by the sport's past.
"Fans make comparisons, like Jim Clark did this or James Hunt did this and I'm like… so?" Hamilton said. "This is my time, this is how I do it. It's strange how they want everyone to do the same thing as people back in the day. This is how a Formula One driver behaves, how a Formula One driver should look, and talk. It's just funny for me. There was never ever a black driver before, so I'm much different to any of those in the past!"
He remains in a good place for tomorrow's British Grand Prix, despite the pain of his break up from partner Nicole Scherzinger. "I don't really know how I've done it," he said of his romantic disentanglement. "It was very, very tough. I've just tried to keep my head down. I was just determined not to let it get in the way of what I'm here to do, which is win races and championships. I understood the opportunity that was ahead of me and I just did everything that I could to stay on it. It's not been easy. It's been wobbly, but I'm grateful I've stayed on course."
On the track, the results have been strong and he comes to his home race holding a 10-point lead over Mercedes team-mate Nico Rosberg. Off it, he has learned how to spend less time dwelling on disappointments, and is able to bounce back faster. Nothing epitomised that better than the events surrounding Mercedes' pit-stop misjudgement at Monaco, where his self-control was masterful.
"It was hard beyond belief," he confessed about the error that cost him victory. "It was definitely the hardest moment that I can recall. But I'm very strong in my faith and I stopped [at the Portier corner where Ayrton Senna crashed in 1988] and prayed about it. 'Just give me a second to collect myself. Give me strength to get through this because I know there are going to be more positives moving forwards. Help me be the man I know I am and know I can be.' It's a powerful moment to be able to send a strong message to people, that no matter what's thrown at you, you can get by. That was really the ultimate test for me."
He allowed his Mercedes to hit the third-place marker board, but that was the only outward manifestation of the frustration boiling within him. "I was trying to keep my heart rate low. I don't know why I stopped [at Portier] but I drove very slowly afterwards, just to gather my thoughts.
"I've got kids who look up to me nowadays and the way I behave will affect how they perhaps will behave at school or when they're driving. So there's bigger fish to fry. There's a more important message. Don't be selfish for that single moment, and be acting up."
It was a philosophical Hamilton who opened up at Mercedes-Benz World in Brooklands, sharing his inner thoughts. "I've been interested to see people's reactions," he continued. "I posted something about gay rights recently and to see the negativity coming from people, that they're sharing with the world, was just disgusting. It's just a shame that the world is still doing that."
The Twittersphere either loves or reviles him. "Everyone has an opinion. I saw Kanye West perform the other day [at Glastonbury] and I thought he was amazing, like the greatest performance he ever did. Other people were like: it's terrible. I'm thinking: are they hearing what I'm hearing?
"I think still today people don't fully understand me. But it's difficult. Muhammad Ali would not have told you that he was happy coming second – in other words losing. I don't think anyone at the top of their game would ever say that.
"Some people take it worse than others. What you would have seen in the past would most likely have been disappointment with myself.
"The problem is nowadays that people judge you for every single thing. Everything. Instead of just keeping to themselves, they're quick to comment on other people."
Are these his golden years? "I don't like to think that," he admitted. "I like to think they're still ahead. But probably, yeah. Hopefully gold is a good thing for me and the golden years last a long time.
"In the last couple it's really been me just doing me. This is who I am, take it or leave it. I've grown in terms of the mechanism to cope with those negatives and just get past them quicker."
Yesterday he was only fourth fastest as Rosberg set the pace ahead of the Ferraris of Kimi Raikkonen and Sebastian Vettel. But they all know that the world champion is at his most dangerous when he's coming back from adversity.
Join our new commenting forum
Join thought-provoking conversations, follow other Independent readers and see their replies