Lewis Hamilton wins pole position for Mercedes in Chinese Grand Prix in Shanghai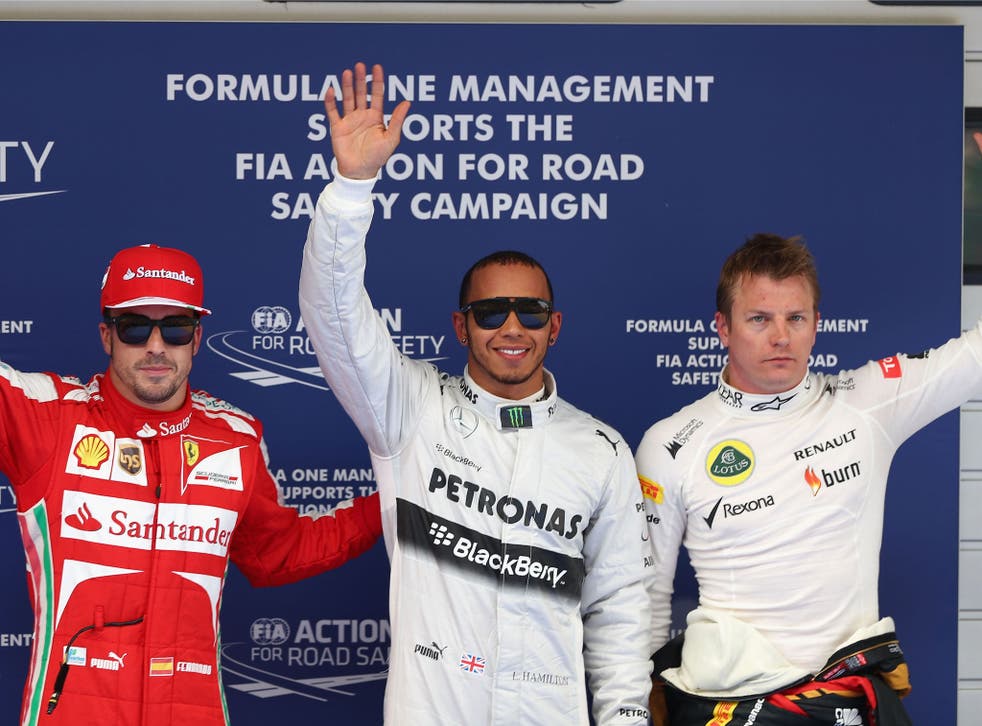 Lewis Hamilton lit up the Mercedes garage by grabbing his first pole position for the team since joining them at the start of the year.
For the 27th time in his Formula One career, Hamilton will lead away the field come the start of tomorrow's Chinese Grand Prix at the Shanghai International Circuit.
Joining the 27-year-old on the front row will be Kimi Raikkonen in his Lotus ahead of Ferrari's Fernando Alonso and Nico Rosberg in his Mercedes.
With Alonso ahead of Felipe Massa, who starts from fifth on the grid, it meant the double world champion avoided being out-qualified by a team-mate five times in succession for what would have been the first time in his 200-race career.
Lotus' Romain Grosjean joins Massa on row three, with Toro Rosso's Daniel Ricciardo a superb seventh, his second best qualifying place of his career.
Behind the Australian will be McLaren's Jenson Button and Sebastian Vettel in his Red Bull, who had started on pole in the opening two races.
However, both men made a strategy call by running in Q3 on the harder medium compound compared to the faster, but more highly degradable soft Pirelli tyre as used by those ahead of them.
It means the frontrunners will have to pit early, whereas Button and Vettel can run longer on the medium and wait until very late in the race to run the soft rubber.
In the top 10 for the first time this season with new team Sauber is Nico Hulkenberg who starts from 10th.
Given the machinations that took place post-race in Malaysia and over the past few days regarding the Red Bull team orders controversy, it is likely conspiracy theorists will be looking closely at Webber's demise in qualifying.
The Australian, the victim in Malaysia of Vettel's decision to ignore team principal Christian Horner's instruction to hold station and who instead attacked for the win, was knocked out in Q2 with an apparent technical problem.
"We had a lack of fuel pressure so I couldn't get back. My qualifying was over before it started," explained Webber.
After stopping in the final sector, Webber will line up a lowly 14th, ahead of Williams' Pastor Maldonado and Jean-Eric Vergne in his Toro Rosso, his 16th a total contrast to that of Ricciardo.
Also out in Q2, but starting ahead of Webber, will surprisingly be the Force India pair of Paul Di Resta and Adrian Sutil, both of whom who had looked strong in practice for a top-10 place, and McLaren's Sergio Perez.
Di Resta missed out by 0.026secs to Hulkenberg, whilst Perez failed to reach Q3 for the first time by 0.053secs.
In the opening 20-minute Q1, fans and viewers had to wait for eight and a half minutes before the first car took to the circuit.
Come the conclusion, Williams' Valtteri Bottas again failed to make it into the second session for the second consecutive race, with the Finn due to line up 17th.
Sauber's Esteban Gutierrez also slipped into the bottom six for the second time this year and will start 18th, as he did in Australia.
Marussia again out-performed Caterham, with Jules Bianchi and Max Chilton - separated by 0.657secs - 19th and 20th ahead of Charles Pic and Giedo van der Garde who occupy the back row.
A naturally delighted Hamilton, the only driver to win this race twice in its nine-year history, described himself as "ecstatic".
Hamilton added: "It's an incredible feeling, I'm so happy to have first place.
"The lap was great, but then the team have performed well all weekend and I obviously now hope we can carry that through to tomorrow."
Hamilton, however, appreciates the tyre situation will be tricky, adding: "Making the option (soft) last has been impossible, so it will mean an early stop.
"But we've shown great race pace on the medium, and although it will be a really tough race, I'm hoping we can maintain our position."
Asked as to why Mercedes did not follow the strategy adopted by McLaren and Red Bull for Button and Vettel, Hamilton said: "We have great strategists and I trust them.
"They make the decision and we stick by them, but whatever strategy you are on, you are going to struggle on the option tyre whether you are on high or low fuel."
PA
Join our new commenting forum
Join thought-provoking conversations, follow other Independent readers and see their replies