Return of Ron Dennis gives Jenson Button a timely boost at McLaren
British driver considered options but is looking forward to revitalised McLaren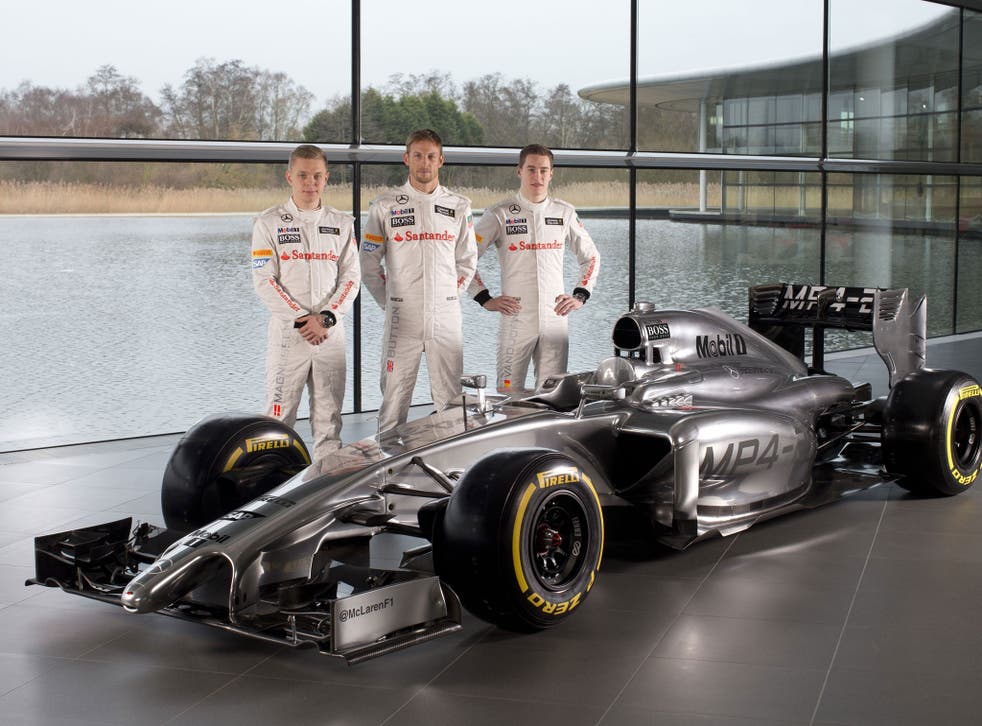 So McLaren had their worst season in 33 years, no wins, not even a podium. What is that when measured against the loss of your father?
Jenson Button bravely put his hand up on the day of McLaren's online launch. He showed remarkable forbearance to answer questions about the radical changes heaped on Formula One this year. His head was in the right place, just, but his heart is still in pieces following the death a fortnight ago of Button Snr, the ever-present paddock raconteur and devoted dad known to all as John.
Button declined to speak about his bereavement, but admitted that he had spent much of the past 48 hours following his father's funeral in Monaco talking with McLaren's returning chief of operations, Ron Dennis. And technical issues surrounding the launch of the MP4-29 were not on the agenda. We can reliably infer that Dennis supplied an avuncular ear to help Button process the ravages wrought by grief.
Buffeted by an emotional maelstrom, Button confessed that he had considered all options including, it is fair to assume, calling it a day. That he chose to fulfil his professional obligations yesterday suggests the pastoral care of Dennis had a calming effect. Button will take his seat at the first test of the season in Jerez next week and races on.
There will be a time, he said, to address how much his father meant to him and what it might mean to win again in honour of the man who sacrificed so much in support of his son. "I have spoken with him [Dennis] a lot in the last few days, we've had some good chats but about other things, not many about his expectations for the team," Button said, adding: "Everything goes through your mind, that's all I have to say on it."
The private upheaval experienced by Button in the past fortnight coincided with the corporate turbulence at McLaren, with Dennis restored to full power at the expense of the hopelessly ineffective Martin Whitmarsh, who presided over the abrupt decline of a Formula One blueblood. Dennis has not let the grass grow since his return, the resignation at Lotus yesterday of Eric Boullier paving the way for his appointment as McLaren team principal.
When the conversation shifted from his personal torment Button was much energised by the return of Dennis and the prospective appointment of Boullier. "As a team we are very excited about Ron's role as CEO again. This is a team built by Ron in the early days and he helped it to win multiple World Championships. For me that's the exciting thing about this year. And you do need change sometimes."
Button added: "He is very excited about his new role and very hungry, so hungry to succeed. That's great for the team and, hopefully, it will get back to its winning ways. We can't get away from the fact we had a bad year last year, and we don't want another one. Of course, our aim is to win the World Championships for drivers and constructors. It'll be a tricky year being the last with Mercedes before the switch to Honda. But we certainly don't want another year like 2013. That hurt too much. We want to win races, that's what we are here to do."
This was as minimalist as a launch can be, a simple, online posting of the new car. The ostentation of years gone by when McLaren might annex half of Valencia, commandeer the Cirque du Soleil to entertain guests and unveil a car expected to compete for the championship, was replaced by a new modesty reflecting the poverty of last year's embarrassment. You might argue that McLaren were engaged in a bout of self-flagellation for their sins.
Button's fourth place in Brazil in the season's finale was his best of the year and only the second time McLaren had posted a top-five finish. Don't be fooled by fifth place in the constructors' championship. McLaren closed 195 points adrift of Lotus in fourth and almost 500 behind the champions Red Bull.
This is the territory that Dennis seeks to reclaim. The technical upheaval fostered by new engine regulations and a raft of aerodynamic changes offers McLaren a window to jump straight back to the ruling class, but for that they might have to wait until the reunion with Honda, with whom they enjoyed their most successful period in the sport, next season.
The return of Dennis has affected an immediate upswing in mood. The Woking pioneer was part of Prime Minister David Cameron's retinue during the recent visit to China and the team were namechecked in the House of Commons last week in reference to the success of the McLaren group in creating engineering jobs and driving standards of excellence in British industry. That will have cheered Dennis up no end.
We have not heard much from the great supremo since his return, which, given his habit of using 10 words where one will do – affectionately known as Ronspeak – is perhaps no bad thing. The appropriate forum, as he might say, to lay bare his thinking will present itself soon enough.
For now we will have to make do with Button's testimony as the teams set out for the brave new world next week. "I'm looking forward to a year in which I'm going to put everything into the sport and leave nothing on the table," he said.
Join our new commenting forum
Join thought-provoking conversations, follow other Independent readers and see their replies