Spanish Grand Prix 2015: Nico Rosberg puts Lewis Hamilton in the shade by taking Barcelona pole
Sebastian Vettel will start third as Mercedes lock out the front row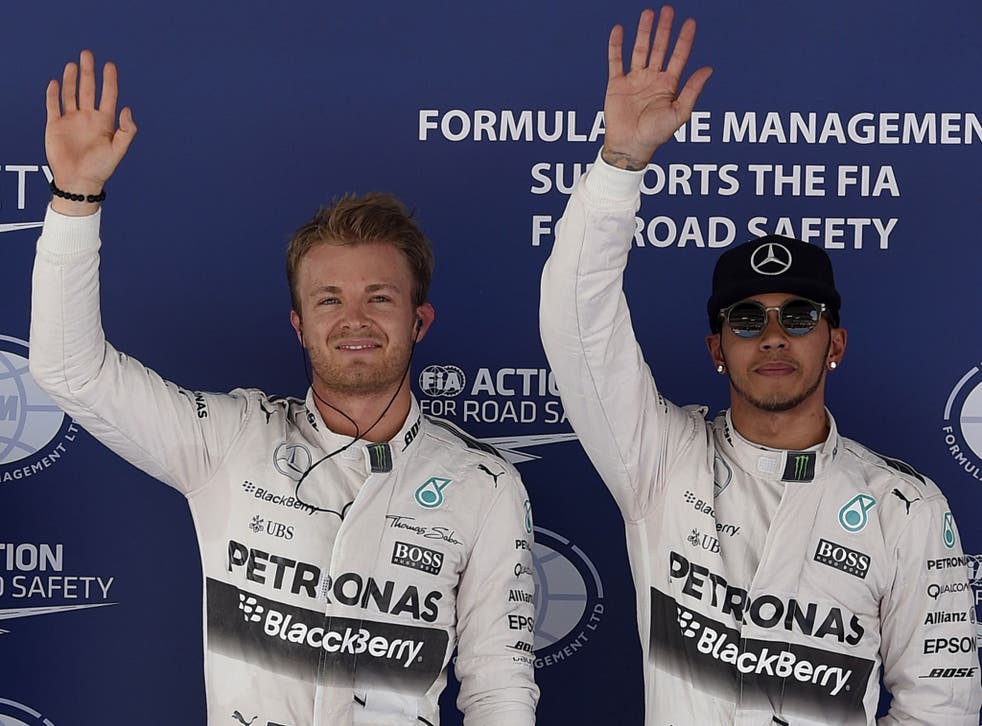 "I needed this sooner rather than later, it's one step in the right direction to win the race, so it was a good day in the office for sure." Nico Rosberg looked happier than he has all season after he finally got one monkey off his back and took his first pole position of 2015 as his first step in the fightback against Mercedes team-mate Lewis Hamilton, who has had the upper hand thus far.
But as they line up on the front row of the grid this afternoon for the Spanish Grand Prix, a lot of people will hope the red car behind them – Sebastian Vettel's Ferrari – will be capable of a better performance than he gave throughout practice.
The Scuderia came here full of hope that a raft of technical upgrades would enable them to close the gap to Mercedes and start to push them really hard. But where Vettel was 0.411s off Hamilton's pole in Bahrain last time out, this time the gap to Rosberg was a whopping 0.77s, on the track that really highlights just how well a car performs.
As you would expect, Vettel put on a brave face. "Disappointed isn't the right word," he said, countering somebody's helpful suggestion. "It's great to keep confirming we are right behind them. I'd have liked to be a little closer today, but we should still be in good shape for tomorrow and I'm hoping for a good race. But I have to say these two guys [Rosberg and Hamilton] are doing a great job."
Ferrari are usually closer to the Mercedes in race trim. "Ferrari have been risk-friendly this year and we believe that they have a bigger race power window than we do," a Mercedes insider suggested, meaning Ferrari can run more power, for longer, in races.
Clearly, Ferrari have more ground to catch up and have therefore to take greater risks, but Vettel is already on his second of the four engines that each driver is allowed this season, whereas the Mercedes drivers each have three engines left. That's all part of the game of conserving equipment, the fine line between making everything last the 19 races in order to avoid grid penalties, yet pushing on the edge to maximise performance. Mercedes concede that there may come a time when they have to be less risk-averse, but are currently content to play the long game.
Based on Friday's simulation runs, Vettel's race pace was consistent and lasted a long time, but was not ultimately quick. "They are quick, on pole by second, and they showed every single session this weekend they are very competitive with either tyre and I expect them to be very fast tomorrow," the German admitted. "Usually we are a bit faster on race pace, but to be realistic it'll be difficult to beat them."
As for Hamilton, he's seemed a little quiet this weekend, and even had an uncharacteristic spin in practice yesterday morning. "I just took a little too much kerb," he said. But though he was fastest in second practice after Rosberg had taken the first, Rosberg was quickest in the final one. The pendulum swung back in Hamilton's favour in Q1, before it went back to Rosberg in Q2. It stayed there for Q3, too. Hamilton lapped in 1m 24.948s, but Rosberg aced that with 1m 24.681s. Neither improved, but Rosberg's second run time, 1m 24.754s, would have been good enough for pole, too.
"I don't think I've been on my back foot," Hamilton said, "but generally I didn't have the pace today. I'm not sure I have the balance I like in the car, but I did my best with it and there's still a lot to play for tomorrow. Every race you do, you're racing to win the championship. So I'll be driving the same as I did all last year. That seemed to do me quite well."
There has been much speculation this weekend about the possibility of him switching to join Vettel at Ferrari next year, and it's believed that Bernie Ecclestone would love that, especially as it would free up a Mercedes seat for Fernando Alonso and put the big three into top seats. Hamilton has distanced himself from all that, and insiders at Mercedes say things are calm and that they fully expect him to sign a new contract with them prior to Monaco.
In the meantime, there's another race to be won as he chases a third world championship, and that's where his focus has been this weekend. Team boss Toto Wolff predicted Rosberg's return to the form he showed so often last year, and that can only be good for the sport.
"Psychologically it feels great," he admitted with a big smile as he celebrated his pole position. "I'm happy, and I'm in the best place to start tomorrow's race. Being there doesn't make any difference to my mindset because I'm always going for the best possible result, and I'll try to go for the win for sure after taking the advantage right from the start."
The Ferraris may have disappointed but even if they continue to do so today, Hamilton working for 66 laps to unseat his team-mate should ensure we'll see a damn good race.
Final Positions after Qualifying:
1 Nico Rosberg (Ger) Mercedes GP 1min 24.681secs,
2 Lewis Hamilton(Gbr) Mercedes GP 1:24.948,
3 Sebastian Vettel(Ger) Ferrari 1:25.458,
4 Valtteri Bottas(Fin) Williams 1:25.694,
5 Carlos Sainz(Spa) Scuderia Toro Rosso 1:26.136,
6 Max Verstappen(Ned) Scuderia Toro Rosso 1:26.249,
7 Kimi Raikkonen(Fin) Ferrari 1:26.414,
8 Daniil Kvyat(Rus) Red Bull 1:26.629,
9 Felipe Massa(Bra) Williams 1:26.757,
10 Daniel Ricciardo(Aus) Red Bull 1:26.770,
11 Romain Grosjean(Fra) Lotus F1 Team 1:27.375,
12 Pastor Maldonado(Ven) Lotus F1 Team 1:27.450,
13 Fernando Alonso(Spa)McLaren 1:27.760,
14 Jenson Button(Gbr)McLaren 1:27.854,
15 Felipe Nasr(Bra)Sauber-Ferrari 1:28.005,
16 Marcus Ericsson(Swe)Sauber-Ferrari 1:28.112,
17 Nico Hulkenberg(Ger)Force India 1:28.365,
18 Sergio Perez(Mex)Force India 1:28.442,
19 Will Stevens(Gbr)Manor Marussia F1 1:31.200,
20 Roberto Merhi(Spa) Manor Marussia F1 1:32.038
Join our new commenting forum
Join thought-provoking conversations, follow other Independent readers and see their replies