Stewards to get tough on risk-taking young drivers in Formula One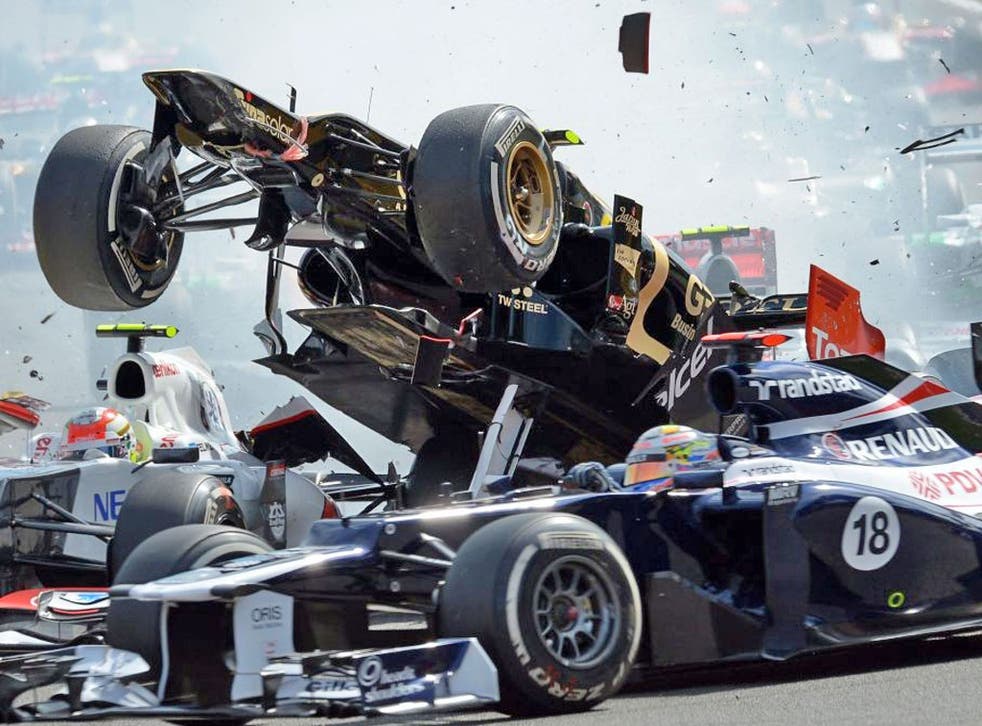 Sources close to the FIA have suggested that a tougher line is likely to be taken from now on by race stewards appointed by the governing body in order to tighten up driving standards – not just in Formula One, but in the GP2 and GP3 feeder series.
There has been growing concern over drivers' manners in the two latter categories for much of the 2012 season, and the focus switched to Formula One after the first-corner accident at Spa during Sunday's Belgian Grand Prix, when Romain Grosjean triggered mayhem at the start as his Lotus cartwheeled across the bows of Fernando Alonso's Ferrari. The Spaniard was fortunate to escape serious injury; had the Lotus been two feet closer to the left it could have hit the Ferrari's cockpit.
Subsequently, the stewards banned the young Frenchman for one race, which means he will miss next weekend's Italian Grand Prix at Monza.
"I'm not angry with Grosjean, he definitely didn't do it on purpose," Alonso said once the dust had settled on Sunday. "It was a case of me being in the wrong place at the wrong time. But I think that certain drivers should try and take fewer risks at the start. It's a bit of a tendency currently in the junior formulae, but it would be better if, right from the start of their career, they got used to respecting more strictly the rules relating to behaviour on track."
It's been a while since there has been a major first-corner shunt, and since he was right in the epicentre of it and was the man most at risk, the World Championship leader's comments carry great weight. The speed at which Grosjean's Lotus went across the scuttle of the Ferrari was chilling, as was the slight delay before Alonso was able to lever himself out of the car.
Formula One has never been safer, since the technical improvements introduced by Bernie Ecclestone and Max Mosley in the aftermath of the deaths of Roland Ratzenberger and Ayrton Senna at Imola in 1994. But there is growing concern over the possibility of accidents involving intrusions into the cockpit, such as the incident in the 2009 Hungarian Grand Prix in which Ferrari's Felipe Massa was seriously injured after being struck on the head by a suspension component that had become detached from Rubens Barrichello's Brawn. In Melbourne in 2007, Austria's Alex Wurz narrowly escaped a head injury after Scotland's David Coulthard made a mistake under-braking and his Red Bull vaulted over the Williams' cockpit.
The FIA is investigating bringing in an enclosed cockpit with a canopy, but it also wants to crack down on driving standards. In Hungary recently an FIA source said: "We are very concerned that some younger drivers have developed a lack of respect for their rivals due to a misplaced belief that the cars are so safe these days that they cannot be injured. It's time that standards were improved."
There is a precedent for banning drivers for unruly behaviour; in 1994 Ulsterman Eddie Irvine was stood down for three races after a collision with Dutchman Jos Verstappen; and Finn Mika Hakkinen also missed a race after causing a startline shunt in Hockenheim. The penalties worked. Both got over their impetuosity.
Join our new commenting forum
Join thought-provoking conversations, follow other Independent readers and see their replies