Tony Stewart fatal crash: NASCAR champion makes emotional return to racing three weeks after fatal accident killed Kevin Ward Jr.
Stewart received a rapturous welcome from fans before two accidents forced him out of the running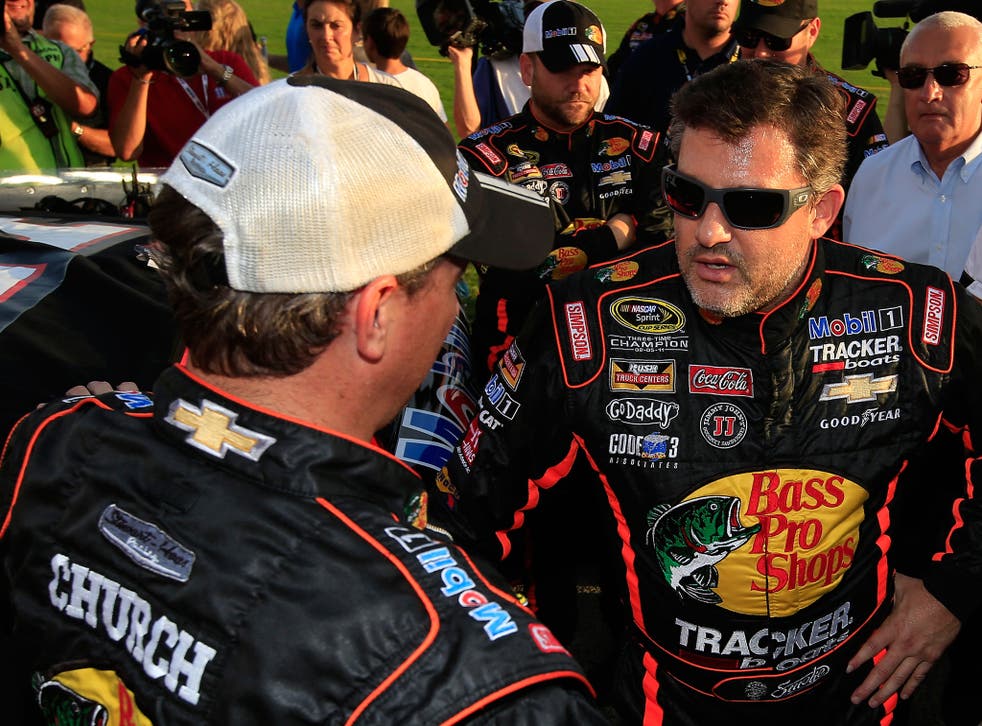 Tony Stewart received a rapturous welcome and made a fast start before making a premature exit on his return to competitive racing on Sunday, three weeks after he struck and killed a young racer at a dirt track in New York.
The three-time NASCAR Sprint Cup champion twice hit the wall at Atlanta Motor Speedway, the second collision occurring after his right front tire blew out on the 172nd lap, forcing him to quit the 325-lap race.
Stewart, who had missed three NASCAR races since the Aug. 9 accident in which he killed 20-year-old Kevin Ward Jr. during a non-NASCAR sprint car race, declined to speak to reporters after driving his battered No. 14 car off the track.
"I wish we could have had a better effort and a better finish for him but we move on to Richmond and see if we can't get it done there," Chad Johnston, Stewart's crew chief, told ESPN television.
The next NASCAR Sprint Cup Series race will take place at Richmond International Raceway on Saturday when Stewart will continue his bid to claim a spot in the 'Chase' for the trophy.
When Stewart appeared in front of the packed grandstands at Atlanta Motor Speedway on Sunday for drivers' introductions half an hour before the start, he was given a rousing welcome by the fans.
The 43-year-old set off in 12th position as the NASCAR Sprint Cup Series race began on a steamy evening and worked his way up to fourth place by the 19th lap, just eight seconds off the lead.
But Stewart was struck by Kyle Busch's No. 18 car on lap 122, both machines crashing into the wall, before his tire blew 50 laps later to cause a second collision with the wall and end his night earlier than expected.
"We qualified well, we went into today with some pretty good hopes of finishing well and possibly coming out of here with a win," said Johnston.
"It just didn't work out in our favor. We got into a little trouble with the 18. We got into the outside wall, it knocked the toe out of it and we had a lot of heavy right side damage.
"Then we were just trying to fix that and salvage what we could out of the day. And then we blew a right front there right before that caution came out."
However, Johnston was delighted to see Stewart back in NASCAR Sprint Cup competition after the grief-stricken driver had stayed on the sidelines for the past three weeks.
"It's been real good," he said. "It's really good to have him back."
Stewart, one of the highest-paid drivers in NASCAR, had been visibly emotional on Friday when he spoke publicly for the first time since the tragic event of Aug. 9 at Canandaigua Motorsports Park, a dimly lit track about an hour's drive west of Syracuse.
Teary-eyed, he told a news conference it was a sadness and pain which he hoped no one would have to experience, and that he could not possibly imagine the grief Ward's family was feeling.
The results of an investigation into the crash are pending, but authorities said early in the probe that they had found no evidence of criminal behavior by Stewart.
The two drivers bumped cars during that Aug. 9 race and the collision sent Ward into an outside retaining wall. During the ensuing caution period, Ward jumped out of his car in an apparent attempt to confront Stewart, who remained in the race.
When Stewart came around on the next lap, his car appeared to fishtail, striking Ward and throwing him some 50 feet.
Ward was taken to a nearby hospital, where he was pronounced dead.
Three weeks later, the entire NASCAR community gave Stewart a warm welcome and plenty of support on his return to competition at Atlanta Motor Speedway.
"Very supportive of having him back, and I know based on watching the (Friday) press conference how emotional this has been for him," said fellow driver Jeff Gordon. "I do think that the best thing for him is to be in that race car."
Denny Hamlin, a former team mate of Stewart's at Joe Gibbs Racing, said: "We all can't imagine what he has to go through and still goes through, but I'm sure for him, it's good therapy to get back in the race car.
"When you're sitting in that seat and you're going around a race track, that's all you're thinking about. You have to have all your focus on that. We all support him and obviously love having him back."
Reuters
Join our new commenting forum
Join thought-provoking conversations, follow other Independent readers and see their replies