Russia should be banned from athletics, says Wada
Report reveals spies, bribes and threats in state-sponsored doping programme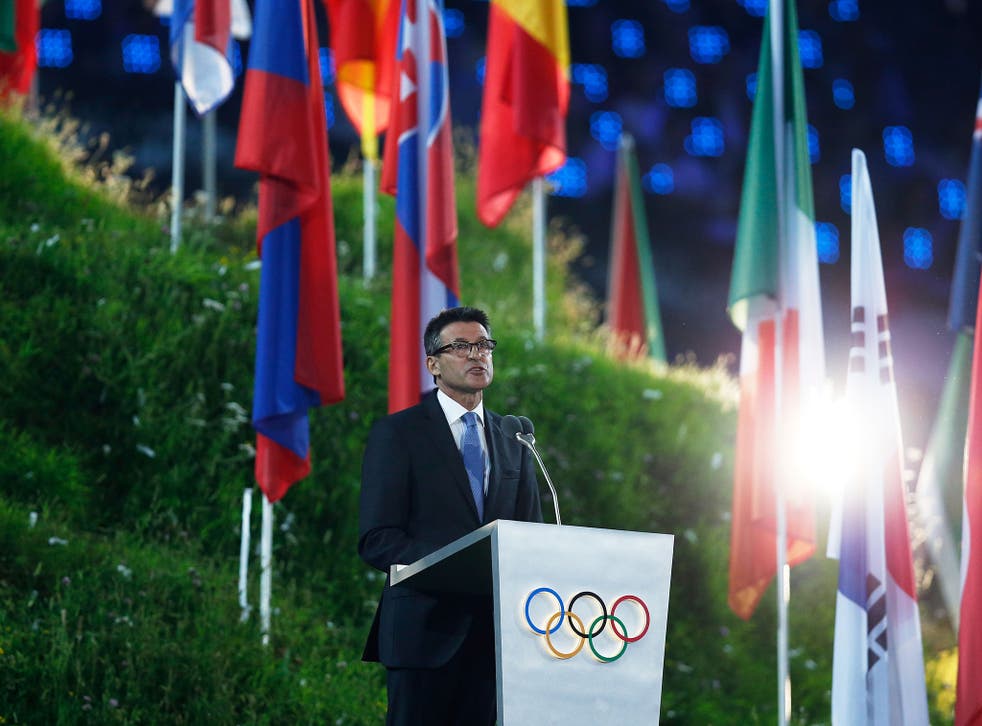 The World Anti-Doping Agency's independent commission has recommended Russia be suspended from all athletics competitions and has accused the country of "sabotaging" the London 2012 Olympic Games with a systematic method of "covering-up, destroying and paying money to conceal doping tests".
The commission, headed by the former Wada president Dick Pound, laid out nearly a year's worth of evidence – 320 pages – from its investigation into what it called a "state-supported" doping programme.
It also named Olympic athletes who it said had cheated to win medals at the London Games three years ago and pushed for lifetime bans for 800m gold medallist Mariya Savinova and the bronze medallist, Ekaterina Poistogova.
In all, the report of the commission, which was made up of Pound, Richard McLaren and Günter Younger, called for lifetime bans for five Russian athletes – the others being fellow middle distance runners Anastasiya Bazdyreva, Kristina Ugarova and Tagjana Myazina – as well as four coaches, who were accused of being "out of control" and confident that any failed tests by their athletes would be covered up.
And Pound admitted that the level of cheating was far more widespread than previously first exposed in the ARD documentary on German television last year, which launched the investigation, and said that it went to the very top of the Kremlin.
The commission said even the country's intelligence service, the FSB, was involved, spying on Moscow's anti-doping laboratory by posing as engineers during the Sochi Olympics, with the inference being they were there to intimidate staff. Workers also believed their offices were bugged by the FSB. The panel raised suspicions that Russia may have been using an obscure laboratory on the outskirts of Moscow to help cover up doping, possibly by pre-screening athletes' samples and ditching those that tested positive.
Pound described banning Russia from competing at next year's Olympics as the "nuclear option" but said it could be the only option amid the level of doping going on that had spread to other sports which were not part of the commission's investigation.
"Either they get their house in order, get that done or you won't be in Rio," he said. "For 2016 our recommendation is that the Russian federation be suspended. One of our hopes is they'll volunteer that. There may be no Russian track and field athletes in Rio. I hope they recognise it's time to make those changes."
Pound questioned Russia's sports minister Vitaly Mutko in September and added: "The extent of what was going on was so prevalent that it was not possible for him to not be aware of it [the cheating]. That's our inference from the evidence we had a chance to examine.
"It's disturbing and it's disappointing to see the nature and extent of what was going on and to reach the conclusion that it could not possibly happen without everyone knowing about it. It's worse than we thought."
The report was particularly damning in its assessment of Grigory Rodchenko, the director of the Moscow laboratory, who it accused of destroying 1,417 samples just before the commission was due to visit.
It said there were widespread examples of "cover-ups, destruction of samples, payment of money to conceal doping tests" and called for the lab's accreditation to be removed with immediate effect.
As for the events of London 2012 – overseen by new IAAF president Sebastian Coe – with regards to the women's 800m in particular, the report concluded that because of "widespread inaction [by Russian authorities], the Olympic Games in London were, in a sense, sabotaged by the admission of athletes who should not have been competing and could have been prevented from competing were it not for the collective and inexplicable laissez-fair policy adopted by the IAAF, ARAF [the Russian athletics federation] and RUSADA [the country's anti-doping body]."
Despite criticism of the IAAF in the report, Pound said he believed that Coe was the right man to help right athletics' wrongs, saying he "can grasp this and be transformational to bring changes in athletes" before adding that "sport is at risk". But he criticised him for his comments at the weekend suggesting that a ban for Russia was not the way forward.
Tensions between Russia and the Western world

Show all 8
Coe, previously criticised for his inaction following the arrest of his predecessor Lamine Diack last week, replied immediately to the commission's report and said he would push Council members to consider sanctions against ARAF.
"The information in Wada's independent commissions report is alarming," Coe said. "We need time to properly digest and understand the detailed findings included in the report. However, I have urged the council to start the process of considering sanctions against ARAF. We will do whatever it takes to protect the clean athletes and rebuild trust in our sport." Coe added that the Russians had a week to respond to the accusations. However, Mutko immediately denied any wrongdoing.
Pound also warned that the latest revelations were merely the tip of the iceberg and said that other sports and nations would most probably be unveiled as cheats. "We don't think Russia is the only country with a doping problem and athletics is not the only sport with a doping problem," he said.
Wada's top officials will meet in Colorado next week to discuss the next way forward and what possible sanctions it could implement against Russia.
Meanwhile, Interpol revealed it had launched a global investigation led by France into "an alleged international corruption involving sports officials as well as athletes suspected of a doping cover-up" that had also stretched to Singapore and Turkey.
Join our new commenting forum
Join thought-provoking conversations, follow other Independent readers and see their replies