Laura Deas interview: British skeleton racer on being tipped for Winter Olympic glory at PyeongChang
Deas is optimistic despite finishing 11th this weekend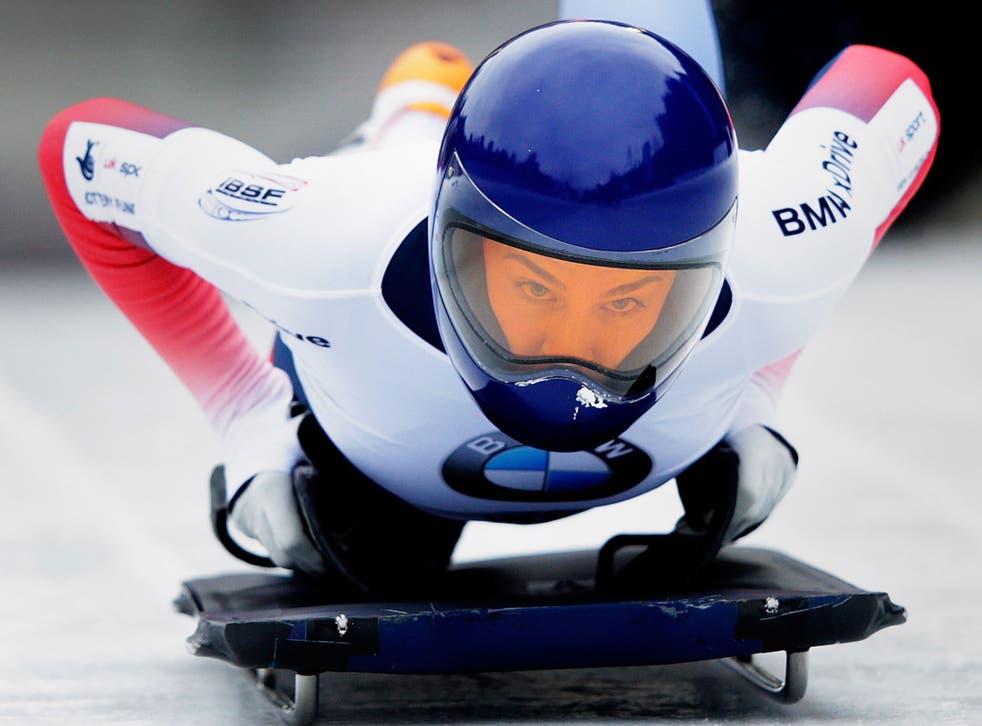 There must be something in the water at Bath University, where Great Britain's skeleton bob athletes train. Following in the footsteps of successful Olympians Alex Coomber (bronze medallist) Shelley Rudman (silver), Amy Williams and Lizzy Yarnold (both gold) comes Laura Deas, another fearless competitor happy to hurl herself head-first down a twisting, icy track - and one who is being tipped for Winter Olympic glory at PyeongChang in 2018.
"Ha, no, it's just a really amazing set-up," the 27-year-old from Wrexham says. "We've got world-class facilities and great coaching, and the programme [which takes good all-round athletes and trains them in the specifics of the sport] has been developed over a number of years. It's a formula that has really paid off and looks good for the future; Ashleigh [Pittaway, 15] just won gold [at the Winter Youth Olympics in Lillehammer on Friday] and she someone's to look out for."
We speak six years to the day that Amy Williams won Team GB's first Olympic gold in the skeleton, at Vancouver 2010. By then Deas was part of the Bath set-up, having joined under the Girls4Gold initiative, which aims to get more girls into top-level sport, in 2009. Deas, an accomplished sportswoman who played hockey and netball at a high level and was also a tetrathlete (riding, shooting, swimming and running), thought her sporting career would be in three-day eventing ("I grew up with horses"), but was fast-tracked into the skeleton programme.
Deas trains alongside Yarnold, who is currently taking a year out from competition. Has that affected Deas? "Maybe more people know my name now," Deas says drily, "but from my point of view it doesn't make a difference – I'm still approaching every race to win.
"One of the things that our programme does is promote strong internal competition and over the time that I have been part of the team there have been six women competing for a place in the world and Olympic team. So it means even to get to that point of competing on the international circuit you have been competing for that place, and it drives our programme on.
"It really doesn't matter to me whether I'm one, two or three in the team; my work ethic and what aim to get out of my training and performance is the same. But I'm definitely looking forward to having Lizzy back."
And will the rivalry be with Yarnold, or their foreign opponents? Deas laughs. "We're a close-knit bunch; we all travel to the same events and spend a lot of time together. We're all pushing each other to be better all the time."
Although Deas finished a disappointing 11th overall in the the World Championships at Igls in Austria yesterday, she is already looking ahead into next weekend's final World Cup event of the season at Konigssee in Germany. She had a fantastic start to the campaign; she won the opening competition at Altenberg in November, and was third at Lake Placid last month. She's fourth in the World Cup rankings and says the track at Konigssee should suit her strong start. "I'm looking forward to finding some redemption after this weekend."
British women's record in skeleton – they've won a medal in each Olympics since the sport was reintroduced at Salt Lake City 2002, the only nation to do so – is even more astonishing given that there is no track in Britain. "I think it actually makes us stronger as a team," says Deas. "We never have the home-track advantage, but that makes us more adaptable; we're not strong on European tracks but weak on American ones, or vice versa. We can go anywhere and compete on the day."
Deas says she loves the adrenaline hit, but also that the skeleton is very technical. "It's such a cerebral sport – you have to think your way down the track as well being a really strong athlete at the top – and you win on such small margins." And the danger? "You are making so many decision on steering the course that you just don't have time to be worrying about how fast you're going or if you might hit a wall.
"And Great Britain does love being an underdog because we're always competing in someone's backyard, so to speak. I like that, and that people think we're quite quirky."
Join our new commenting forum
Join thought-provoking conversations, follow other Independent readers and see their replies