London Eye: Heard about the Olympic 100m final no one won?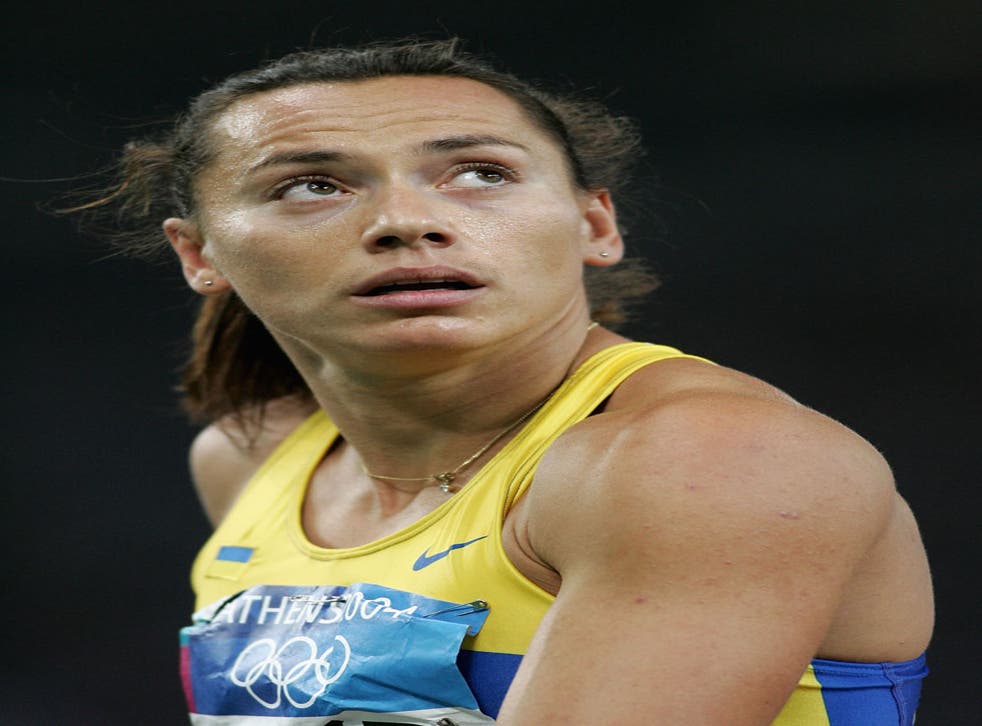 It has been a week of revelations for track and field Olympians past and present. First came reports that Teddy Tamgho, one of Phillips Idowu's principal rivals for the Olympic triple-jump crown in 2012, had been banned for six months by the French Athletics Federation for an unseemly altercation with an unnamed female athlete at a national training camp. Then Kajsa Bergkvist, the retired Olympic high-jump champion of 2004, caused a stir in Sweden by telling QX magazine that she was a lesbian.
The most intriguing news, however, emerged yesterday from Ukraine. It was hardly the greatest of surprises but its significance could not be overlooked in the countdown to a new Olympic year, as yet another belated doping conviction cast a retrospective shadow on major sprint races that refuse to lie untainted, not to mention unaltered, in the recent history books of the main Olympic sport.
The Ukrainian Athletics Federation announced it was giving Zhanna Block a two-year ban for breaking anti-doping rules in 2002 and 2003. The former rival of Marion Jones had been under investigation by the International Association of Athletics Federations and the Ukrainians since Mark Block, her husband, coach and agent, was given a 10-year ban by a US anti-doping arbitration panel in March after being found guilty of trafficking drugs supplied by Victor Conte's Balco laboratory and giving banned substances to his wife.
In practical terms, it is a token punishment. Zhanna Block is 39 and has been retired since 2006. Nonetheless, confirmation that the speed merchant with the tree-trunk thighs was powered by other than natural means is likely to prompt another revision of the women's 100m final at the 2003 World Championships in Paris.
The result has already been amended to disqualify the original winner, the American Kelli White having been the first athlete unmasked as a cheat in the Balco scandal. Block was promoted from bronze to silver – behind Torri Edwards, an American who tested positive for a banned substance in 2004 but whose 2003 runs were not deemed questionable.
Block's achievements from 2002 and 2003 now stand to be struck from the record books, which puts Chandra Sturrup of the Bahamas in line for an upgrade from third to second and Katerina Thanou in line for promotion from fourth to third. The ruling body, the IAAF, was unavailable to comment yesterday but the prospect of the retired Thanou receiving a medal would be an ironic twist indeed.
Last May Thanou and former training partner Kostas Kenteris were convicted of perjury by a Greek court, relating to an alleged motorbike accident after they fled the Athletes' Village and a drug- testing team on the eve of the 2004 Athens Olympics. The pair were cleared on appeal in September.
Thanou finished second to Jones in the Olympic women's 100m final in Sydney in 2000 but, since disqualifying the American in 2009, the International Olympic Committee has pointedly refused to declare the Greek as the winner.
Block finished fifth in that race, under her maiden name, Pintusevich. She moved up to fourth after Jones' disqualification. Her punishment this week means that four of the first five finishers in that race have now fallen foul of anti-doping laws at some stage of their careers, or in retirement. Merlene Ottey, who placed fourth originally, was given a ban in 1999 that was subsequently overturned by the IAAF.
Eleven years on, officially there is no winner of the ghost race in Sydney.
Join our new commenting forum
Join thought-provoking conversations, follow other Independent readers and see their replies