20 reasons why the Olympics are great for Britain
Forget the controversies – jobs and green spaces have been created, sport is receiving a boost, public transport in London has been upgraded...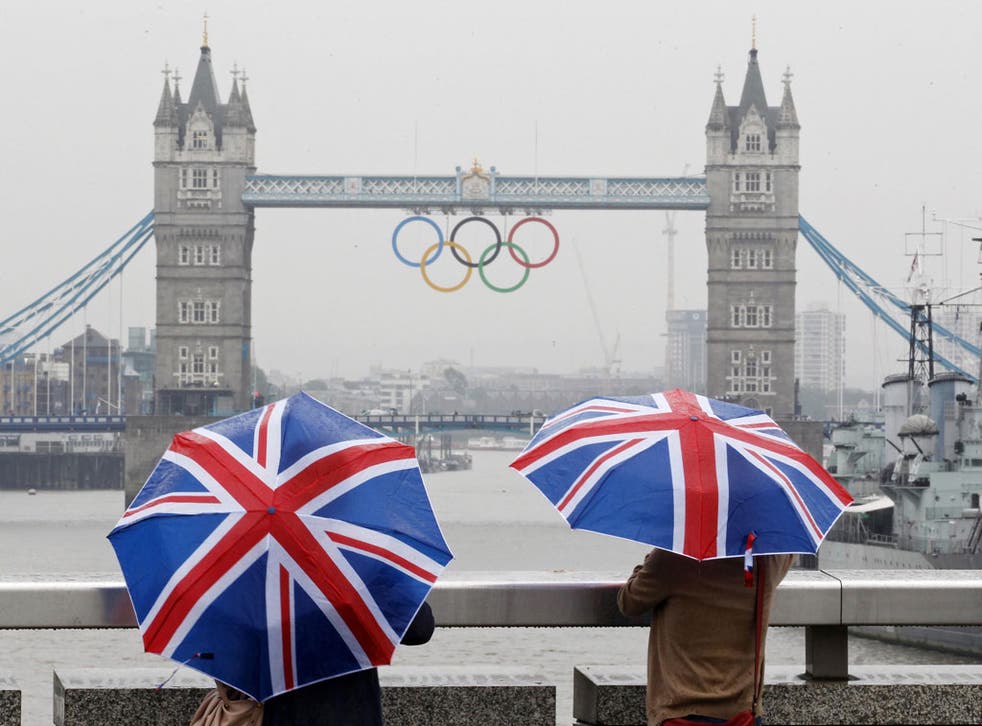 Visit Britain
We may not be able to rely on the weather enjoyed by Sydney, Beijing or other recent Games. But as long as Usain Bolt doesn't mind a bit of drizzle, this is a chance to show off Britain's capability. Just as the Royal Wedding and Diamond Jubilee beamed images of a spruced-up London around the world, the Olympics offer a giant advertising opportunity for business and tourism.
Job done!
Ahead of schedule and under budget; the buildings have been up for months and, incredibly, there is cash left over. The last major venue, the Aquatics Centre, was finished a year ago, while the Athletes' Village was completed in January. Ministers have £476m left in their Olympic contingency fund, meaning the final bill is likely to come in at less than £9bn – significantly below the £9.3bn agreed in 2007. Just don't mention the original budget estimate of £2.4bn.
Country show
When Danny Boyle launched his concept for the opening ceremony, including real farmyard animals, rival mosh pits, a cricket green and a promise to create rain, even hardened Olympic sceptics were won over by its British bizarreness. Inspired by The Tempest's "Isle of Wonder" speech, a cast of 10,000 volunteers will transform the giant East London stage into the British countryside.
Great expectations
From Sir Chris Hoy to Jessica Ennis and Dai Jones, Britain has gathered an army of potential gold medal winners for the 2012 Olympics. UK Sport believes Team GB is capable of winning up to 70 medals and has set a target of at least 48 medals from at least 12 sports, making it the country's biggest ever Olympic haul. And it's not a case of blind patriotic hope either – even academics in the US put Britain third on their predicted medal table.
Fair play
Saudi Arabia's announcement last week that it would send female athletes to compete in judo and athletics means this will be the first Games where there are female competitors from every nation. Qatar and Brunei, the only other two countries not to send women before, announced earlier this year that they would also be sending a mixed team for the first time. The addition of women's boxing ushers in another big first, as it means women are able to compete in every Olympic discipline.
United nation
It began with the Olympic torch, which by next week will have travelled through more than 1,000 towns, cities and villages. But efforts to involve as many Brits as possible have gone further: some 70,000 volunteers have been recruited; free tickets have been dished out to 175,000 schoolchildren as well as 10,000 troops, and 250,000 people have already visited the park.
Vive l'Angleterre
Just four votes gave London the edge over Paris in the secret ballot of 115 members of the International Olympic Committee back in 2005. Then, it was heralded as a "momentous day" for Britain, leaving Parisians crying in the streets. The least we owe to the tearful French is to look as if we're enjoying it.
Money spinner
Aside from the potential cash injection from visitors, the Olympics have brought contracts worth £7.5bn to more than 2,000 firms across Britain. Some two-thirds are small businesses and half are based outside London. The Government also believes the UK can derive more than £13bn in economic benefits over the next four years.
Park life
After reclaiming contaminated land, the Olympic site has seen the largest planting project ever undertaken in the UK. Tree planting will create the largest new park in the capital for over a century. Oak, ash, hazel, holly, willow, blackthorn and hawthorn have been added, as well as 300,000 wetland plants. The canals and waterways of the River Lea have also been cleaned.
Fine lines
The warnings have made it sound like the transport apocalypse is coming. But with all ticketholders given travel cards, it may not be the panic people anticipate. More importantly, once the visitors have gone Londoners will be left with far better public transport. The Tube has had a massive refurbishment. The new Javelin Train brings East London to King's Cross and the DLR grew by 2.6km.
Food fair
Serving 14 million meals is not normally a recipe for high ethical standards, especially when your main outlet is McDonald's. But with bananas, tea, coffee and sugar to be Fairtrade and all 19 tonnes of eggs free range, organisers have made a valiant effort. Food miles will be cut down, and nothing will be sent to landfill from the park during the Games.
Wide screening
Those who don't have a ticket need not worry. Live screenings have been set up for people to cheer on the athletes – with 47 big screens across the UK. At least 500,000 people are expected at these sites every day during the Games, the biggest of which will be in London's Hyde Park, Trafalgar Square and Victoria Park, where concerts and other events will also be staged.
Paralympic glory
In the last three Olympic Games, Britain came second in the Paralympic medal table. With a home advantage and more investment in Paralympic sport, could we come top? Even if the UK doesn't lead the podium, the televised coverage of 4,200 athletes competing for 503 medal events has the potential to have a major impact on attitudes to disability in the UK.
Grand vision
Anyone who has already been glued to their TVs for the football Euros and Wimbledon better not expect to leave their sofa any time soon. Just as Andy Murray wowed audiences on Centre Court, the performance of Team GB on home turf is likely to have the nation enthralled. One in four Londoners is already planning sick days to watch the Games on TV.
Super heroes
Public investment in elite sport has increased hugely since Britain secured just one gold at Atlanta in 1996. Organisers were so terrified of the "Sydney effect" – Australia put massive sums into achieving results only to go backwards afterwards – that the Government has protected funding for elite sport until 2015. This should mean our performance at Rio will not be a washout.
Share options
For those outside London, Olympic experiences are not limited to catching a glimpse of the torch. While the main Olympic stadium may be in Stratford, many Britons will have a venue within reach. Football will be spread out in Cardiff, Manchester, Newcastle, Glasgow and Coventry. Meanwhile, sailing will be in Weymouth, mountain biking in Essex, rowing at Eton Dorney, Paralympic Road Cycling at Brands Hatch and Canoe Slalom in Hertfordshire.
Sporting life
Even before the first British athlete claims a medal. the Games could confirm Britain as a stager of the best sports events: Open golf, Wimbledon, Henley, Aintree, Silverstone, Premier League footie, cricket at Lord's. The UK will also host the Rugby League World Cup, Commonwealth Games, Rugby Union World Cup, World Athletics Championship and Cricket World Cup.
Sound investment
East London has benefited from the huge investment in the area. The £1.4bn Westfield Shopping Centre alone has created almost 9,000 jobs. The park itself will also offer a green space for local residents, as well as sports facilities for the area's serious athletes. Some 8,500 residents of the London boroughs hosting the Games have secured jobs on the park, and already 600 are working at LOCOG.
Mass observation
This year's Games are expected to have the highest attendance ever, with some 7.7 million spectators and more than 40,000 athletes and press. The numbers will make for an atmospheric competition as well as boost the country's coffers. Those watching it around the globe on the small screen are also expected to number more than four billion.
Irrefutable logistics
Feeding the Olympic park and village is just the start. This is Britain's largest peacetime logistical exercise, equivalent to running 26 simultaneous sporting world championships. More than a million pieces of sports equipment will be brought in, including 99 training dolls for wrestling and judo, 600 basketballs and 2,700 footballs.
Join our new commenting forum
Join thought-provoking conversations, follow other Independent readers and see their replies