IOC president Jacques Rogge says Usain Bolt is not a 'legend' yet
IOC president Jacques Rogge says Usain Bolt is not a 'legend' yet

Show all 2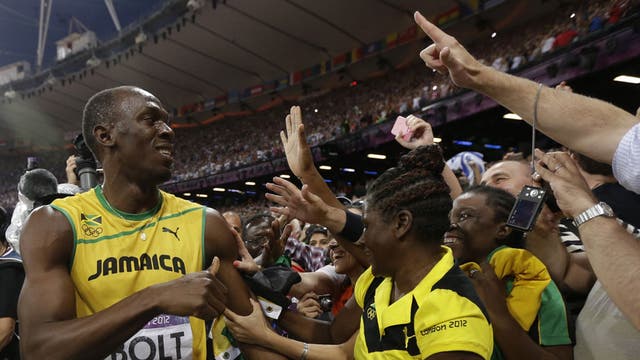 He may have become the first man to win consecutive gold medals in both the 100 and 200 metres but Jacques Rogge has denied Usain Bolt the third title he came to the London 2012 Olympic Games to collect. The president of the International Olympic Committee has told the Jamaican sprinter he is not yet a "living legend".
Speaking ahead of last night's 200 metres final, he told reporters: "The career of Usain Bolt has to be judged when the career stops." He added that Bolt is an "icon" but has not yet achieved his stated aim of legendary status.
Rogge said: "If you look at the career of Carl Lewis, he had (four) consecutive games with a medal. Let Usain Bolt be free of injury, let him keep his motivation which I think will be the case ... Let him participate in three, four games, and he can be a legend."
The Jamaican sprinter, who was at the head of a one, two, three for his country in last night's 200 metres final, was in no mood to agree. He said the race put him in the same category as Michael Johnson, which he saw as an honour.
"It's what I came here to do. I'm now a legend, I'm also the greatest athlete to live," he said.
But Rogge reiterated his belief that achieving Olympic success over a long period is what makes the difference. "What Michael Phelps has done in Beijing (eight gold medals) and what Usain Bolt has done now in the 100 metres and maybe in the 200 metres later this evening, this is something that you will not forget," he said.
"This is something exceptional. I think that achieving to win a medal in consecutive games is a great performance. The time factor is so important." Rogge cited British rower Steve Redgrave, who won gold medals at five consecutive Olympics, and British sailor Ben Ainslie, who won his fourth straight gold at these games.
He said: "You have to be there, you have to be at the top for almost 20 years which is a great achievement." Rogge, who competed in three Olympics for Belgium in sailing, said of Ainslie: "He's now the greatest sailor of all time."
Bolt became the first athlete to win the 100 and 200 metres at consecutive Olympics, running the 200 in 19.32 seconds, four days after he defended his 100 title with victory in 9.63. In last night's race, his own world and Olympic records were within sight but he appeared to ease up near the end.
Bolt said: "The world record was possible when I came off the corner but I guess I wasn't fit enough," he said. "I was fast but not fit enough, I could feel the strain on my back so I tried to keep my form and keep going.
"It is hard for me, I really dedicate to my work, I know what London meant to me, and I gave it my all. I gave it my best it was hard I really wanted to break the world record and tried but just not fit enough."
In Beijing four years ago, Bolt won the 100, 200 and 4x100 relay, all in world-record times. In Beijing, Rogge chastised Bolt for showboating and showing a lack of respect to his fellow competitors after his 100 and 200 races, comments which led to criticism of the IOC president for appearing to be out of touch.
Rogge spoke after attending the finals of women's boxing, which made its debut on the Olympic programme in London. He watched British flyweight Nicola Adams and Irish lightweight Katie Taylor win gold medals in front of a raucous crowd at the ExCel arena.
"It was fantastic," Rogge said. "I'm a very happy man. There has been some criticism of whether women should be boxing and of their level and technique. Today we have been vindicated. That was a good decision. It's only the beginning."
Also attending was IOC vice president Nawal El Moutawakel of Morocco, the first woman from a predominantly Muslim nation to win an Olympic medal when she took gold in the 400-metre hurdles at the 1984 Los Angeles Games.
"The combat was beautiful," she said. "It was a wonderful show. They were technical and highly skilled. This was very important, a huge step. It reminds me of my '84 hurdles gold medal."
For the first time in Olympic history, all national teams include female athletes. Rogge noted that Sarah Attar received a big ovation as she finished last in her 800-metre heat on Wednesday, the first woman from Saudi Arabia to compete in track and field at the Olympics.
"We're fighting the right course," Rogge said. "It's a strong message that reverberates around the world. Young women will take up sport. These games will leave a great human legacy."
With the closing ceremony of the London Games three days away, Rogge hailed the British crowds and said the atmosphere reminded him of the street scenes during the 2010 Vancouver Games.
"The crowds exceed my expectations," he said. "I did not expect such a response."
Rogge said the fervour was due in part to the success of the British team, which had won 24 gold medals and 51 total medals by the end of Thursday's competition, its best performance in 100 years.
"It took two days to get the bronze medal," he said. "From that start, what an acceleration."
Join our new commenting forum
Join thought-provoking conversations, follow other Independent readers and see their replies