The IOC's silence on Trump is contemptible, Los Angeles cannot now host the 2024 Olympics
The IOC's charter opposes any kind of discrimination and yet the organisation does not now question Trump's executive order that has stunned the globe
Ian Herbert
Chief Sports Writer
Monday 30 January 2017 10:18 Comments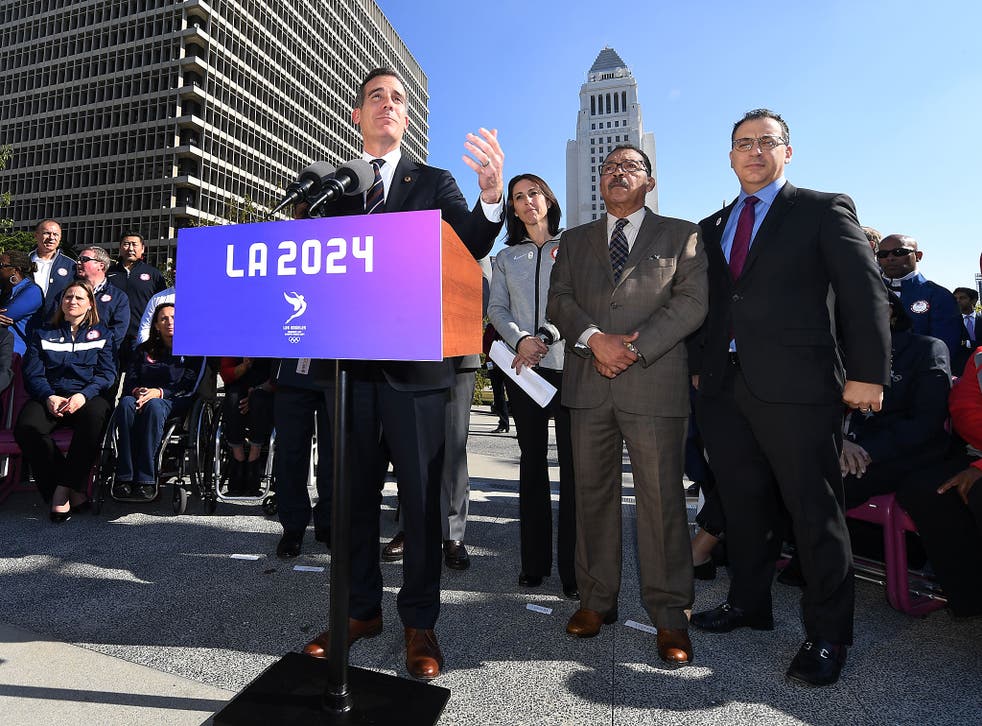 No surprises to learn that the International Olympic Committee has the sum total of nothing to say about Donald Trump's immigration ban which, if extended indefinitely, would mean there would be no place in the United States now for an individual who became one of its beacons of Rio 2016, the Syrian member of the Olympic refugee team, Yusra Mardini.
"The IOC does not comment on the politics of sovereign countries," a brief statement on Trump's executive order stated, early on Monday, and your heart sank to read those words. They took us all the way back to the anaemia of the IOC's pitiful inaction last summer, in the face of systematic and criminal doping of Russian athletes. A blanket exclusion from the Rio Games was the requirement, yet IOC president Thomas Bach would not countenance the notion. It took the Paralympic movement to tell the world that the Russians were the scourge of elite sport, banning them from Rio as the IOC should have done.
The IOC's charter opposes any kind of discrimination and yet the organisation does not now question Trump's order, which happens to coincides with the re-emergence into the international public sphere of Mardini, who spoke at the World Economic Forum in Davos earlier this month. The 18-year-old's appearance commanded little media attention beyond the UNHCR's own channels. (She has been shielded from public profile since last summer, while combining studies with swimming at a club in Berlin.) But what struck you about an interview she undertook for the UNHCR's Facebook page was the innocent candour of this young woman, who arrived at Davos in fervent anticipation of meeting Shakira and Will.i.am and summoned words more powerful than she possibly knew.
At a Davos event co-hosted by the World Food Programme, Mardini's appeal was that refugees like she might perhaps receive more than basic support. "With food for our stomachs, refugees can survive. But only if they are given food for the soul will they be able to thrive," she told delegates. "There are different kinds of nourishment. There is the love of your family and your friends – and maybe they are still in the war zone, or maybe you got separated from them as you fled the violence." What an almighty chasm there is between what Mardini contributes in the name of sport and the Olympic movement's own contemptible offering.
Let others join Mardini and fill the vacuum left by the IOC's silence, then. Let it be said that sport has a means of challenging this desperate unravelling in a Trumpian USA, by hitting him in the way which will cause financial damage – the damage he most relates to. Which is to say, the slightest consideration that Los Angeles might host the 2024 Games must be removed, if this ban remains in place any time longer.
The bids will be considered in September and LA's is strong. LA mayor Eric Garcetti sees the risk to it that Trump causes and has just spoken for the vast west coast majority when he said that "Los Angeles will always be a place of refuge, where the most vulnerable people fleeing war, or religious or political oppression, can find a safe and welcoming home."
But it would be risible if the Paris or Budapest bids trailed behind a nation which would, as the executive order stands welcome no Somali-born Mo Farah today. It even calls into the question the presence in the US of Luol Deng, vital component of the Great Britain men's basketball team at London 2012, whose journey through sport took him from the escalating horrors of the second Sudanese Civil War to the Chicago Bulls, and now the Los Angeles Lakers.'
The controversial orders Donald Trump has already issued

Show all 9
Let Mardini speak for sport, if Bach and his stooges will not. She was asked in the Facebook interview what her aims now are in Berlin, where she has returned from Davos to continue her schooling. "It's to show everyone that refugees are people who can achieve like anyone in the world," she replied. "And when the war ends and everything comes down, I want to go back to my country and help rebuild it and get my country back."
Register for free to continue reading
Registration is a free and easy way to support our truly independent journalism
By registering, you will also enjoy limited access to Premium articles, exclusive newsletters, commenting, and virtual events with our leading journalists
Already have an account? sign in
Join our new commenting forum
Join thought-provoking conversations, follow other Independent readers and see their replies