London 2012: Wojdan Shaherkani makes history competing as Saudi Arabia's first ever female Olympic athlete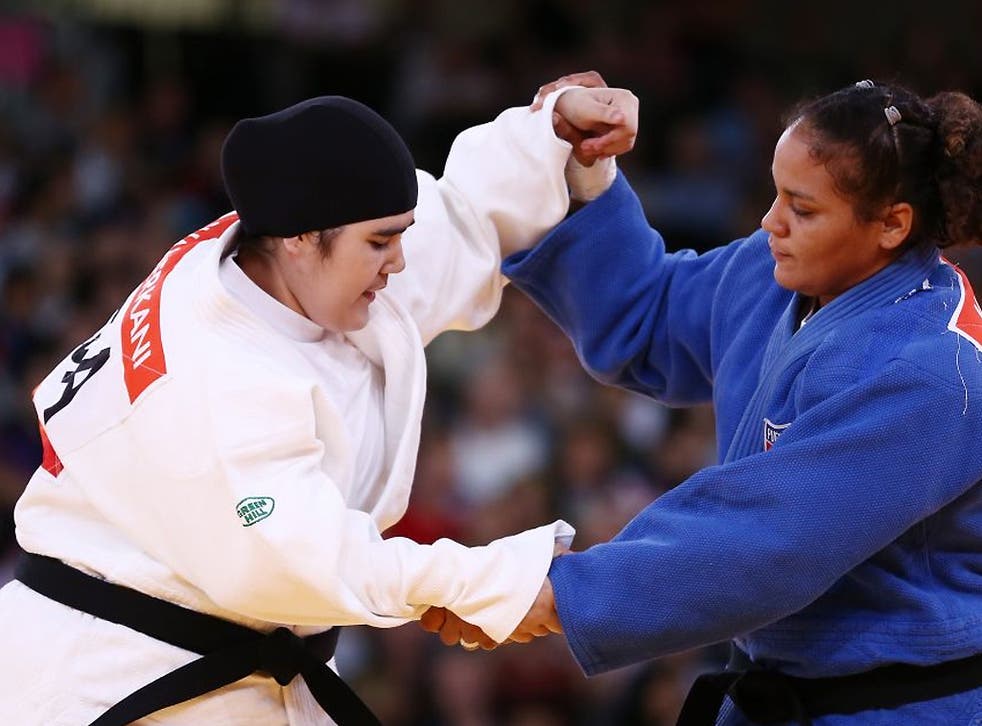 In the end her Olympic début lasted little more than a minute. But for the women of Saudi Arabia it was a revolutionary minute.
History was made this morning when the Gulf Kingdom's first female Olympian athlete took to the judo floor in a brief but deeply significant bout that embodies the fight for gender equality in one of the world's most conservative cultures.
Given that Wojdan Ali Seraj Abdulrahim Shaherkani is only a blue belt in the judo, it is perhaps not surprising that she was swiftly dispatched by Puerto Rico's Melissa Mojica, a powerfully built US trained judoka who is ranked 24th in the world.
But the very fact that the plucky teenager from Mecca was allowed to represent her country is remarkable given that women are still banned from driving in her homeland and can only leave the house with a male chaperone.
"Certainly being faced with such a large crowd is difficult but manageable," a rather startled Shaherkani told a phalanx of reporters shortly after the match. "I was a bit scared."
Her father Ali, who is himself a judo referee, said he "cried like a baby" watching his daughter compete. "She was happy and smiled when she finished the fight. She hugged me and said: 'Daddy, I did this.' I was so proud," he said.
Facing off against a black belt when you are two rungs below and have only played judo for two years would be a daunting task at the best of times. But Shaherkani is battling against more than just inexperience – she is carrying the hopes and expectations of liberal Saudi women on her shoulders.
Just by daring to compete she has squared off against Saudi Arabia's ultra-conservative clergy who discourage any female participation in sport. The thought of a woman seeking attention – especially in front of a mixed sex audience – is a taboo too far for many Saudi men and women. Ultra-conservatives began calling her the "Prostitute of the Olympics" just because she was willing to play judo in front of a man.
As she walked towards the judo mat in the ExCel centre shortly after 10:30am this morning, Shaherkani appeared unsteady. But a huge roar of support from the crowd helped her on her way. The cheer she received was as loud as any given to British competitors that morning.
From the start it was clear that she was hopelessly outmatched. Where Mojica was fast and confident, Shaherkani was slow and timid. It wasn't long before the inevitable happened and she was thrown onto her back for ippon – judo's equivalent of a knockout. The bout had lasted just 82 seconds. She left the mat forgetting to bow to her opponent, a major insult in judo culture, but the audience still gave her a standing ovation anyway.
Just getting to the Games was a tortuous journey for Shaherkani – whose age is given as 16 by Olympic organizers, but 17 or 18 by her father, and 19 on the Saudi Olympic website. Saudi Arabia had no intention of fielding any female athletes at this summer's games. But they were effectively embarrassed into submission when it emerged that Brunei and Qatar, the only other nations who had yet to send women to Games, were doing so this time around. Shaherkani and her fellow female Saudi athlete the medium distance runner Sarah Attar were ordered to be accompanied by a male chaperone at all times.
Shaherkani faced a further obstacle. The Saudis would only let her compete if she could wear some form of hijab that covered her hair in its entirety. Even that was radical move. Most women in Saudi Arabia cover their faces and hands when they go outside. But Judo's governing boy was concerned any form of head covering could be dangerous. In the end, after a tortuous series of discussions a compromise was reached. Shaherkani stepped out wearing a tightly wound black head-covering, similar to those worn by devout Sikh men and women at sporting events.
As one seasoned judo reporter in the press stands remarked: "Poor girl, all that fuss over nothing. It's a storm in a tea cup and she's a political pawn in the middle of it all."
Register for free to continue reading
Registration is a free and easy way to support our truly independent journalism
By registering, you will also enjoy limited access to Premium articles, exclusive newsletters, commenting, and virtual events with our leading journalists
Already have an account? sign in
Register for free to continue reading
Registration is a free and easy way to support our truly independent journalism
By registering, you will also enjoy limited access to Premium articles, exclusive newsletters, commenting, and virtual events with our leading journalists
Already have an account? sign in
Join our new commenting forum
Join thought-provoking conversations, follow other Independent readers and see their replies