Olympic Moments No 7: Audley Harrison's boxing gold
In our series celebrating GB success, coach Tony Burns recalls a stunning win in 2000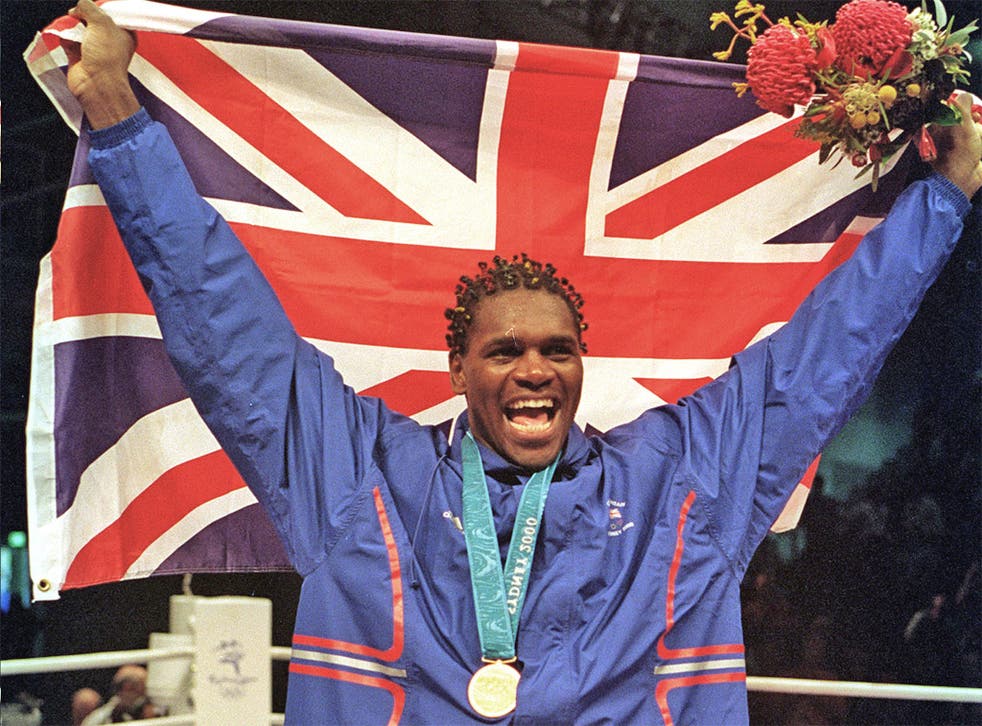 I remember walking around the Olympic park, trying to call my wife, after Audley Harrison won the super-heavyweight boxing gold medal in Sydney in 2000. I was his coach. I was trying for about 30 minutes but mobiles weren't working anywhere near the site. Then, out of nowhere, someone asked: "Are you Tony Burns? Everyone's waiting for you in the press conference." Audley had refused to answer questions until I arrived. Despite all our problems, that was a proper mark of respect.
I met Audley three years before his Olympic final, which he won by beating Mukhtarkhan Dildabekov of Kazakhstan on points. He came to my gym, Reptons, in Bethnal Green, because he wanted to go to the Olympics. I took my first fighters to the Olympics in Mexico in 1968 so I knew what I was doing. But we had to get Audley into our way of working first.
The first time I saw him I thought he was a talent. I couldn't look at him and say he was a "fighter" but he was a talent and it's something he was born with. He knew how to box. As soon as he'd step into the ring he'd have the measure of the man he was against and he'd know how to beat him. I'm convinced he could have beaten anyone, including Vitali and Wladimir Klitschko. But there was something about Audley that meant he wouldn't. It was something in his head.
Maybe it was because he was so good: he'd sometimes just do the bare minimum to win. He had amazing hand speed – some of the best I've seen in a man his size – but he'd jab away and scrape through rounds by doing just enough. I remember one fight where I walked away from his corner because I was so disgusted with him. With the talent he had he should have been knocking fighters out all the time.
We had a number of arguments when he was training for the Olympics. We do things "our" way at the gym and he didn't always agree. He fell out with David Robinson, who has been chairman for the past 23 years, and I remember telling him to sling his hook a few times. But then, a few days would pass and he'd stick his head round the corner and ask me for a bit of advice. It's not a bad thing to argue.
One time he really showed his quality was a couple of years before the Olympics, at the Commonwealth Games in Malaysia. He was fighting Michael Macaque, from Mauritius, in the final and he knocked him out cold. Just knocked him out. Audley was huge, 6ft 5in and about 17½st. When he jabbed someone, he hurt them. After this fight the BBC and other bodies were begging him to stay on as an amateur and compete in the Olympics. And I'm glad he did.
We went to the 2000 Games and Audley – being Audley – was confident. He was a brash, confident lad and while this put some people off he had a good reason for being like this. I thought he fought a good fight in that final and I was proud of him. Maybe he'll regret the things that have happened since. He wanted to be involved in everything when he should have been thinking about boxing. But he'll remember that Olympic gold. He was the first British super-heavyweight gold medal winner.
Oh, and the first person to get through to my mobile after that fight in Sydney? My old mate Reggie Kray.
Tony Burns is head coach at Repton Boxing club in Bethnal Green. The Club grew out of Repton Boys Club, established in 1884 by Repton School as a way of giving support to the young men in one of the country's poorest communities.
Olympics news you might have missed...
The Syrian Olympic committee head, General Mowaffak Joumaa, has denied reports he has been officially banned from attending next month's Games, dismissing media statements that Britain won't grant him a visa as a "fabricated media campaign".
In a statement issued by al-Baath newspaper, Joumaa said that if such a ban was issued, "it would be an honour for me as a Syrian citizen who loves his people and homeland". There are expected to be 10 Syrian athletes representing their country in London at the Games.
Who's up...
Ryan Lochte US swimmer won latest showdown with Michael Phelps, taking 400m individual medley at the US trials.
Who's down...
GB men's basketball team Suffered third successive warm-up loss, going down heavily 87-51 to Russia in San Antonio.
Join our new commenting forum
Join thought-provoking conversations, follow other Independent readers and see their replies