'The only Olympic legacy we'll have is fewer customers,' businesses warn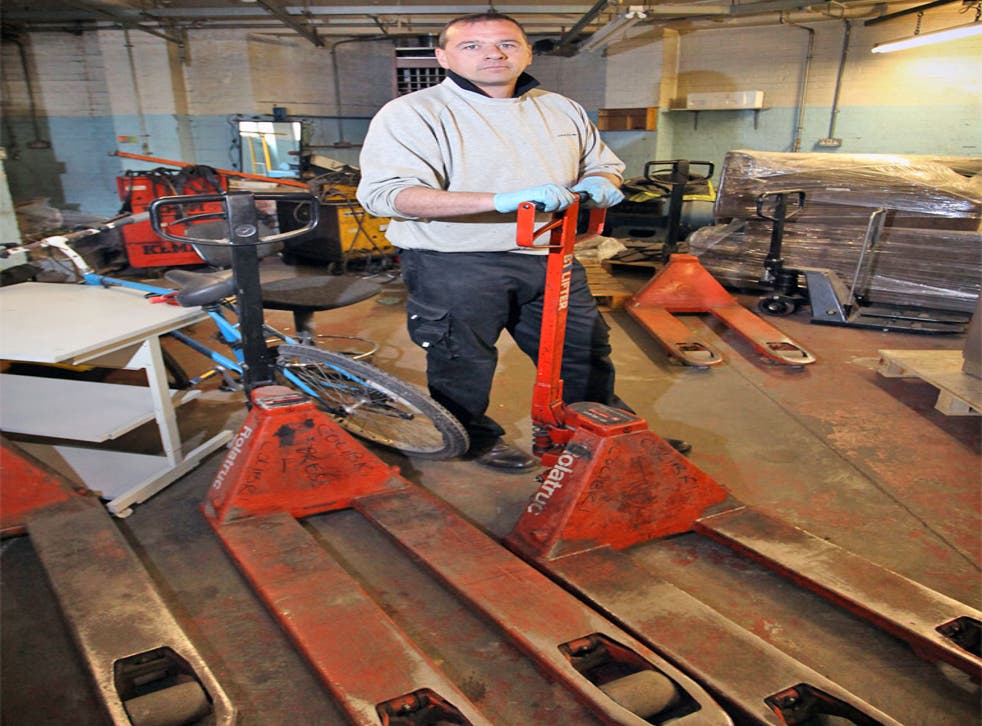 Graham Phelps doesn't have much time for the idea of an "Olympic legacy". "If we lose customers during the Olympics, we'll lose them for ever," he says. "That's our Olympic legacy."
Mr Phelps is the manager of a small deliveries firm, based on a quiet street on the edge of the London Olympic site. When the family of nations descends on this corner of the capital, he and other local business owners are unlikely to welcome them with open arms.
Phelps Transport, of White Post Lane, Hackney, is one of more than 40 local firms that are planning to sue the London Organising Committee of the Olympic Games (Locog) over the threat to their businesses from traffic disruptions during the Games.
"In rush hour we won't be able to work at all," Mr Phelps told The Independent. "Where our drivers might usually leave at midday to get to a job in Birmingham they're going to have to leave at 5am during the Olympics just to get there on time. We could lose between 50 and 60 per cent of our turnover."
Disruption during the Olympic and Paralympic Games, including parking and loading restrictions and lane and road closures in parts of east London will severely affect the movement of goods, staff and services – driving away business and threatening livelihoods, some of the businesses backing the lawsuit said yesterday.
Kevin Farley, the manager of Pennywise Furniture wholesalers, said regular customers had called him to voice their concerns. "If there's going to be police checkpoints, that will create a massive bottle-neck," he said. "I can see half of our customers staying away."
Businesses are frustrated at the continued uncertainty over the severity of disruptions. Final decisions on road closures have not yet been made and details of contingency measures such as late-night deliveries have been left to local authorities.
In the meantime, local firms have seen their customers' confidence slowly ebb away, and many are planning to take their business elsewhere.
"We've already had some customers decline to stay with us because we can't tell them what will happen during the Olympics," said Michael Spinks, managing director of Essex Flour and Grain, based in Hackney, which has been in business for 153 years. "Locog have invaded our territory and treated us like playground bullies."
Locog organised a meeting for local businesses last month and assured firms they would still be able to operate. "We want to ensure people who live and work in the vicinity of our venues are able to continue going about their business with the minimum of disruption this summer," a spokesman said.
But some are already convinced that the restrictions proposed, including slipway closures on the A12, a crucial artery for commercial traffic, will mean widespread congestion.
A spokesperson for Hackney Council said: "The Council's priority has always been to make sure that residents and businesses see genuine benefit from the Olympic Games. We have been working with local businesses to understand the challenges they are likely to face and we'll publish specific guidance for Hackney businesses very soon."
Mr Phelps is not convinced. "I've spoken to the firms round here and not one expects to gain from the Olympics," he said. "The idea of the Games is to revitalise this area, but all they're going to do is bring down businesses. Some firms might not survive it."
Heathrow 'unlikely to cope' with surge in passengers
The London Olympics may lead to the country's largest airport seizing up under the pressure of passenger numbers, MPs warn.
A lack of preparation and resources at immigration control could lead to a scenario whereby "planes cannot unload their passengers into the terminal due to capacity being exceeded," John Whittingdale, chairman of the House of Commons Culture, Media and Sport Committee, said. "This would lead to circling in the air, planes being left on runways or planes blocking gates."
Mr Whittingdale warned of his concerns in a letter to the Culture Secretary Jeremy Hunt. He said two members of his committee, Therese Coffey and Gerry Sutcliffe, had attended a briefing by Heathrow's operator BAA but "did not leave the briefing confident that Heathrow was ready to cope".
"We understand that significant preparations have been made to accommodate unusual sporting equipment, special lanes for the Olympic family, welcoming arrangements for competitors and additional Olympic ambassadors," he wrote. "However, far less thought seems to have been given to the issue of how to deal with long queues at immigration. The UKBA [UK Border Agency] representative suggested that there was insufficient funding to ensure all passport stations would be open."
BAA agreed that the situation was a cause for concern. "There isn't a trade-off between strong border security and a good passenger experience – Border Force should be delivering both," BAA said in a statement.
A report yesterday said UKBA is failing in its "basic functions".
Rob Hastings
Join our new commenting forum
Join thought-provoking conversations, follow other Independent readers and see their replies