Paralympics 2016: With more athletes and bigger TV deals, Rio can build on London's legacy
Peacock and Co face competition from five new African nations and record number of competitors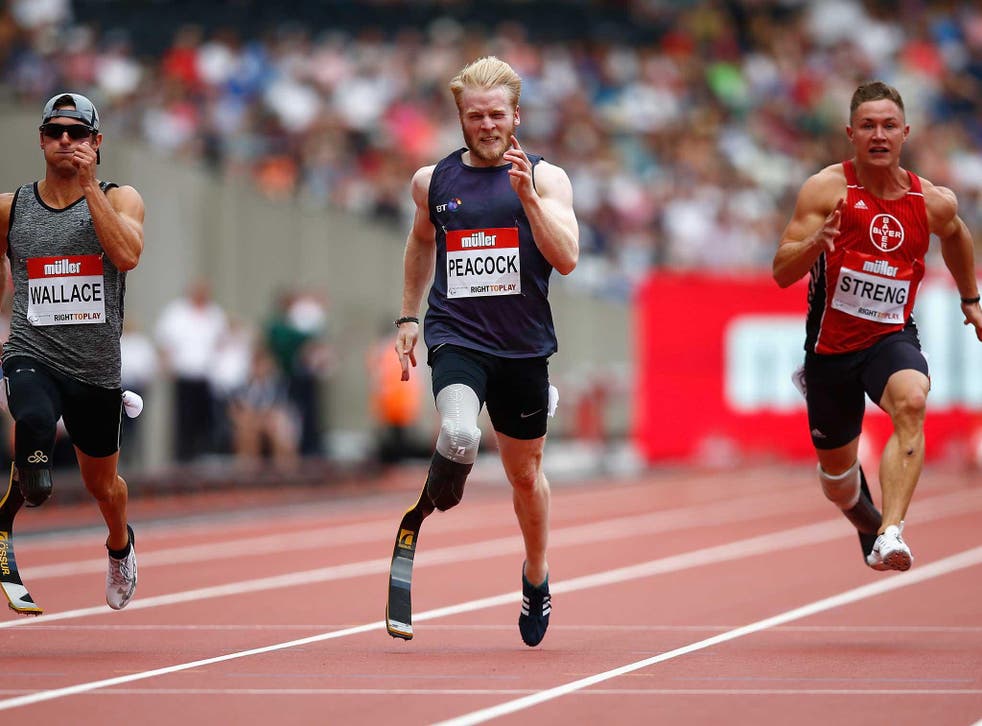 The names and the stories will be as unexpected as they were in London four years ago. Nobody knew back then about Houssein Omar Hassan, Djibouti's first Paralympic athlete, who would strain every sinew simply to finish his 1,500-metre race, reduced to the slowest of paces by his sheer exhaustion and willed home by a crowd which performed a Mexican wave to help him over the line.
Look out for Micky Yulem, a former Royal Engineers Staff Sergeant, who watched the 2012 Paralympics from his hospital bed after legs were blown up by an IED while he was serving in Afghanistan in 2010. "Sport gives you a reason to get out of bed," he said this week. He'll be competing in the -65kg powerlifting division on Friday.
Brazilian Jovane Guissone will compete for fencing to almighty acclaim because the host nation certainly know how to cheer for their own. His own disability makes him a true standard bearer for Brazil. He was shot and paralysed 12 years during one of the robberies which are a part of daily life for millions in the country.
These athletes and more are facing challenges of a kind no one anticipated when the London Games took Paralympics to a new level, with 11m drawn to watch its opening ceremony on TV, Channel 4 clearing its schedules to show 400 hours of coverage and the 10,000 fresh tickets which were released daily selling in a flash, four years ago. The event is taking place in a country and a city which is pocked by recession, flat broke and needed to raid the Paralympics pot just to fund its Olympics.
The Deodoro Olympic Park, the second-biggest cluster of Olympic venues where Britain's women's hockey team and showjumper Nick Skelton won their golds, has been partially closed. Many competitors – including Guissone and the other wheelchair fencers – have been relocated to the main Olympic Park in Barra. Big screens have been taken down and nearly 2,000 temporary staff laid off. The number of seats has also been reduced from the original estimated 3.4 million. Some athletes have faced a fight to secure travel grants.
As the Olympics wound up two weeks ago, the talk in Rio de Janeiro was of the Paralympics being a monumental disaster, playing out to empty stadia while athletes struggled to get through the city's gridlocked traffic. The worst fears have proved unfounded. Heavily discounted seats have been sold and a UK online #filltheseats campaign to buy tickets for Brazilian children has worked, with support from major donors, including Sainsbury's and Allianz. The labyrinthine bus system that was in operation for the Olympics remains in a reduced form and there are still a substantial number of volunteers. Journalists in Rio say it does not seem the logistical nightmare to report on that was feared.
Rio 2016 Olympics - in pictures

Show all 74
The International Paralympic Committee (IPC) told The Independent on Tuesday that no nation has had to withdraw its delegation because of a lack of funding for travel. It said the anticipated number of athletes performing would be around 4,350, an increase on the 4,237 at London. And equally significant to the Paralympic movement's need for a Games to build on London, the number of broadcast deals secured has also increased.
The TV ratings four years ago were a surprise but the viewers tuned in because they were seeing elite sport of the highest order. Chinese state television showed five hours a day, with China's strong showing in the medals an attraction. A total of 308 Chinese athletes will participate in Rio, the biggest ever delegation. The main channels in Germany and France plan nightly coverage again and Sky Italia more than 500 hours despite a relatively small Italian delegation.
A total of 154 countries will receive broadcast coverage from Rio, a 30 per cent increase on London. The IPC anticipates reaching a combined web/broadcast audience of four billion for the first time.
There are mixed levels of enthusiasm. The United States seems to have has an ambivalent outlook on the Paralympics. NBC was criticised in London for its poor level of programming. It says it is increasing its output, though the network's website has revealed minimal preview material this week. Gymnast Simon Biles and that Tonga flagbearer Pita Taufatofua remained NBC's main Olympic stories. The US has only once made it beyond fourth at a Paralympics since 1996, when on home turf at Atlanta it topped the medals tale with 47 golds out of 158 overall. The US team was placed sixth after Ukraine at London 2012.
Research by The Economist has found that disabled sport is still mainly a rich-country affair, reflecting the need for costly prostheses and specialist training. Nine countries provided 40% of the athletes in London. White South Africans made up only a tenth of the population but dominate the team.
But participation by African countries is rising. Improvements in Rwanda's education system helped it field 14 athletes in London and it is from Africa that nations new to the Paralympic movement are arriving in Rio this week. Congo, Malawi, Somalia, Togo and the island nation of Sao Tome and Principe are five of the six new countries, with Aruba, the island off the coast of Venezuela also sending. Independent nations Kosovo and South Sudan will also be represented.
In a sense, these are the nations which matter most. In 2012, the first ever Paralympians from Haiti and the Democratic Republic of the Congo returned home to find that their presence had transformed the way disability was perceived in their less enlightened countries.
The reaction was not borne of empathy or pity but because the images they had generated were of sensational elite sport. Despite the obstacles, Rio holds out the same opportunity now. The names and the contests to savour are too numerous to mention but because of Jason Smyth, Omara Durand, Jonnie Peacock, Tatyana McFadden, Libby Kosmala, Jonas Jacobsson, Siamand Rahman, Emma Wiggs, Zahra Nemati, Alex Zanardi, David Weir and hundreds like them, there are 11 days of competition to savour. Rio can be another London.
Join our new commenting forum
Join thought-provoking conversations, follow other Independent readers and see their replies