A psychic predicted gold on the track, now Jonnie Peacock could make millions off it
The newly crowned 100m champion is expected to replace Oscar Pistorius as the poster boy for Paralympic sport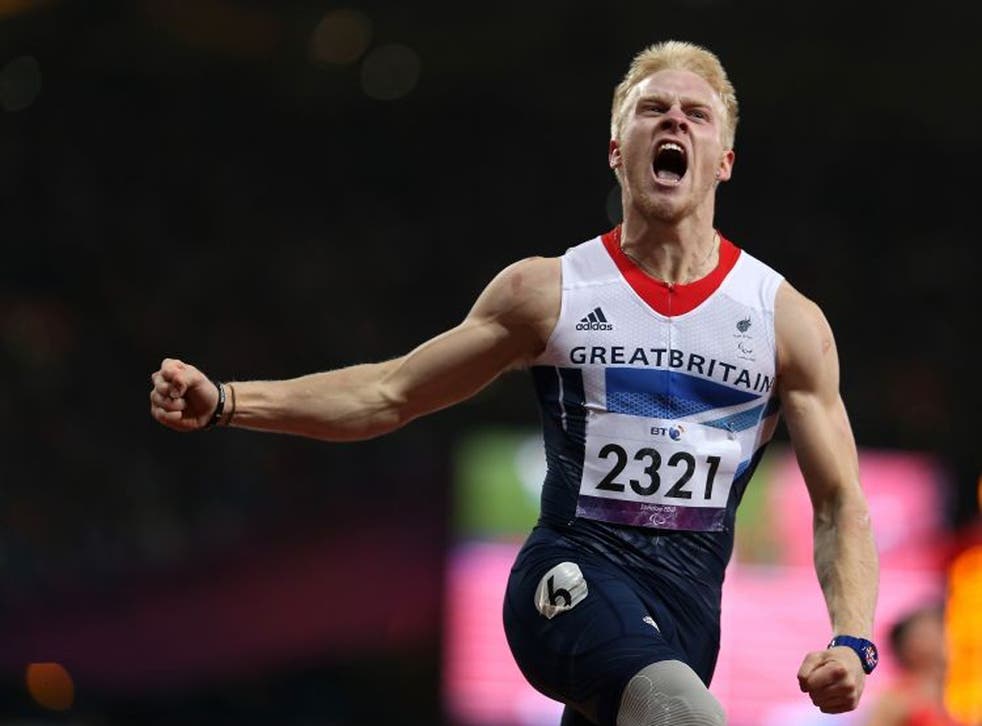 Two years ago, a psychic told Jonnie Peacock's mother that her son would become a Paralympics gold medallist. What the soothsayer failed to add was that the 19-year-old would wake up yesterday as the new all-conquering face of disabled sport and a target for cheque book-waving corporations.
As the Cambridgeshire sprinter basked in the afterglow of his imperious triumph over his fellow bladerunners in the T44 100m with a record time of 10.90 seconds on Thursday night, he downplayed expectations that he will replace his one-time mentor, Oscar Pistorius, as the poster boy of the world's Paralympians and one of the world's most famous runners, with or without a prosthetic limb.
He said: "I don't think my life is going to change much. I will still be going to Nando's with my mates. I don't believe I'm going to get recognised like that. I am still going to go below the radar and no-one will know who I am."
Others, including the leaders of Paralympic sport, have different ideas. There is talk already that the Briton who lost his right leg at the age of five to meningitis and dabbled with ballet before choosing running will follow Pistorius into the world of able-bodied athletics by competing at the 2016 Olympics.
Craig Spence, spokesman for the International Paralympic Committee, said: "Great Britain has a number of new heroes. If you look at our vision, it's to inspire and excite the world. It doesn't actually say wherever that inspiring or excitement has to take place. Jonnie, if he was to take part in Rio, we'd have no issue with that, good luck to him."
With Pistorius's surrender of his 100m title to the Briton in less than 11 seconds of electrifying sprinting also came a recognition from the South African, for so long the battling and indomitable spearhead of efforts to convince the world of disabled sport's technical and emotional parity with its able-bodied equivalent, that its future was encapsulated by Peacock.
Speaking after the race, in which he came fourth, Pistorius said: "We just witnessed one of the great performances from Jonnie. I think he is going to inspire a lot of people in the coming years. The Paralympians are household names now and it makes me proud."
Probably not as proud as Peacock's mother, Linda Roberts, who had driven her son to hospital 14 years ago after recognising the tell-tale rash of meningitis and was told by doctors to prepare herself to lose her child as his body fought the meningococcal septicaemia that cost him his leg.
Ms Roberts, 46, who kept from her son the fact that the psychic she consulted after the death of Jonnie's footballer grandfather had predicted gold, telling him instead it was a silver, said: "A doctor told me my little boy had 48 hours to live and that now was the time to say goodbyes. But I couldn't. People say he's wonderful because he's achieving all these great things but for me he doesn't have to win a race for me to be proud of him."
It was not so very long ago that Jonnie's mother and his step-father were having to grapple with the bureaucracy of the benefits system as they sought to ensure he had every opportunity to conquer his disability.
Such was the young dynamo's determination to be treated like his classmates, that doctors decided in 2000 that he could move as well as any other seven year old and, as a result, his disability benefit was of £92.25 a week was stopped. It was eventually replaced with a mobility allowance at around half the previous amount after the family appealed.
Financial concerns are unlikely to dog Peacock in the future. Already a brand ambassador for British Telecom and a recent recipient of Lottery funding, the sprinter can expect a number of corporate suitors to be beating path to his door in the coming months.
One sports marketing agent said: "Jonnie has a lot of the key ingredients that made Oscar Pistorius such a hot property. He's has a fantastic story of triumph over adversity, he's eloquent but not boastful and, I'm afraid this helps, he's a good looking lad. I'm aware of two or three big brands who have him on their shopping list."
Nevertheless, it is at this point that all comparisons between Peacock, who believes he could one day run the 100m in 10.6 seconds, significantly below his current world record of 10.85, and Usain Bolt begin to unravel.
Whereas Bolt earns around $20m (£12.4m) from endorsements each year, Pistorius, hitherto the global poster boy for the Paralympics and by some distance the best known disabled athlete, makes around $2m.
In a world of narrowing differences between able-bodied and impaired athletes, a yawning divide exists in their marketability. The Independent understands that whereas Mo Farah and Jessica Ennis can expect to earn up to £5m from their Olympian feats, and other gold medalists around £500,000, the likely value of an endorsement for a Paralympian is between £100,000 and £200,000.
Simon Rines, editor of trade monthy Sponsorship Today, said: "From the point of view of a sponsor, the maximum value of backing an athlete is right now. In terms of public exposure, the next time the vast majority of the public are going to see a Paralympian is in four years time. For someone like Jonnie Peacock, the money could well be in areas such as motivational speaking."
Advertisers said the Paralympics had done much to raise and modify perceptions of disabled sport but warned the reality of sport and marketing left room for the smallest number of global brands.
Alison Hoad, joint head of advertising agency RKCR/Y&R, said: "These games have changed forever the way we look at disability. It's fantastic that these games will inspire all of us, including sponsors to look for heroes in new places.
However, the gap that exists between the earning power of able-bodied athletes – such as Usain Bolt – and disabled ones - such as Jonnie Peacock -will continue to be much wider than the 1.27 second gap that separated their 100m performances. Ultimately we revere the ultimate. Those who push the record of what any human has ever done ,bar none. There can only be one fastest human on the planet and the whole planet knows his name."
For moment at least, ending that status quo is not at the top of Peacock's list of priorities. With the roar of the Olympic Stadium crowd still ringing in his ears, Peacock treated himself to a victory McDonald's consisting of a chicken burger, 12 nuggets and an ice cream. He tweeted a picture of the feast with the words: "Ohhhhh yeahhh!!!!! Been waiting for this!!!"
Golden boy: Anatomy of an ad man's dream
Running blade
Peacock's hi-tech blade and knee support is supplied by Icelandic prosthetics specialist, Ossur. Other manufacturers, such as official Paralympics supplier Ottobock, may vie to supply to world's fastest bladerunner. £50k
The shoe
The Briton is in the enviable position of having a potential sponsor for each of his legs. His sprint shoe for the Games was supplied by Adidas but other footwear manufacturers will want to offer their products. £10k
The kit
Clad in the official Team GB kit supplied by Adidas, Peacock will have already done much for the German company's image. Rivals such as Nike and Puma will be queuing up to see their logo emblazoned on the sprinter's physique. £100k
The eyes
By name, by nature; Peacock's good looks will not have gone unnoticed by potential suitors. Sunglasses brand Oakley likes to sponsor sports stars (Oscar Pistorius is currently on its books), while fashion labels may well also show an interest in tailoring beyond the track. We await Jonnie's first shoot with Armani. £150k
Join our new commenting forum
Join thought-provoking conversations, follow other Independent readers and see their replies