Rio Paralympics 2016: Gold rush for GB's canoeists, but David Weir misses out again
Team GB's Paralympics gold tally rose to 49 on Thursday as the nation's Paralympians impressed in both the equestrian and the canoeing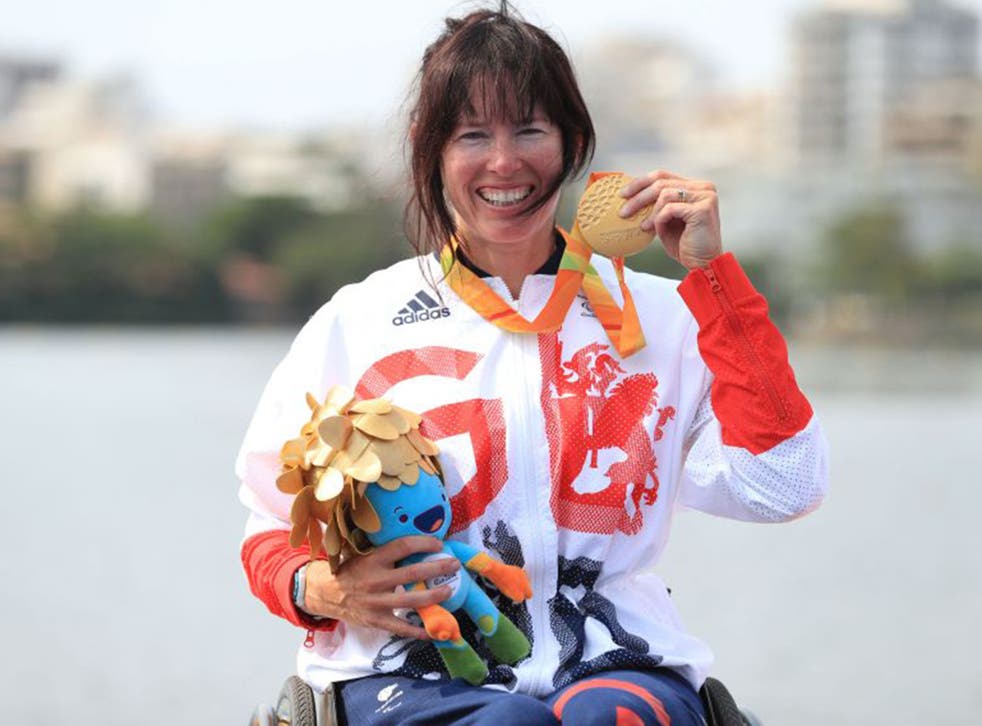 Team GB's Paralympics gold tally rose to 49 on Thursday as the nation's Paralympians impressed in both the equestrian and the canoeing.
Great Britain's canoeists won three gold medals and two bronze in a sport which made its debut at the XV Paralympics.
Jeanette Chippington, Emma Wiggs and Anne Dickins all took gold at Lagoa.
Chippington, a five-time Paralympian as a swimmer and gold medallist at Atlanta 1996, won the women's KL1 event by 0.114 seconds after benefiting from a fine start before clinging on to win.
Wiggs won Britain's second gold from three finals with a commanding win in the KL2 race.
Wiggs, now 36, was chasing and shearing sheep working on a farm on her gap year in Australia aged 18 when she contracted a virus that initially paralysed her and left her with irreparable damage to the nerves in her legs. She played sitting volleyball at London 2012.
And Dickins, who took up the sport after being a Gamesmaker at London 2012, won the KL3 event.
The 49-year-old's success saw Britain take a clean sweep of women's titles.
The men won two bronze medals. Ian Marsden, a powerlifter until spinal cord injuries in 1992, finished with bronze in the KL1 men's event, 0.136secs behind gold medallist Jakob Tokarz of Poland.
Nick Beighton took bronze in the KL2 men's final as Australia's Curtis McGrath claimed gold.
Beighton was a captain in the Royal Engineers of the British Army, on duty in Afghanistan in 2009, when he stood on an explosive device and lost both of his legs.
Elsewhere, Sophie Christiansen led a one-two in the equestrian as GB's excellence shone once again at the Games.
After Sophie Wells' grade IV win on Wednesday and Natasha Baker's grade II win on Thursday morning, Christiansen won the grade Ia event ahead of Anne Dunham in Rio to clinch Britain's 49th gold medal.
The quartet's scores contributed to the team total and Britain's unbeaten streak - dating from 1996 in European, world and Paralympic events - continued.
Christiansen now has seven Paralympic gold medals and can claim an eighth in Friday's freestyle test.
The 28-year-old won her championship test with 78.217 per cent. Dunham, on LJT Lucas Normark, took silver with 74.384 per cent.
The scores gave Britain a team total of 453.306, to beat Germany by almost 20 points.
The quartet of British team medallists will be in action alongside 10-time Paralympic champion Lee Pearson, who took grade Ib silver, on Friday's final day of equestrian action.
It wasn't to be for David Weir, however, who was bidding to win another gold in the T54 800 metres after his success in Beijing 2008 and London 2012.
The six-time Paralympic champion wheelchair racer, who won four titles from four events four years ago, was sixth at the bell as Swiss rival Marcel Hug set the pace.
The 37-year-old has another opportunity on the track in the relay and in the marathon on Sunday's final day.
PA.
Join our new commenting forum
Join thought-provoking conversations, follow other Independent readers and see their replies