Zanardi raises his wheels in triumph after finishing in pole position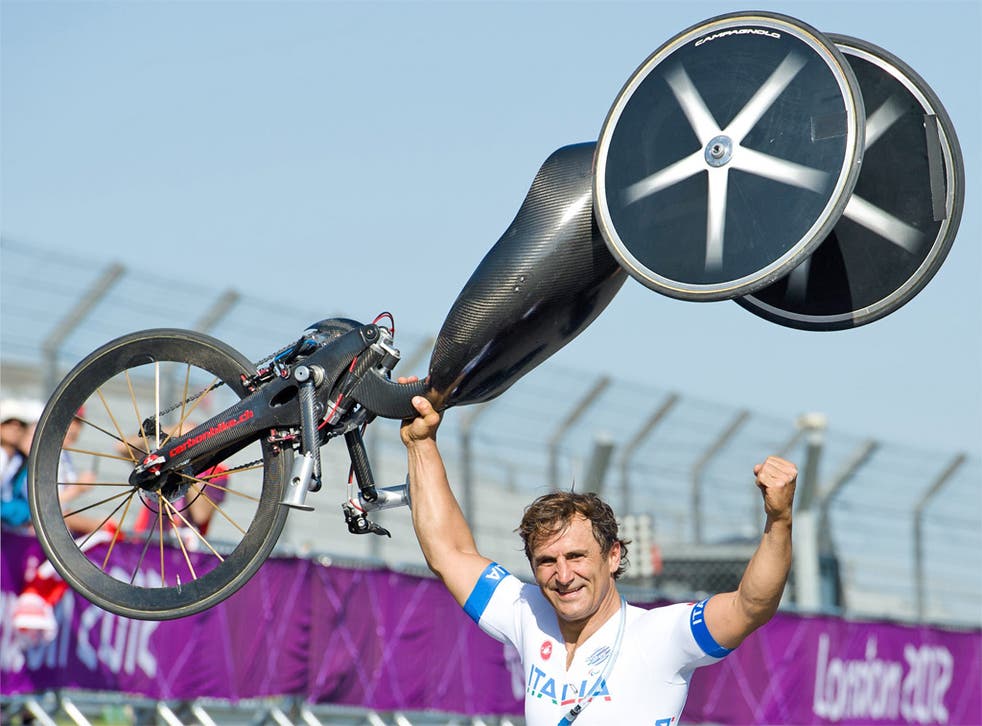 Alex Zanardi stood on the Brands Hatch track, on the stumps of the legs he lost in a near fatal motor-racing accident 11 years ago, and with one arm raised his handcycle above his head.
It was the most flamboyant celebration of the day – perhaps of the Games – and was a fitting mark to end what the Italian described as a "great adventure", winning Paralympic gold in track cycling. "I'm Alex Zanardi," said the former Formula One driver of the celebration. "I always have to come up with something – I have a little bit of a big head."
Zanardi raced sixth of the 10- strong field in the H4 time trial and so endured an anxious wait after crossing the line as he counted his opponents in. In the end it was comfortable with 27 seconds advantage over the German Norbert Mosandl.
"I'm really happy but I knew this moment was going to bring a little bit of sadness as well," said Zanardi. "When you choose something in life and are pushed by your passion, every day is a great opportunity to meet happiness. This is almost the last day of a great adventure. On Monday, I have no doubt that I will find something new – because if I have one talent, it is my curiosity."
Register for free to continue reading
Registration is a free and easy way to support our truly independent journalism
By registering, you will also enjoy limited access to Premium articles, exclusive newsletters, commenting, and virtual events with our leading journalists
Already have an account? sign in
Register for free to continue reading
Registration is a free and easy way to support our truly independent journalism
By registering, you will also enjoy limited access to Premium articles, exclusive newsletters, commenting, and virtual events with our leading journalists
Already have an account? sign in
Join our new commenting forum
Join thought-provoking conversations, follow other Independent readers and see their replies