Rio 2016: Caster Semenya may have run her last major race before testosterone treatment
Semenya's hyperandrogenism has become one of the most challenging and delicate issues in world sport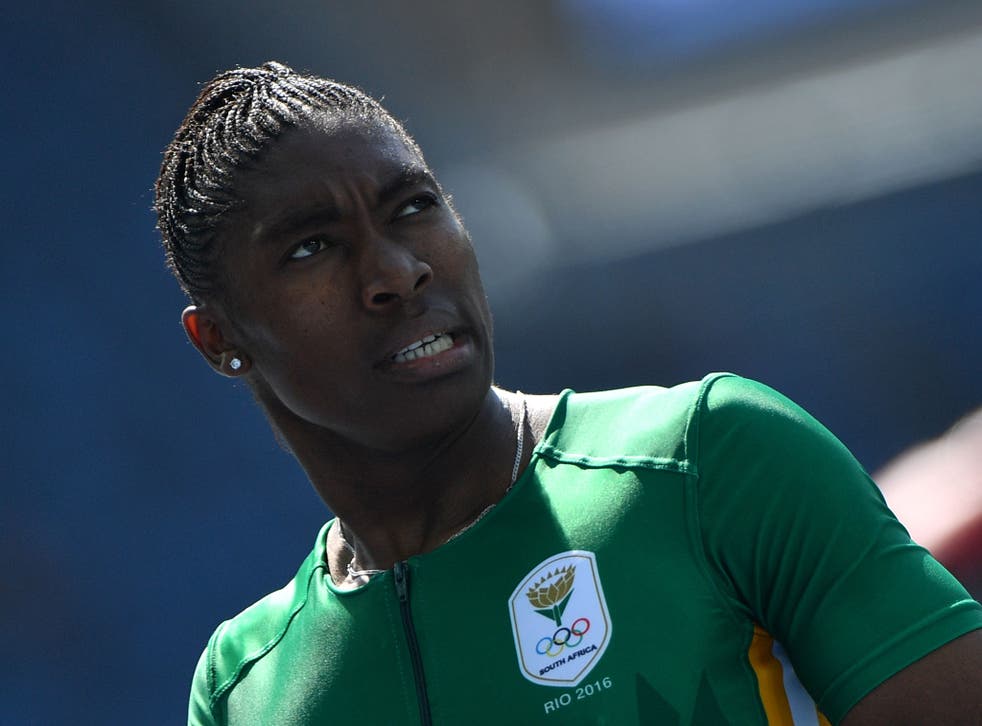 Olympic 800m champion Caster Semenya may have run her last major championships without the testosterone reduction treatment which would weaken her, as athletics' governing body seeks an urgent resolution to one of the most challenging and delicate issues in world sport.
The IAAF is preparing a challenge next July to the Court for Arbitration in Sport's decision that it was unfair to insist that Semenya take steps to limit her testosterone as a result of her innate hyperandrogenism.
The urgency of the need for resolution was revealed on Saturday in an extraordinary conclusion to the 800m, which saw three women who are all thought to have the condition finishing in the gold, silver and bronze medal positions.
The ensuing press conference saw Semenya take on the role of protector of the others when the three women were asked to state individually whether they had been encouraged by the IAAF to bring their testosterone levels down. It was significant that none of them dismissed the suggestion.
Bronze medallist Margaret Wambui said: "Let us focus on the performance of today. Let's not focus about the medication." Silver medallist Francine Niyonsaba was struggling for an answer when Semenya intervened to speak for them all.
"Excuse me, my friend," she told the journalist who had put the question. "Tonight is all about performance. We are not here to talk about IAAF and speculations. This press conference is all about the 800m we ran today. So, thankyou."
Other athletes are attempting to pick a respectful route through the sensitivities of this issue. But the consequences of stating the mildest objection was revealed on Saturday when British athlete Lynsey Sharp said that she and the other competitors had been in a different race. Sharp, who finished sixth despite recording a personal best time, found herself attacked on social media after her comments.
Semenya's post-race press conference was her first high profile media appearance since she won silver at the London Olympics. The prior characterisation of her as gauche and reticent character had been inaccurate. She launched a staunch defence of the need to consider an athlete's performance, rather than how she looks or sounds.
"It's all about loving one another. It is not about discriminating people and looking at people in terms of how the look, how they speak and how they have run. It's not about being masculine. It's about sports. When you leave your apartment you don't want to look at you look like. You just want to do better."
The IAAF knows the issue is more complicated than that. It appears to have some confidence that it can persuade CAS that establishing a legal testosterone level is appropriate. It recognises the fundamental ethical contradiction in the notion of asking an athlete to manipulate her testosterone levels when that is generally an anti-doping offence.
Rio 2016 Olympics - in pictures

Show all 74
To the wider world on Saturday night, the final simply revealed Semenya to be an athlete who recorded a new time for a South African and the fastest 800m time in the world across the distance while barely needing to run around the Olympic Stadium track.
Semenya said her priority was to phone home because, she said, "my wife is waiting for my call." She married her long-time girlfriend Violet Raseboy last December. "Fortunately my last 200m was strong. The ladies were strong. It was great," she said.
The gentle questions put to her by the South African press corps suggest the country believes the issue should not be raised now, though it must. The credibility of the one of the Olympics blue ribbon events was in tatters on Saturday night.
Join our new commenting forum
Join thought-provoking conversations, follow other Independent readers and see their replies